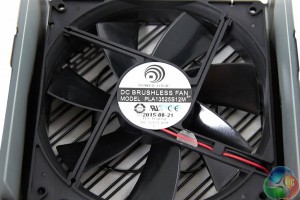 FSP are using a Power Logic 135mm fan (Model number PLA13525S12M) rated at 0.4A at 12V. We have seen this fan used before in other FSP units such as the Aurum PT 1000W which we reviewed back in January this year (review HERE). This is rated 111.1CFM at a maximum noise rating of 41.6dBa.
The FSP Hydro G 750W is a nicely built unit, very clean – and the soldering quality is reasonably high with just a few wires looking a little worse than we would expect on the modular PCB. It is based on a LLC primary design with synchronous rectification on secondary with DC-DC VRM's.
Most of the heatsinks are quite small inside with proprietary heatsinks on the secondary stage which FSP are keen to point out in their literature. They say their new heat dissipation design conducts heat through a thermal pad on the bottom of the power supply which transforms the whole PSU chassis into a giant heat sink, cooled by system airflow.
The filtering starts on the housing with a Y and X Capacitor and continues to the main PCB. On the primary side there is an add on PCB which is home to the APFC controller, next to a coil which is part of the PFC stage.
FSP are using a pair of high grade 105c rated Japanese capacitors on the primary stage – both rated 420 V 330uF. These are from the KMR range. On the main PCB we found standard electrolytics from Rubycon and Nippon Chemi Con. I was a little disappointed to see a few solid capacitors on the main PCB from Chinese company TEAPO.