The FSP Hydro G 750W is a capable, competently designed power supply which passed all tests without any sign of a problem. First impressions are positive thanks to the reassuring build quality which FSP are backing up with a 5 year warranty. I do think this unit bears a rather significant resemblance to the Corsair units we have reviewed in recent months but this is certainly not a bad thing. The two tone colour scheme is simple yet effective and the case finishing is stellar.
While we admire FSP for making the effort, we aren't so sure that the concept of a simple replaceable sticker system is going to prove that popular with the enthusiast audience. We appreciate they are keen to target the audience who spend not only a lot of time buying the right components but who place a focus on the system colour scheme as well.
I would much rather FSP had used a cleaner, more effective 'reusable' magnetic badge system because the stickers can only be used once before they need binned. Its a small point but perhaps they can look into this for the future – I am surprised no power supply manufacturer has yet to try this.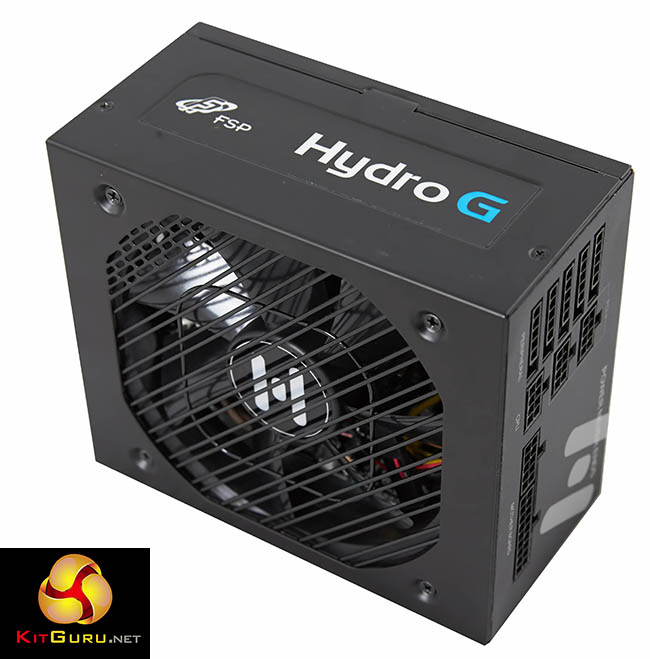 Technically, the FSP Hydro G 750W exhibits no discernible weaknesses. Both load regulation and efficiency are first class and ripple suppression is excellent, falling well within industry rated tolerance specifications. The large fan is generally quiet although it can get a little noisy if you run at a constant 750 watts – although if this is the case you really should have opted for a 1000 watt or 1250 watt unit to leave a little headroom to improve efficiency and long term stability. It is not ideal to be running a power supply at full load 24/7.
FSP UK distribution and availability has improved in recent months with stock now available at Scan, Amazon and Novatech. We have been told that the Hydro Series will be available in the UK in the third week of December, just before Christmas.
I have not yet received confirmed UK pricing although the 750 watt unit is marked down as $139.99. Overclockers UK told us they have no plans as yet to stock these units although with the Corsair RMi 750 '80 Plus Gold' available for £105.95 inc vat (HERE) FSP will need to get the pricing right in order to undercut the market leaders and generate sales.
Discuss on our Facebook page, over HERE.
Pros:
Excellent build quality.
technically a good design.
extra stickers in the box is an interesting idea.
ribbon cables.
5 year warranty.
Cons:
terrible manual.
poor availability.
stiff competition.
stickers need destroyed after they are used once.
Kitguru says: The FSP Hydro G 750W is a technically capable design with a 5 year warranty and a solid internal design. The chassis is well finished and the multicoloured replaceable sticker system is certainly interesting.