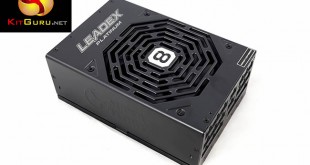 'Holy Moly'. This is the PG version of the first words I said when we were offered the new 2000 watt Superflower power supply for analysis. Renowned and highly respected UK overclocker Ian '8Pack' Parry partnered up with SuperFlower for the creation of this new monster unit. The '8 Pack Edition' is a fully modular design, 80 Plus Platinum certified and ships with enough cables to choke Godzilla.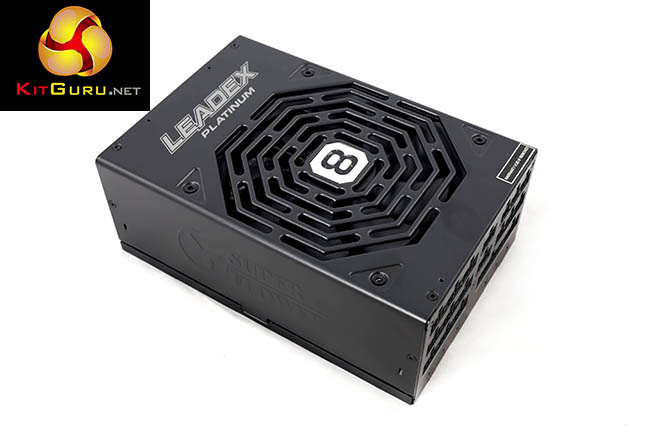 There is no doubt that Super Flower are carving out a name for themselves in the high end. We have reviewed a selected range of their units in recent months, including two designs from EVGA featuring the Leadex platform. This 2000 watt unit is the highest wattage power supply we have ever tested and it is actually right at the limit of our partnering equipment. It can deliver a jaw dropping 166.6 amps via the +12v rail. Yes, it is as serious as a heart attack.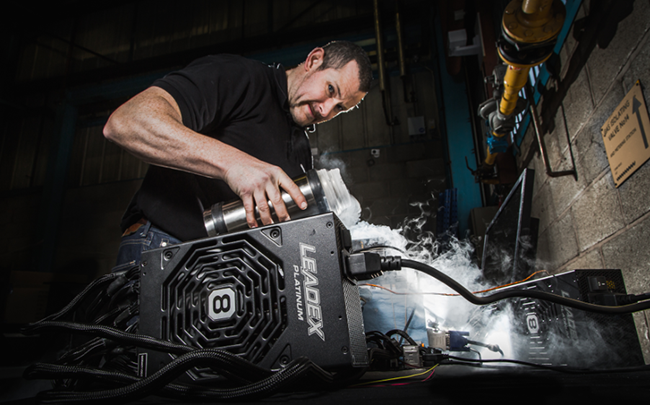 This record breaking power delivery is backed up with a reassuring 5 year warranty.
Features:
100% Full Modular Cabling Design For Easy Cable Management.
80 PLUS® Platinum Certified, 92% 94% 90% Efficiency At 20% 50% 100% Rated Load.
Comply With ATX 12V. V2.2, EPS 12V. V2.91 & SSI EPS 12V. V2.92 Specification.
Comply With Energy Star Standard & EuP (Energy Using Products) Regulation.
Over Voltage Protection / Over Current Protection / Over Power Protection / Short Circuit Protection / Under Voltage Protection / Over Temperature Protection.
Support All Intel/AMD Multi-Core CPU & ATX/BTX Compatible Motherboards.
Support NVIDIA® SLI"¢ & ATI CrossFireX High Performance Graphic Card.
More than 2,000 times On/Off test.
Unleaded Green Materials with RoHS/WEEE Compliance.
Perfect For Professional & High Performance Gaming System.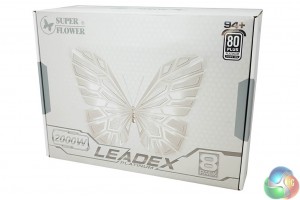 Super Flower artwork is rather bland, yet also very distinctive. I was expecting to see a picture of 8 Pack biting the heads off some bats – Ozzy Osbourne style, but instead we get a pretty little butterfly. Maybe we can fry it with 2000 watts later and garnish in a salad.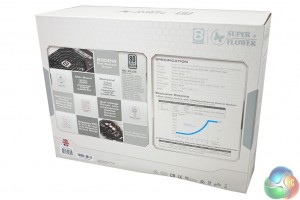 The rear of the box is populated with technical data including the mention of 105c Japanese grade Nippon Chemi Con capacitors. Loverly.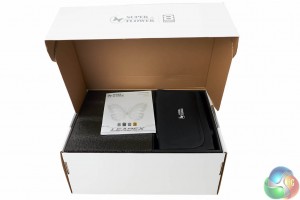 Sadly I am not as strong as 8 Pack, so lifting the box onto the table hurt my back a little bit. I blame old age. The power supply is protected on one side between thick blocks of foam. The modular cables and accessories are stored at the side.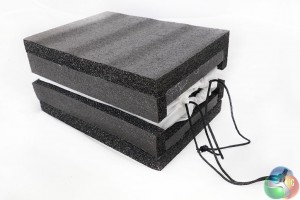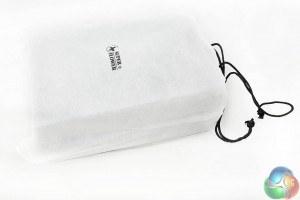 The power supply itself is protected inside a soft felt bag, and then packaged inside two thick pieces of foam. Unless the courier decides to play football with the box in the warehouse, we can't see any way this could be damaged in transit.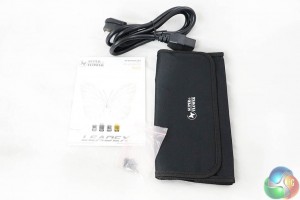 Super Flower supply a little multi language user manual, heavy duty power cable (to handle the insane power delivery), mounting screws and a storage pouch for any left over cables.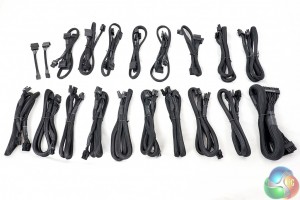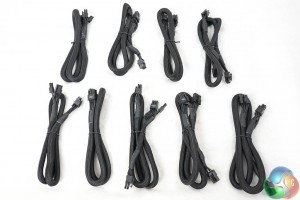 Would you like a cable with that sir? The image above right shows all the PCIe power cables for powering some seriously hardcore multi GPU configurations. The main power cables are all sleeved. Peripheral power cables are the thinner 'ribbon' style to help with routing. These are quality 18 AWG grade.
| | | |
| --- | --- | --- |
| Cables | Description | Cable Length |
| One Cable | 20+4pins motherboard power connector | 600mm |
| Two Cables | 8 pins (4+4 pins) EPS/ATX 12V connector | 700mm |
| Four Cables | 8 pins (6+2 pins) PCI Express connector | 700mm |
| Five Cables | 6pins + 8 (6+2 pins) PCI Express connectors | 600mm |
| Four Cables | 4x SATA peripheral connector | 600mm |
| One Cable | 3×4 pins Molex peripheral connector | 550mm+100mm |
| One Cable | 2x SATA + 2 x 4 pins Molex peripheral connector | 550mm+100mm |
| Two Cables | 4 Pin Peripheral to 4 pin Floppy Adapter | 100mm |
Plenty of cables for the most demanding SLI and Crossfire systems and we like to see the EPS/ATX 12V connectors measuring 700mm – to accommodate the tallest chassis on the market today.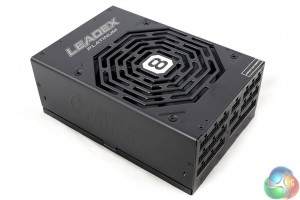 Like all high capacity Super Flower power supplies, the 8 Pack 2000W edition is physically imposing.  You will need to make sure your chassis can accommodate the 150 x 86 x 220 mm (WxHxD) dimensions.
This 2000 watt unit passed our 'screwdriver' test without a problem. This involves running the head of a Philips head driver down the side of the chassis with light to medium force. After all, how many times have you accidentally connected with a power supply during a system build?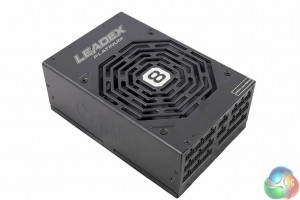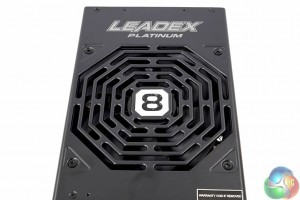 The large fan is hidden behind a thick grill system – this is cut into the chassis itself. The Super Flower logo in the center has been replaced with an '8 Pack' logo.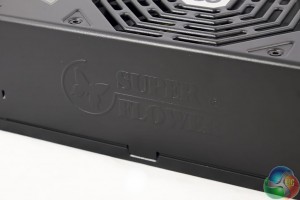 No nasty looking stickers – the Super Flower logo and name is embossed into the chassis on the side panels. Subtle yet quite effective.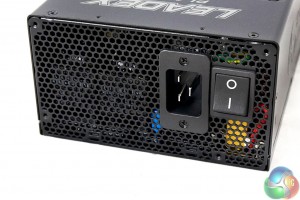 At one end of the power supply is the power connector and switch. A large honeycomb style vent is cut into the chassis to help with air flow.
This connector requires a special, heavy duty cable to handle the massive power delivery. This is included in the box as shown earlier – but it is worth pointing out that you can't just use a standard power cable with this unit.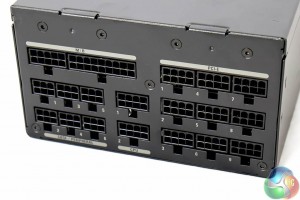 The modular bay is literally crammed with connectors. All of these are clearly sized and labelled to help during the installation phase. On the 1600 watt version of this power supply there is an 'AUTO/ECO' button bottom left. This is replaced on the 2000 watt model with another SATA/Peripheral connector.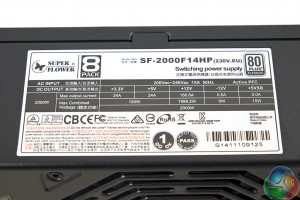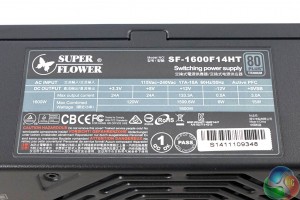 SuperFlower Leadex Titanium PSU 2000W '8Pack Edition'


DC Output

+3.3V

+5V

+12V

-12V

+5Vsb

Max Output

24A

24A

166.6A

0.5A

3.0A

Total Power
120W
1999.2W
6W
15W
2000W
The single +12V rail can deliver 166.6A which seems a little scary to me. With this kind of juice on tap there would be no problems powering even two overclocked AMD R9 295X2 with full watercooling kit. Our previous review of the OverclockersUK Infinity Vesuvius system highlighted that two R9 295X2 cards could demand close to 1,200 watts under load.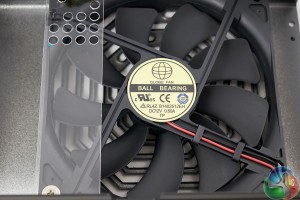 The fan is a 'Globe' double ball bearing model, number RL4Z-B1402512EH. This is rated 12V, 0.6A with a maximum speed of 2,000 rpm, airflow 153.47cfm. Maximum noise rating is officially 39.5dBa. We will measure noise later in the review. This is the same fan and model that features in the SuperFlower Leadex Titanium 1600W unit and the EVGA P2 1200 and 1600 supplies which we reviewed a couple of months ago.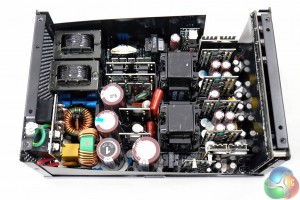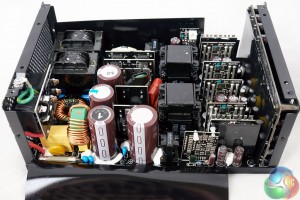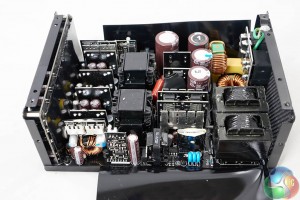 The Leadex Platform continues to impress us. The primary side is using a full bridge topology with a LLC converter to help improve efficiency. The secondary side of the design incorporates a synchronous design for the rectification of the +12V rail with DC-DC converters for minor rail generation. Soldering quality of the main PCB is good.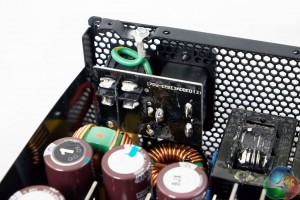 Transient filtering starts at the AC Receptacle. The main PCB houses the second stage and features CM chokes, two pairs of Y caps, two X caps and an MOV. Super Flower have built in a Transient Voltage Suppression diode to help protect against spiking.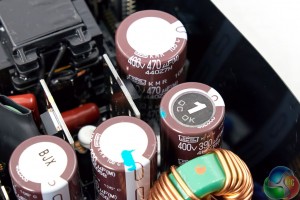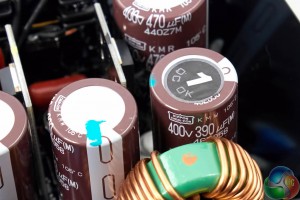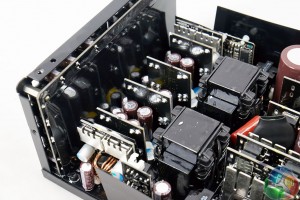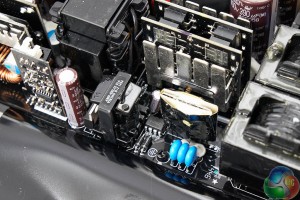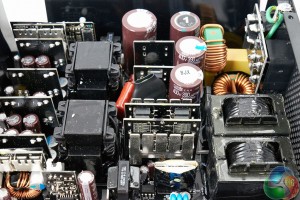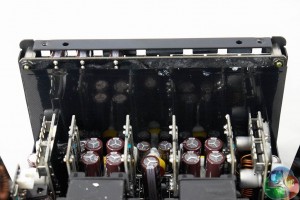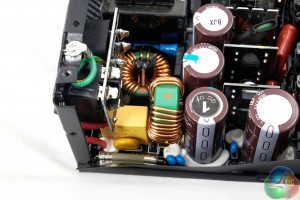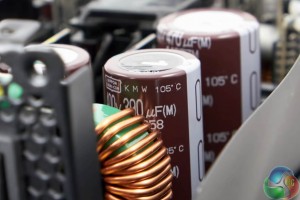 The 1600W model incorporated four 400V 390uF capacitors – combining for a total of 1560uF. The 2000W model has been beefed up to deal with the additional power delivery.
Super Flower have adopted a single 470uF Nippon Chemi Con capacitor (KMR series) alongside three Nippon Chemi Con 390uF capacitors (KMW series). All are (as we would expect) 105c rated. This combines for a total of 1640uF.
Secondary stage capacitors are all Japanese 105c rated Nippon Chemi Con. Top marks to Super Flower for not making any compromises with the design. The backpanel uses Nippon Chemi Con/Nichicon capacitors.
Super Flower Leadex Platinum 1600W
Primary Stage Capacitor configuration
390uf x4 = Nippon Chemi Con (KMW series).
Total capacity: 1560uF.
Super Flower Leadex Platinum 2000W '8 Pack Edition'
Primary Stage Capacitor configuration
390uf x3 = Nippon Chemi Con (KMW series).
470uF x 1 = Nippon Chemi Con (KMR series).
Total capacity: 1640uF.
On this page we present some high resolution images of the product taken with the Fuji XT1 camera. These will take much longer to open due to the dimensions, especially on slower connections. If you use these pictures on another site or publication, please credit Kitguru.net as the owner/source.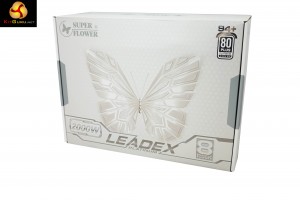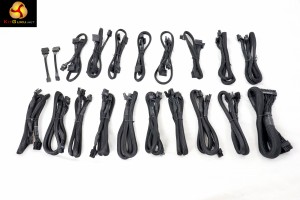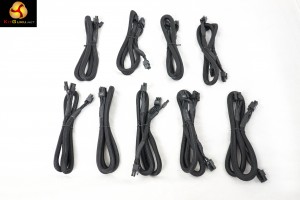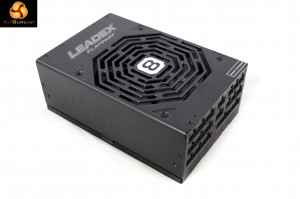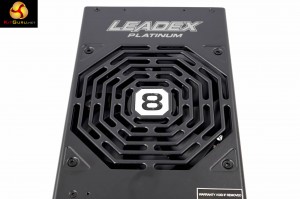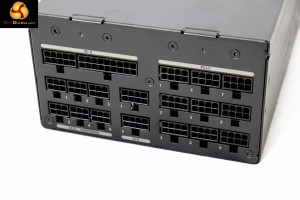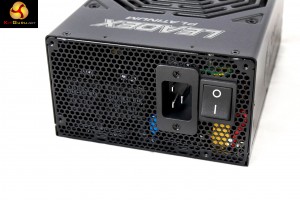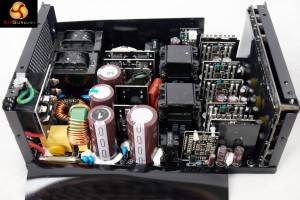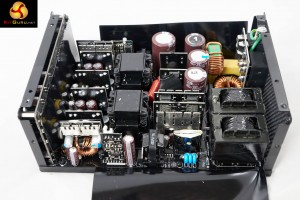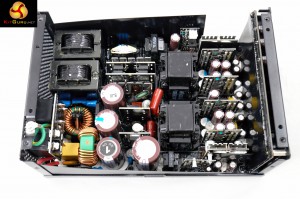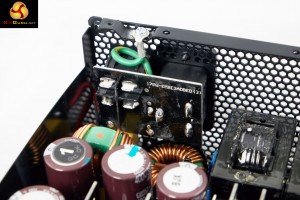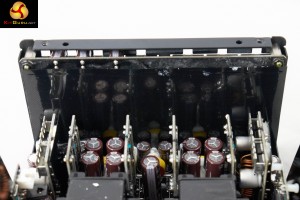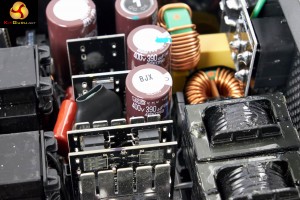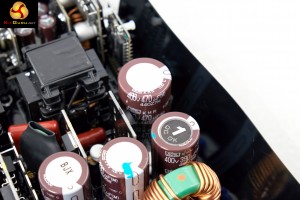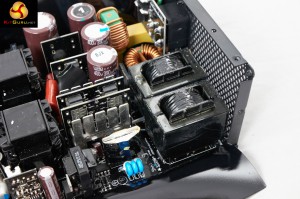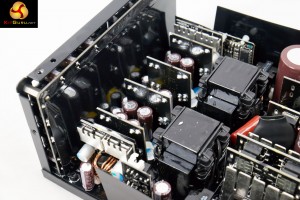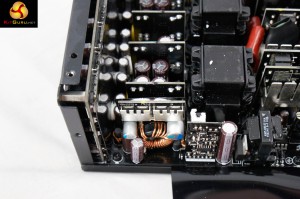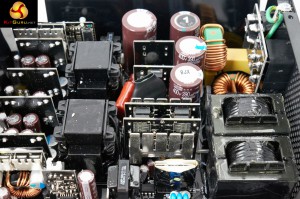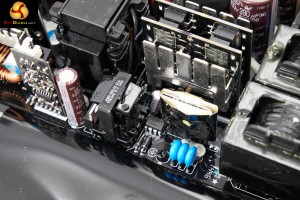 Additional technical assistance: Peter McFarland and Jeremy Price.
Correctly testing power supplies is a complex procedure and KitGuru have configured a test bench which can deliver up to a 2,000 watt DC load. Due to public requests we have changed our temperature settings recently – previously we rated with ambient temperatures at 25C, we have increased ambient temperatures by 10c (to 35c) in our environment to greater reflect warmer internal chassis conditions.
We use combinations of the following hardware:
• SunMoon SM-268
• CSI3710A Programmable DC load (+3.3V and +5V outputs)
• CSI3711A Programmable DC load (+12V1, +12V2, +12V3, and +12V4)
• Extech Power Analyzer
• Extech MultiMaster MM570 digital multimeter
• Extech digital sound level meter
• Digital oscilloscope (20M S/s with 12 Bit ADC)
• Variable Autotransformer, 1.4 KVA
DC Output Load Regulation

+3.3V

+5V

+12V

+5VSB

-12V

A

V

A

V

A

V

A

V

A
V

500W

7.63

3.34

8.82

5.05

36.05

12.11

1.5

5.02

0.30
-12.08

750W

12.63

3.34

14.12

5.04

52.06

12.10

2.0

5.02

0.30
-12.08

1000W

17.75

3.33

20.00

5.04

72.25

12.08

2.5

5.01

0.50
-12.09
1250W
18.84
3.33
24.04
5.03
90.14
12.06
3.0
5.00
0.50
-12.09

1500W

18.87

3.32

22.64

5.02

115.90

12.05

3.5

5.00

0.50
-12.10
1600W
10.00
3.32
10.00
5.02
125.00
12.03
3.5
5.00
0.50
-12.11
2000W
12.00
3.31
12.00
5.02
155.00
12.02
3.0
5.00
0.50
-12.11
Load regulation is very good, even when delivering the full 2000 watts of power.
SuperFlower Leadex Platinum 2000W 8Pack Edition
Maximum Load
2000W
The 2000W output is right at the test limits of our equipment so we were unable to push it any further. It did deliver the full 2000 watts however without shutting down.
Next we want to try Cross Loading. This basically means loads which are not balanced. If a PC for instance needs 500W on the +12V outputs but something like 30W via the combined 3.3V and +5V outputs then the voltage regulation can fluctuate badly.
Cross Load Testing
+3.3V
+5V
+12V
-12V
+5VSB
A
V
A
V
A
V
A
V
A
V
1150W
3.0
3.33
2.0
5.04
92.0
12.08
0.2
-12.03
0.50
5.01
250W
20.0
3.31
24.0
5.04
5.0
12.07
0.2
-12.03
0.50
5.02
The SuperFlower Leadex Titanium 2000W produced fantastic results in the cross loading test. No discernible weaknesses.
We then used an oscilloscope to measure AC ripple and noise present on the DC outputs. We set the oscilloscope time base to check for AC ripple at both high and low ends of the spectrum.
ATX12V V2.2 specification for DC output ripple and noise is defined in the ATX 12V power supply design guide.
ATX12V Ver 2.2 Noise/Ripple Tolerance

Output

Ripple (mV p-p)

+3.3V

50

+5V

50

+12V1

120

+12V2

120

-12V

120

+5VSB

50
Obviously when measuring AC noise and ripple on the DC outputs the cleaner (less recorded) means we have a better end result. We measured this AC signal amplitude to see how closely the unit complied with the ATX standard.
AC Ripple (mV p-p)
DC Load
+3.3V
+5V
+12V
5VSB
500W
10
5
5
5
750W
10
5
5
5
1000W
10
5
10
5
1250W
10
5
15
5
1500W
15
10
15
10
1600W
15
10
15
10
2000W
15
10
20
15
Superb ripple suppression results, and yet again figures that any manufacturer would be happy to see.
Efficiency (%)

500W

92.11

750W

93.21

1000W

94.17

1250W

93.88

1500W
93.11
1600W
92.22
2000W
91.87
Overall efficiency is excellent, peaking at 94.17% when delivering between 1000 and 1100 watts.
We take the issue of noise very seriously at KitGuru and this is why we have built a special home brew system as a reference point when we test noise levels of various components. Why do this? Well this means we can eliminate secondary noise pollution in the test room and concentrate on components we are testing. It also brings us slightly closer to industry standards, such as DIN 45635.
Today to test the power supply we have taken it into our acoustics room environment and have set our Digital Sound Level Noise Decibel Meter Style 2 one meter away from the unit. We have no other fans running so we can effectively measure just the noise from the unit itself.
As this can be a little confusing for people, here are various dBa ratings in with real world situations to help describe the various levels.
KitGuru noise guide
10dBA – Normal Breathing/Rustling Leaves
20-25dBA – Whisper
30dBA – High Quality Computer fan
40dBA – A Bubbling Brook, or a Refrigerator
50dBA – Normal Conversation
60dBA – Laughter
70dBA – Vacuum Cleaner or Hairdryer
80dBA – City Traffic or a Garbage Disposal
90dBA – Motorcycle or Lawnmower
100dBA – MP3 Player at maximum output
110dBA – Orchestra
120dBA – Front row rock concert/Jet Engine
130dBA – Threshold of Pain
140dBA – Military Jet takeoff/Gunshot (close range)
160dBA – Instant Perforation of eardrum
Noise (dBA)

500W

28.2

750W

28.7

1000W

33.4

1250W

33.8

1500W
34.4
1600W
35.8
2000W
37.2
The fan spins slowly throughout the range, until around 1000 watts is tasked. It isn't until 1,500 watts that the fan spins fast enough to be heard. It gets faster as the load increases, right until a peak just above 37dBa. At 2000 watts the fan is clearly audible.
Temperature (c)

Intake

Exhaust

500W

36

38

750W

37

42

1000W

42

48

1250W

46

54

1500W

48

58

1600W
51
61
2000W
54
67
The large fan copes with the heat inside the chassis, spinning more actively as the load increases above 1,000 watts.
If you are in the market for a 1500-2000 watt power supply it is (highly) likely you are running a 'balls out' overclocked system comprising three or four AMD or Nvidia graphics cards partnered up with an expensive watercooling kit.
The promotional activity around this 2000w supply has been quite frenzied. It makes sense, Overclockers UK (Caseking) have an exclusive distribution deal with SuperFlower, and their star man Ian '8 Pack' Parry has been involved in the promotional activities. To be fair we can't imagine too many people are playing with LN2 even if '8Pack has created a rather cool looking video showing him in action – powering a system while using the very same 2000W power supply.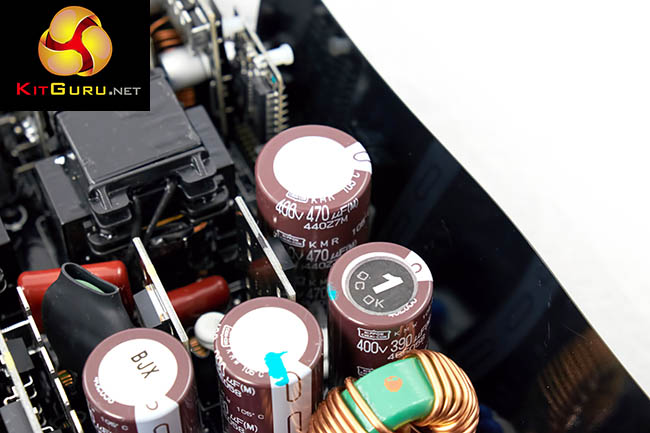 Internally, there is little to fault. Super Flower are adopting the highest grade Japanese 105c rated capacitors from Nippon Chemi Con – one of my own personal favourites. We have never seen a Nippon Chemi Con capacitor fail horribly, unlike some from cheaper Chinese makes such as TEAPO. No corners have been cut, which is always good to see when you are forking out a considerable wad of cash for a flagship product.
Load regulation is excellent, ripple suppression is stellar and the unit passed our cross load test with flying colours. Technically there are no issues to report and we are confident that at any load demand, the power supply is delivering stable, clean power.


The Super Flower Leadex Platinum '8 Pack Edition' 2000W is available in the UK exclusively from Overclockers UK, for £349.99 inc vat. It is a lot of money to spend on a power supply, but for the select audience demanding insane levels of power we haven't tested anything quite in the same league.
On our Facebook page we often see reader builds with people using massively over specified power supplies. A KitGuru tip – If you have recently bought two GTX980's then you really don't need this 2000 watt 8Pack supply. We would advise you save money and pick up a high quality 850/1000 watt power supply  – achieving close to peak 50% efficiency, under full load. The full Super Flower range is available from this page. For most high end dual card systems we would recommend the Super Flower Leadex Platinum 1000W Fully modular unit, available in black and white.
That said, a special case would be the AMD R9 295X2. This is a power sapping beast, and two of them in Crossfire will demand around 1,200 watts. If you own a system like this, the Super Flower Leadex Platinum 8 Pack Edition 2000W is a good buy because under full load you aren't stressing the power supply too much and it will be delivering close to maximum efficiency.
We do have to give kudos to Ian '8Pack' Parry, this is a heck of a power supply to be associated with.
Discuss on our Facebook page, over HERE.
Pros:
delivered the full 2000 watts.
stable power.
highest grade 105c Nippon Chemi Con capacitors.
lovely finish.
high efficiency.
Cons:
physically large.
a lot of cash.
Kitguru says: This 8Pack special edition power supply accepts no compromises both inside and out. Can power the highest end multi card enthusiast systems without a problem.