G.Skill ships the Phoenix Blade in a sturdy black box. A graphic which is similar to Corsair's new (and seemingly detested) gaming logo occupies the front side. A table of specifications in present on the rear.

An additional bracket is supplied, allowing the drive to be used in a chassis with half-height PCIe expansion slots. The driver CD contains the software required to use the drive and to install Windows onto it.
The official directions for installing Windows on the Phoenix Blade are as follows:
Insert Windows installation CD/DVD into disc drive
When prompted to install third-party SCSI or RAID driver, press the "F6" key, then press "S" for "Specified Additional Device".
Insert driver disc (or USB flash drive with drivers copied from the [Windows Pre-Install Drivers] folder) and follow on-screen instructions to complete driver and Windows installation.
Provided you have means of getting the SSD drivers onto your system while its disc drive (if you choose the DVD installation route) is in use, loading Windows should be straightforward.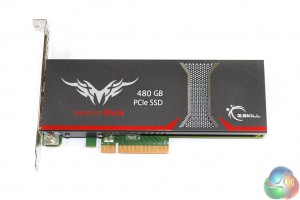 An attractive red and black theme is predominant all over the Phoenix Blade. G.Skill adds its company logo and a graphic for the product.
Ventilation holes allow the controllers and flash chips to release their heat into one's chassis. Lifetime management is handled in the form of TRIM and UNMAP. There's also S.M.A.R.T support for monitoring purposes. And when that's not enough, there's a 3-year warranty provided as backup.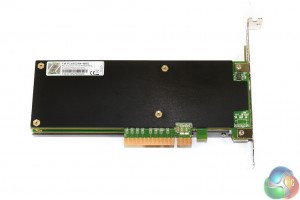 A very smart design decision by G.Skill was to utilise a black backplate. This sheet of metal not only acts as a heatsink for eight NAND chips and two SandForce controllers, it also disguises a significant proportion of the drive's ugly green PCB.
The PCIe 2.0 x8 connector is clearly visible. To get the best performance out of the drive, you will want to install it in a PCIe 2.0 (or 3.0) slot with at least eight lanes being fed. On Intel 7-, 8- or 9-series boards, for example, this may negate the functionality of SLI for graphics cards, due to the processor's sixteen lane limitation.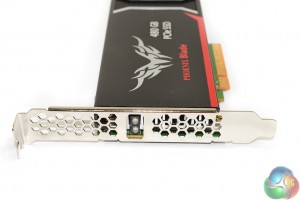 Two activity LEDs are visible through a cut-out in the ventilated PCI bracket.
G.Skill only ships the Phoenix Blade in a 480GB capacity version. We would have liked to see a 240GB variant for speed enthusiasts with lower storage requirements.
32 of Toshiba's 19nm, 128Gbit MLC NAND chips (part number: TH58TEG7DDKTA20) combine to form the permanent storage. That 512GB worth of NAND is then shrunk to the 480GB usable capacity due to over-provisioning. Two Altera EN6360QI PowerSoC aid power delivery.
TRIM support and communications between the four SATA-based SF-2281 controllers and the PCIe x8 slot are handled by a SBC208-2 chip. The use of SATA-based controllers means that the drive operates via the common AHCI standard.
According to G.Skill, 4KB random read can deliver up to 90,000 IOPS, while 4KB random write is up to a blistering 245,000 IOPS.
Consuming up to 15W for a read workload, or 18W when writing, it is no surprise that a large emphasis is placed on drive cooling.
The RAID controller's easily detachable heatsink makes very poor contact with the actual surface of the chip. This is a quality issue that G.Skill needs to address in future shipments.
G.Skill splits the four SF-2281 controllers into two pairs and then allocates them a specific heatsink and the rear backplate for their cooling needs. Both NAND-only PCB faces are left to rely upon passive cooling.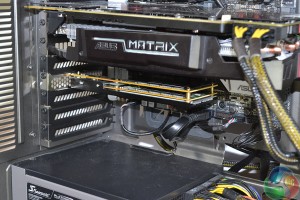 The Phoenix Blade sits nicely below a graphics card in a system. Some form of side-mounted covering plate with an attractive design would have been welcomed.