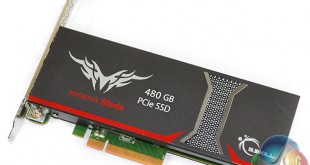 Everybody loves speed, and there's no easier way to enhance the snappiness of general usage tasks than by using a solid state drive. But the primary storage interface – SATA 6Gbps – saw its speed limit reached by fast SSD's more than two years ago. If you wanted higher performance, multiple SATA drives in RAID or a dedicated PCIe solution were the ways to go. In its 480GB Phoenix Blade, G.Skill has opted to provide both; there's a four-controller RAID 0 configuration for high speed numbers and a PCIe 2.0 x8 interface for ample bandwidth allocation.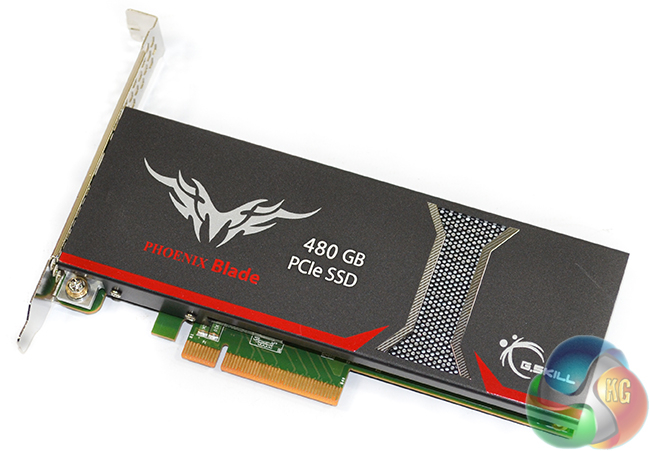 While that opening statement is largely correct for recent years, the introduction of the faster-than-6Gbps M.2 and SATA Express interfaces has changed things over the past few months. Almost all motherboards sporting Intel's 9-series chipset now feature M.2 and/or SATA Express connections that provide between 10 and 32Gbps transfer rates.
That's great for new buyers, but not so much for users with older motherboards who still want the benefits of high-speed storage. And let's not even get started on the scarcity of SATA Express drives or M.2 devices that actually warrant high-speed PCIe lanes.
Here is where the venerable PCIe connection makes a resurgence for G.Skill's Phoenix Blade SSD. Combining four of LSI SandForce's tried-and-tested SF-2281 controllers in RAID 0 with 480 usable gigabytes of 19nm Toshiba MLC NAND, G.Skill is able to quote up to 2000MBps read and write speeds for the Phoenix Blade. That's about four times faster than the SATA 6Gbps connection's top limit and outlines why a 4GBps (per direction) PCIe 2.0 x8 connection is deemed necessary.
Can G.Skill's Phoenix Blade outline the performance benefits of four SandForce controllers in RAID 0? Or do we have a case of 'too many cooks spoil the broth'?
Specification:

Capacity: 480GB
Interface: PCI-Express 2.0 x8
Form Factor: Half Height
Memory Components: MLC
Dimensions: 170mm x 70mm x 21mm (Net)
Weight: 275g (Net)
Max Read Speed: 2000 MB/s (Iometer)
Max Write Speed: 2000 MB/s (Iometer)
Sequential Read: 1900 MB/s (CrystalDiskMark)
Sequential Write: 1050 MB/s (CrystalDiskMark)
4KB Random Read: Up to 90,000 IOPS (Iometer)
4KB Random Write: Up to 245,000 IOPS (Iometer)
MTBF: 1,000,000 Hours
Power Consumption (Active): Max Read Workload: 15W / Max Write Workload: 18W
Power Consumption (Idle): 8W
Operating Temperature: 0°C ~ 55°C