The ECS LIVA X2 mini PC is somewhat of an oddball.
While it certainly looks good – softer and less 'box-like' than its predecessor the LIVA X, its internal design is lacking. The only empty expansion slot in the whole system is an M.2 on the underside of the motherboard. This means you have to take apart the whole PC just to get to the spare slot – which is really beyond belief.
Furthermore, as there is only 32GB eMMC storage and Windows 8.1 is installed by default, you have to use a USB to download Windows 10 to and then install from. Not the end of the world, but far from ideal.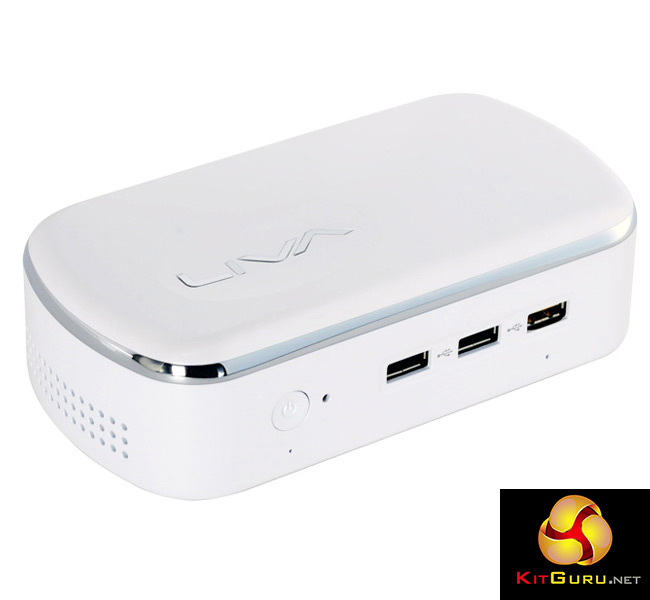 Then there is the performance. The Braswell SOC performs more-or-less as I expected it to – so not very well at all compared with other systems. In comparison to its predecessor, it is certainly not worth an upgrade for the hardware alone.
So these problems raised begs the question – why buy the LIVA X2? ECS suggests it could do the job as a home media PC, for use in schools, a receptionist's office, as a data server or as a public PC. I would say forget about using it as a conventional PC – it is simply not fast enough to make for a good user experience on a day-to-day basis.
Where it could have merit, though, is as a streaming PC. The small, stylish design helps with this, as well as the fanless SOC and HDMI out – three important factors for any home media system. Alternatively, I think its best use would be as a server – due to the minimal power draw … it could easily be left on 24/7 to host a website or whatever you may want.
That means it is certainly a niche product. For most people looking for a small and sleek PC for day-to-day tasks, I would advise you to look elsewhere. If you know exactly what you want to do with a small, fanless and low-power mini PC, the LIVA X2 could be just the thing for you.
ECS are selling the LIVA X2 via VeryPC here in the UK. With no OS, you will be paying £158 for the X2. Add Windows and that goes up to £237, and you can pay an extra £45 ontop to jump to the 4GB RAM/64GB eMMC model. All options are available here.
Discuss on our Facebook page, over HERE.
Pros
Small and stylish.
Smart external design with ports on the front and rear panels.
Fanless.
Practically non-existent power draw.
Cons
Not powerful enough for use on a daily basis.
Very hard to access the spare M.2 slot.
Minimal performance increase over the LIVA X.
32GB eMMC storage is very inconvenient.
KitGuru says: For most people, the ECS LIVA X2 will not be appropriate. For those of you who are in the market for something just like this, however, it could be worth thinking about.