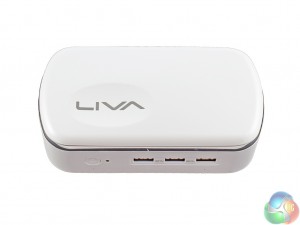 If you have read or watched our review of the LIVA X mini PC, you will know the X2 has a slightly different design – though it is more of an evolution as opposed to a revolution in design.
For one, the X2 is white (obviously) and has rounded edges. To me, this makes it look slightly more appealing – even cute. It would fit nicely under a TV, for instance, and not be distracting. While I would like to see a black colour option, the matte white plastic does look good.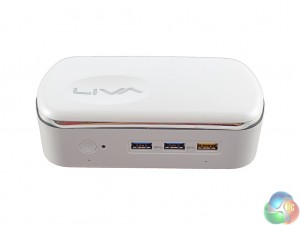 The front panel features the power button and LED indicator, as well as 3x USB 3.0 ports. One of these ports is yellow, indicating a 'sleep and charge' port, so you can plug in a USB cable to charge your phone even while the X2 is switched off. A nice touch.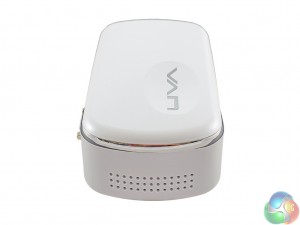 The sides of the X2 have holes which are purely for aesthetic reasons as the X2 is fanless so it does not need an intake of air.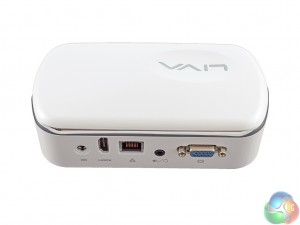 On the rear of the X2 is the power in, HDMI and VGA ports, Ethernet and a combo audio jack. This is a smart design as it means you can plug the X2 into your TV, have the connection cables at the back and out of the way, while there are just the things you actually use at the front – namely, the power button and USB's. Some small form-factor PCs – such as the Jide Tech Remix Mini or the MSI Vortex G65 – have all their buttons and ports at the rear, making for a fiddly experience.
Not so with the LIVA X2.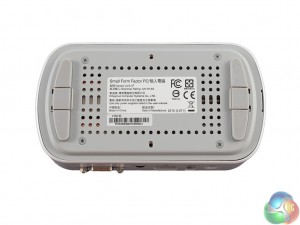 The base of the X2 has more holes as well as two stickers identifying this is indeed the LIVA X2.
Removing the four screws in the base reveals the rather hefty heatsink which keeps the X2's temperatures in check. This adds a fair amount to the X2's weight – as the original LIVA X weighed (as far as I can tell from online searches, as I have not actually used it) 190g, whereas the X2 weighs 558g.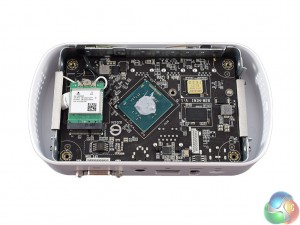 Another four screws allows you to take off the heatsink, and you are greeted with the tiny motherboard. On the top of the PCB is the M.2 WiFi card, the Braswell SOC and the integrated (thus non-expandable) memory chips – SK hynix modules in this case.
My one major criticism of the design is that the only spare expansion port – i.e. the only reason you would ever open up the innards of the X2 – is the M.2 connector for SSDs, and this is positioned on the underside of the PCB. This means you have to completely remove the entirety of the PCB from the case just to get access to it. A far smarter move would be to have a removable lid on the X2's case, but there we have it. A bad move by ECS.