Thermal dynamics
To measure idle temperatures, a reading was taken after having Windows open on the desktop for 30 minutes. A reading under load was taken while Prime95 and 3DMark Fire Strike ran simultaneously.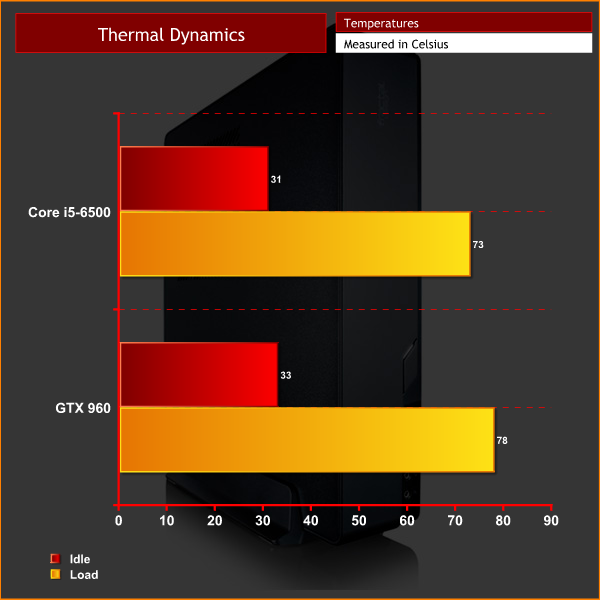 Under full load the temperatures are perfectly safe, which indicates the stock CPU cooler is an effective option.
Acoustics
However, while temperatures are fine, the Styx can get a bit noisy under load. Even at idle, the system is not exactly peaceful.
As I am located in London, it would not be fair on the Styx to measure decibel levels due to high levels of ambient noise. However, I will do my best to describe the noise emitted by the system.
Firstly, even while idling, the GPU is not silent. Its fan emits a constant, low hum which can be irritating. It is not excessively loud – it would be blocked out by music or a TV, but listening to it while browsing the web, for example, is irksome.
Under load, the system is actually not that much louder. The stock cooler becomes audible thanks to the high-pitched whirr, while the GPU's rumble intensifies. If you will be using headphones or speakers, it is not a problem. With no audio to block out the noise, though, it is not hugely pleasant.