The Steam hardware and software survey for June has been published by Valve, giving us a look into what gamers are currently running. Many users seem to have made the jump to 4-core processors and although Windows 10 has seen a slight increase, Windows 7 is still operating on over a third of the user base.
In the GPU category, nearly two thirds of the market belong to Nvidia, with a large increase in DirectX 12 users. This isn't a surprise since Nvidia has been pushing DirextX 12, even enabling support on older cards. AMD currently hold 20 percent of the market, while integrated graphics from Intel falls slightly lower at 15.54 percent.
The most popular card seems to be the GeForce GTX 1060, with 6.29 percent of users. Intel HD Graphics 5500 makes an appearance at number 20, with 1.22 percent of users and AMD falls just shorter with its AMD Radeon HD 7700 Series at 21st place, taking 1.21 percent of the market. It is worth noting that the gap will likely get much closer with the upcoming release of AMD's Vega line-up.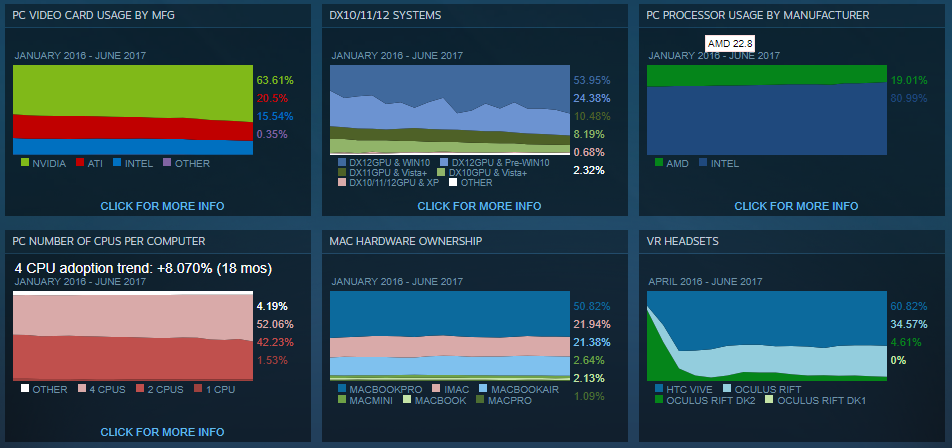 The CPU category sees many users making the jump to 4-core processors, now dominating over half of the market. AMD are currently under the weight of Intel at a 19.01 percent share in comparison to Intel's 80.99. This is a drop from AMD's 22 percent in February, but this gap is expected to close once again with its upcoming Ryzen Pro line of CPUs and Threadripper tearing up the news.
53 percent of Steam users are now on Windows 10, with a heavy favour to the 64-bit version which is an increase from 50.82 in February, but Windows 7 still holds strong with more than a third of the user base.
Another interesting note is the large 2.77 percent jump to 8GB RAM, taking up 38.90 percent of users. 12GB and higher also sees a jump, claiming 23.06 percent of the user base, showing that gamers are readying their rigs for the increase in how demanding newer games can be.
KitGuru Says: What system are you running? Do you plan to upgrade in the coming months?