The Fierce PC Blackfire Hammerhead is an all-AMD gaming PC utilising the latest tech from 'Team Red' – a Ryzen 5 1500X processor and a RX 580 graphics card.
Immediately, it is clear that the system is very well-built. The Game Max Onyx case is a tempered-glass beast and provides a great home for the components, and the RGB fans only adds to its success. Fierce PC has also done a great job with cable management, while the black cable extensions create a very stealthy look.
Performance is also pretty solid considering the hardware used. The Ryzen 5 1500X has been overclocked to 3.8GHz, and provides decent computational performance. It may not be as quick as an overclocked Core i7, or Core i5, but it is very good value.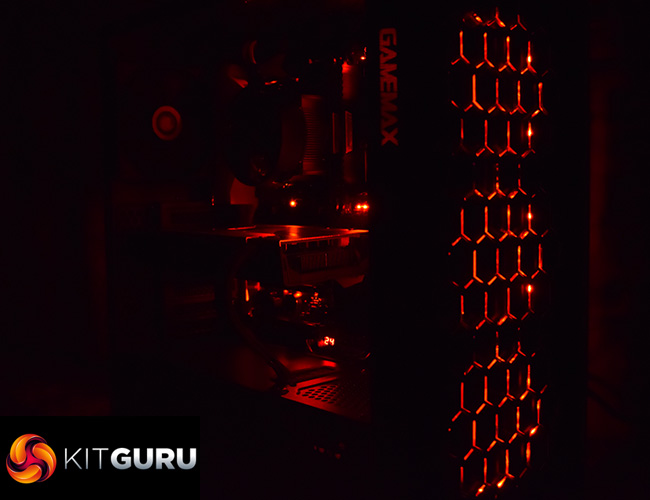 The brand-new RX 580 is also a strong performer. While it is best for 1080p gaming, we saw some decent 1440p frame rates as well, so that definitely adds some versatility to the system.
So, overall, the system is very capable. The Ryzen 5 + RX 580 combination delivers the goods and, accordingly, the Blackfire Hammerhead would be a solid choice for gamers looking for a low-to-mid-range rig. However, I do have to question some of the component choices considering the system's price of £1199.95.
For example, take the Aorus AX370-Gaming 5 motherboard. It is undeniably a superb X370 board, and perhaps one of the best on the market right now. However, it is also a bit unnecessary – the only real benefit of the X370 chipset (over B350) is its support for SLI, but this is obviously irrelevant considering the Blackfire Hammerhead uses an AMD card. A B350 board would deliver the same levels of performance for significantly less, without hurting future upgrades.
Storage is also worth looking at, as we find a 500GB Samsung 850 EVO and a 2TB Seagate FireCuda. While it is certainly very useful to have a large SSD, something smaller – along with a regular HDD, instead of a more expensive SSHD – would bring the cost down further, also without hurting frame rates in the slightest.
Just by changing those two things, the motherboard and storage, I think this system could be a fair bit cheaper without sacrificing gaming performance at all.
That's not to say there's anything wrong with the Blackfire Hammerhead, it just doesn't offer the best bang-per-buck. Instead, a fair bit of money seems to have been spent on high-grade components across-the-board, instead of on the core components which give you better frame rates (the processor and graphics card). Obviously there's nothing wrong with that at all, but I just feel at this price, prospective buyers would be more concerned about raw frame rates than having a snazzy X370 board or hybrid hard drive.
Regardless, I am still happy to recommend the Fierce PC Blackfire Hammerhead. It is a well-built, good-looking PC that offers solid frame rates for 1080p and 1440p gaming. Its only downfall is pricing, as I do think the price could have been closer to the £1000 mark if Fierce PC had been a bit smarter with the choice of components.
You can buy the system for £1199.95 inc. VAT and delivery HERE.
Discuss on our Facebook page, over HERE.
Pros
Looks good.
Tidy.
Nice and quiet.
Solid 1080p and 1440p gaming performance.
Cons
The price could be a fair bit lower, without hurting performance, if component choice been a bit smarter.
KitGuru says: The Fierce PC Blackfire Hammerhead will definitely appeal to those looking for a high-quality 1080p/1440p gaming machine. However, those looking for the best bang-per-buck system should look elsewhere.