All-in-all, I am very impressed by the Overclockers UK Neuron system.
The third PC I have reviewed in as many weeks, the Neuron is priced at £1,333 – in between the £999 Cyberpower Infinity X55 VX (HERE) and the £1499 AWD-IT Aura (HERE). As such, it has been an interesting task to benchmark and compare the three systems.
The Neuron gets off to a great start as it is exceptionally well-built. The cables are expertly routed and tucked out-of-sight, while all the components used are black. This means the system is very stealthy – that is, until you push the power button and the red LED strips turn on. It is certainly a tidy and beautiful PC.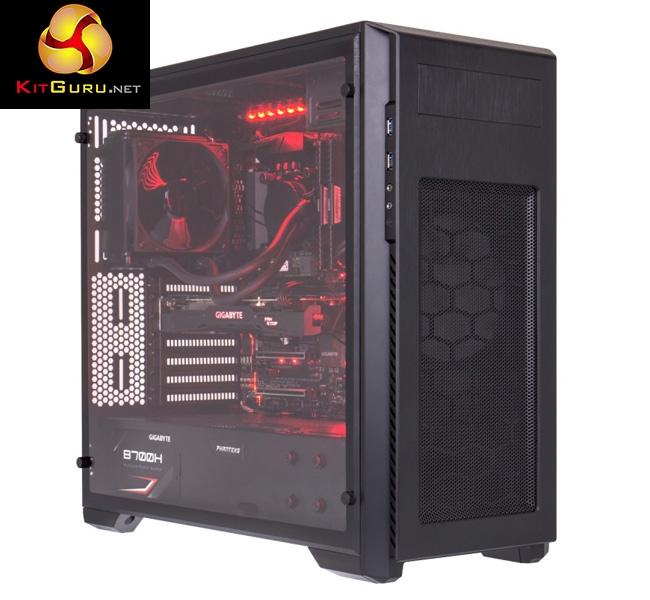 One interesting choice made by Overclockers UK was to use an i5-6600K instead of an i7-6700K – the AWD-IT Aura system uses the latter processor, for example. However, our benchmarks prove that this was a good choice – the performance increase from using a i7-6700K in games is minimal at best, and non-existent in many cases.
As such, saving some cash by going with an i5-6600K is a very smart choice. The smart choices do not stop there, though. The Gigabyte G1 Gaming TX 1070 is an excellent graphics card, with a strong factory overclock. In games, for example, it settled at 1949MHz without any tweaking on my behalf.
This means the Neuron is a fabulous gamer at 1080p and 1440p resolutions. 4K is possible, too,  but you would have to tweak the IQ settings for more demanding titles. We are of the opinion you really want to be looking at a GTX 1080 for 4K gaming purposes.
It is without a moment of doubt, then, that I am happy to recommend the Overclockers UK Neuron system. It is very well built and makes smart component choices in the important areas.

It is currently priced at £1,333 – and while this is a special, discounted price, Overclockers UK have told us the deal will likely last into the New Year. You can order and configure the system HERE.
Pros
Good-looking and well-built.
Fast GTX 1070.
i5-6600K saves money over an i7 without losing much (if any) gaming performance.
Great price compared with other systems.
NVMe SSD is a nice touch at this price.
Cons
A tempered glass side panel instead of the acrylic one would have been the icing on the cake.
KitGuru says: The third PC to grace our labs in recent weeks, the OverclockersUK Neuron system is the only one to walk away with our 'Must Have' award thanks to its fast GTX 1070, great price and excellent build quality.