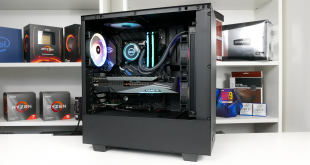 Nvidia's RTX 3080 is hot on the shelves, well if you can find any shelves with it on, and PCSpecialist has updated one of their key gaming systems to include the new powerhouse graphics card. If you're in the market for a high-end gaming pre-built, should the Core i7-10700K and RTX 3080-equipped PCSpecialist Gladius i7 be on your shopping list?
Watch via our Vimeo Channel (Below) or over on YouTube at 2160p HERE
Specifications:
Processor: Intel Core i7-10700K
Motherboard: ASUS ROG STRIX Z490-F Gaming
Memory: 16GB Corsair Vengeance RGB PRO 3200MHz C16 DDR4
Graphics Card: 10GB Nvidia GeForce RTX 3080
System Drive: 1TB Samsung 970 EVO Plus PCIe NVMe SSD
Storage Drive: 1TB Seagate Barracuda 7200 RPM 3.5" HDD
CPU Cooler: PCS FrostFlow 240 Series RGB AIO Cooler
Power Supply: Corsair RM750x 750W 80Plus Gold Fully Modular PSU
Case: NZXT H511 (Black)
Extra Case Fans: 3x Corsair LL120 RGB LED Fans + Controller Kit
Network Card: 802.11n 300Mbps PCIe WiFi Card
Operating System: Windows 10 Home
Price: £1999 inc. VAT as reviewed.
Be sure to check out our sponsors store EKWB here