Coming at £1999, the PCSpecialist Gladius i7 is surprisingly aggressive in terms of its pricing. Building the same system with almost identical parts selected through PCPartPicker actually results in a total price of a little over £2000, making it more expensive than the PCSpecialist offering.

Even if we cut-down to a cheaper motherboard, cheaper AIO cooler, and removed the quality Corsair LL120 fans, we are only a little cheaper than the PCSpecialist system but obviously do not have the luxury of the system being built for us with warranty.
A comparable, RTX 3080-powered build from Scan was more expensive by around £200 when we checked week commencing 13th October.
PCSpecialist really are offering good pricing with the Gladius i7 gaming system, especially given the perfectly logical and sensible selection of parts.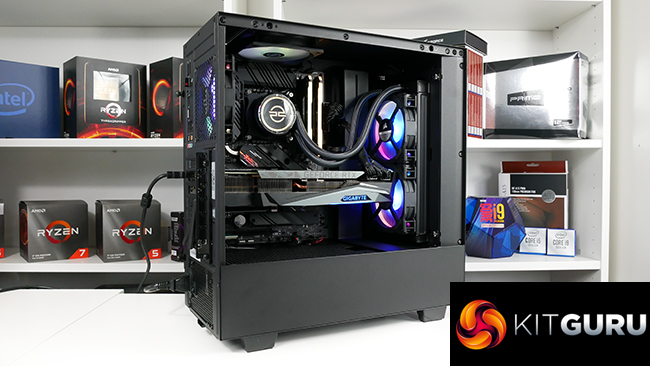 Overall, my experience with the PCSpecialist Gladius i7 gaming system has been positive. The RTX 3080 and Core i7-10700K combination delivered very strong performance overall, making this an excellent system for 4K60 or even 1440P high refresh rate gaming.
You get a well-balanced choice of core components, and the right corners have been cut elsewhere such as the RAM and lack of braided cables, despite the inclusion of a market leading NVMe SSD in the Samsung 970 EVO Plus.
Overall build quality is very good, and aesthetics are as appealing as we could expect from a system with Corsair RGB lighting and standard PSU cables. The WiFi card is ugly, though, thanks to its green PCB. That will undoubtedly annoy some users, but it is a small compromise for this system.
I was impressed by the perfectly capable cooling and low noise operation from the Gigabyte graphics card cooler, 240mm PCS AIO, and NZXT H511 chassis. Of course, the lack of overclocking on the Core i7-10700K CPU aids the system's cooling and noise performance, but I respect PCSpecialist's decision to run the fast eight-core chip at its already performant stock frequencies. If you want higher clock speeds, the ASUS ROG STRIX motherboard and its strong VRM and straightforward UEFI are open for access.
Despite its solid performance, the chassis did feel out of place for a build of this calibre; I would have preferred a more premium offering with a Type-C front panel port and better AIO cooler mounting options.
With strong overall performance, a well-balanced selection of hardware, and very competitive pricing, the PCSpecialist Gladius i7 delivers an impressive high-end gaming experience with very few compromises.
You can buy this system as reviewed directly from PCSpecialist for £1999 HERE.
Discuss on our Facebook page HERE.
Pros:
Strong gaming performance from the Core i7-10700K and RTX 3080.
Well balanced component selection – minimal wasted budget.
Good low noise operation.
Solid cooling performance.
Impressive build quality, despite the lack of braided cables.
Appealing RGB lighting options.
Very fast Samsung SSD.
Cons:
Chassis feels a little out of its depth for this calibre of hardware.
AIO mounting orientation is not ideal due to chassis limitations.
Some buyers may have valued some overclocking on the CPU.
KitGuru says: At a slither under £2000, the PCSpecialist Gladius i7 offers excellent gaming performance in a well-balanced system.