System Power Consumption
For CPU plus GPU load results, we run Cinebench R20 nT and 3DMark Time Spy stress tests for an extended time period and take readings. Gaming readings are taken when running F1 2020 at 1440p.

The power consumption of our entire test system (at the wall) is shown in the chart.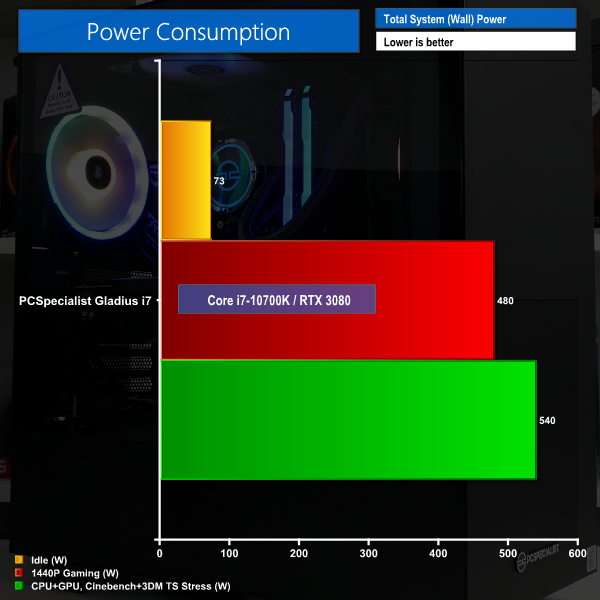 Crank up the load on the system with 1440p high refresh rate gaming and you'll soon enough see the wall power draw nearing half-a-kilowatt in some titles such as F1 2020. Stress out both the GPU and CPU in its all-core long duration loading state and you can expect to see power draw numbers peak at around 540W from the wall.
PCSpecialist's choice of the Corsair RM750x 750W 80Plus Gold PSU is a smart one, as proven by the wall power numbers. The unit leaves sufficient headroom for long-term stable operation, reasonable CPU and GPU overclocking headroom, and even future component upgrades.
System Temperatures
We use the same test procedure to record system temperatures. Ambient temperature during the readings was around 24°C.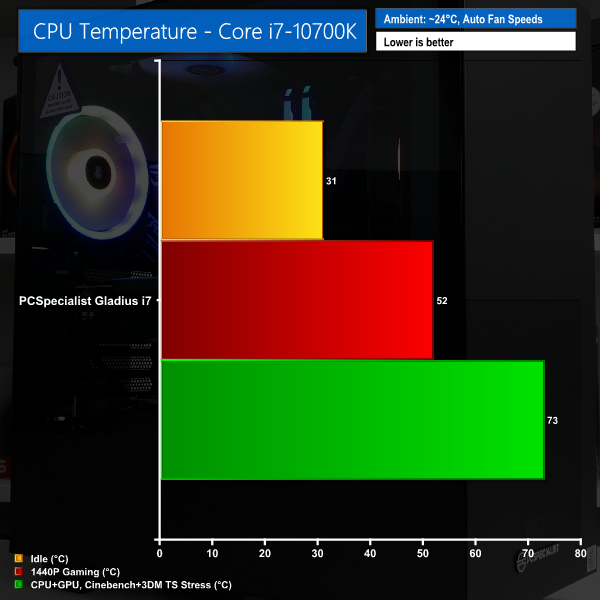 CPU temperatures are kept in check very well by the front-mounted 240mm AIO and dual Corsair LL120 fans. The Core i7-10700K typically stays below 75C in its long-duration 125W operating state, even with the heat of the graphics card added into the internal system. Plus, the ASUS motherboard VRM temperatures were in the mid-50s, which is absolutely fine.
Again, PCSpecialist's choice of hardware proves smart with the CPU cooler and quality motherboard.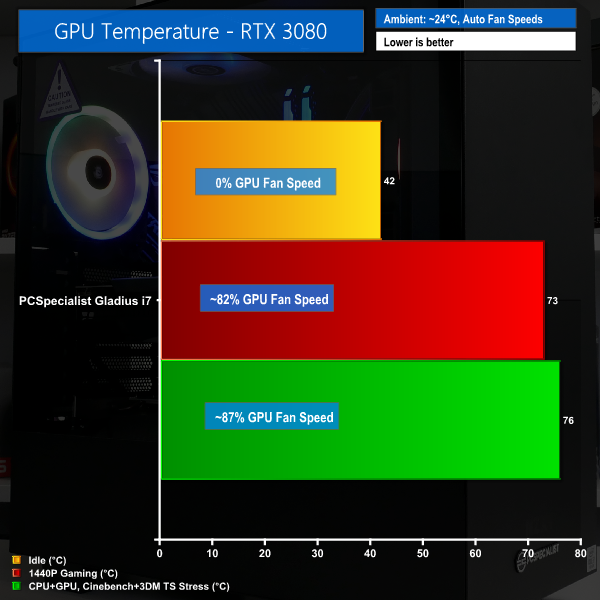 Strong cooling performance is also shown by the triple-fan Gigabyte RTX 3080 OC graphics card. The zero RPM fan mode worked fine, and load temperatures were kept below 80C even for extended periods of gaming stress.
This is very good for maintaining proficient GPU Boost clocks whilst also ensuring that the fans still have headroom to push additional cooling capacity as required. The boost core clock on the graphics card was typically in the order of 1965MHz whilst gaming, or around 1930MHz averaged after an hour of 3DMark Time Spy stress testing.
System Noise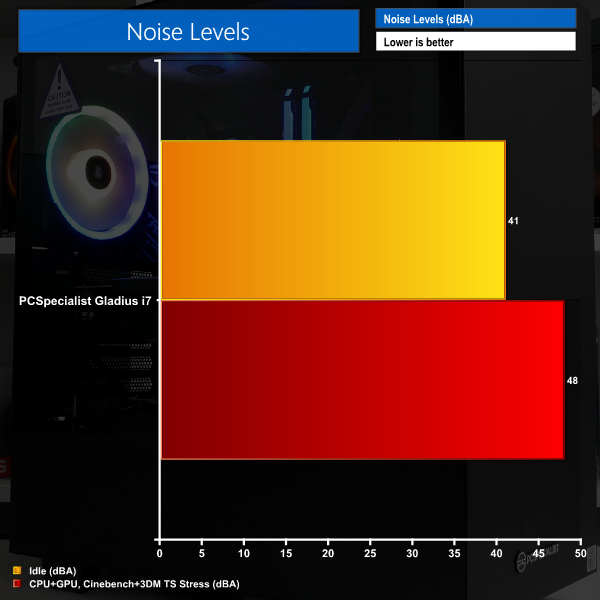 Noise levels are impressively low at idle or when just the CPU cooler is being worked. The graphics card does a superb job at keeping temperatures in check to allow the fans to spin up slowly to their long-duration, steady-state level.
Even with the Gigabyte RTX 3080 OC triple-fan cooler humming away at 80-90%, the noise levels were very tolerable to the point that the system did not distract me whilst playing GTA V without headphones.
Noise performance is one of the key areas of strength for the PCSpecialist Gladius i7.