Coming in at a tempting £1999 price point, the PCSpecialist Gladius i7 is clearly gunning for core gaming performance with minimal spend on parts that do not boost frame rates. That point is highlighted perfectly by the main pairing of Nvidia's RTX 3080 graphics card with the Intel Core i7-10700K processor. Those two components are the system's main drivers, and the other parts are focussed on value gaming performance.

As such, you get 16GB of Corsair Vengeance RGB Pro DDR4, an ASUS Z490-F Gaming motherboard, a 1TB Samsung NVMe SSD, and another 1TB of HDD storage. Cooling the processor is a 240mm AIO, power comes from a 750W Corsair PSU, and housing everything is the cost-effective NZXT H511 chassis – which is a system integrator version of the popular H510.
Clearly the star of the show is that Nvidia RTX 3080 graphics card. PCSpecialist opts for the triple-fan, two-and-a-half slot Gigabyte OC model of the 10 Gig Ampere brute. And it's not just star of the show in terms of gaming might; the twelve-and-a-half-inch monster dominates the majority of the internal build area and pushes up closely to the front mounted AIO cooler.
A good-looking, black metal backplate is mounted on the card for cooling assistance and aesthetics. Power is delivered via dual 8-pin PCIe connectors which are routed in a fairly clean way by PCSpecialist but clearly not as attractive as braided cables. Rear IO video outputs are three DisplayPort and two HDMI.
It is pertinent to address the elephant in the room when discussing the RTX 3080 – availability. We spoke to PCSpecialist and they highlighted that this RTX 3080-equipped system can be pre-ordered by customers thanks to their weekly deliveries, but the lead times will be longer than usual. As stock arrives, customers will be allocated the card in their build based on their position in the queue.
The choice of Core i7-10700K processor is a smart one in my opinion. This eight core, sixteen thread chip is a gaming performance winner alongside its 10600K and 10900K siblings (plus 9900K predecessor). PCSpecialist applies the stock clock speeds of 3.8GHz base and 5.1GHz maximum boost frequency and also uses the Intel default power limits.
As such, you get 4.7GHz all-core frequency at 140W TDP for short duration workloads and then after a few seconds of full processor loading, the chip drops to 4.5-4.6GHz all core at 125W sustained power draw. I actually respect this decision to not push with an overclock.
Sure, the chip could have been pushed around 300-500MHz higher for an all-core overclock, but this would have come at the expense of heat, power consumption, and cooler noise output. That's without factoring in the potential for instability. Of course, if you want to tinker and overclock the processor yourself, the standard UEFI on the ASUS ROG STRIX Z490-F Gaming motherboard allows you to do so comprehensively.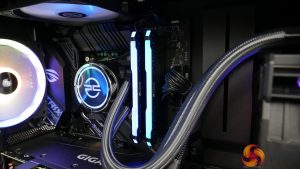 We have 16GB of Corsair Vengeance RGB PRO DDR4 memory clocked at 3200MHz C16. This is an OK kit for a system of this calibre, especially if you're a fan of RGB and Corsair's iCUE ecosystem. But it is certainly 'budget' in terms of frequency and timings for today's market.
Given the aggressive price target set by PCSpecialist, this set of memory is perhaps a worthwhile compromise to hit the £2K limit.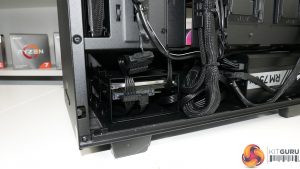 One area where PCSpecialist certainly did not skimp is on the SSD choice. Samsung's 1TB 970 EVO Plus M.2 NVMe SSD is chosen as the main OS drive. This is a high-performance, enthusiast calibre SSD at a capacity level appropriate for also storing even a few big games. It is good to see a high-quality drive supplied rather than an El-Cheapo bargain basement DRAM-less SSD to shave off a few pounds of cost. Well done, PCSpecialist.
Added storage comes in the form of a 1TB Seagate Barracuda HDD, which is a preferably budget option to something like a cheap 1TB QVO SSD in my opinion. Perhaps a 2TB HDD could have been squeezed into the system given the minor price difference between one thousand Gigabytes and two thousand. But there is room to upgrade if you need more storage.
Power for the system is handled by a Corsair 750W RMx series PSU. I have no complaints whatsoever with this solid quality, 80 Plus Gold, fully modular power supply. I was also happy to see the unit having a zero RPM fan mode to further reduce noise levels.
The NZXT H511 chassis is certainly on the lower-end of the budget or mid-range spectrum for a build of this calibre. But it offers good aesthetics, a glass side panel, and enough internal room, so there is somewhat little to complain about. I guess a lack of a front panel Type-C USB port is a disappointing adjustment for the H511 from its retail H510 sibling.
No major complaints for the chassis but I personally would have preferred something a little more premium and more fitting of a £2K, power-hungry build.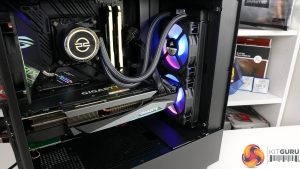 Cooling is handled by a 240mm PCSpecialist FrostFlow 240 series RGB AIO liquid cooler. The dual 120mm intake fans have been switched out to Corsair LL120 RGB models mounted to pull air through the radiator. A 240mm AIO is a perfectly logical partner for the Core i7-10700K, especially when running at its default power modes.
One area that is disappointing is the mounting orientation of the AIO cooler. The tube entry/exit points and reservoir are positioned at the highest point in the loop. This is better than having the pump at the highest point in the loop, which it is not. However, it is not ideal for noise and longevity, as highlighted by some excellent work done by Gamers Nexus.
Realistically, though, this is the only mounting orientation that is possible in the NZXT H511 chassis with the RTX 3080 installed. This again references my earlier point of a higher end chassis being more fitting for a build of this calibre. Something a little more premium and with more cooling flexibility, such as the ability to take a roof-mounted 240mm AIO, would have been a better option.
In terms of overall chassis cooling, we have the dual 120mm intakes on the front radiator, we have another Corsair LL120 RGB fan as exhaust in the rear position, and we have one PCSpecialist 120mm RGB fan as roof exhaust. The chassis is basically maxed out in terms of fan installations, other than switching the top exhaust to a 140mm option, so it will be interesting to see the balance of cooling and thermals.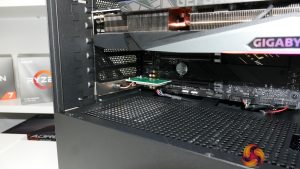 Rounding out the bundle is an 802.11n 300Mbps WiFi card in a PCI-e slot that will no doubt be a lifeline to some users and completely pointless to others. And the system runs Windows 10 Home, which is absolutely fine for a gaming machine even though I personally prefer Pro for all of my own systems.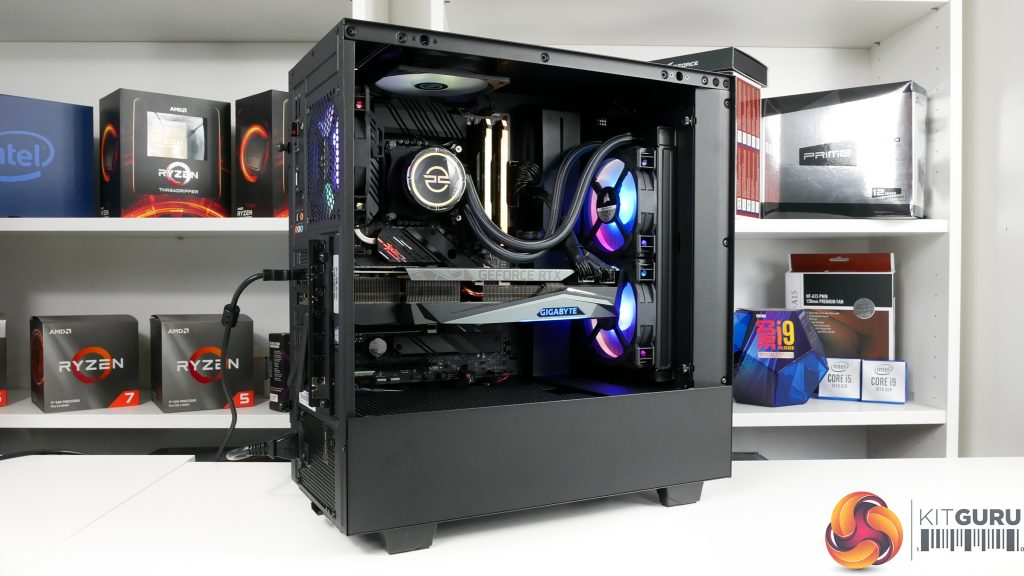 Overall build quality for the PCSpecialist Gladius i7 system is what I would describe as very good. You also get good RGB lighting and easy control through Corsair iCUE software or ASUS AURA which links the different hardware components very well. The colour scheme of the components is generally dark black and white or grey, so very neutral for use of RGB differentiation.
Combined with the glass side panel window on the NZXT chassis, I am happy with the overall build that PCSpecialist has presented.
Cable management inside the NZXT chassis is clean, despite the use of the Corsair PSU's default cables that are not braided or eye-catching. There are a couple of cables on the IO ports at the bottom of the motherboard that deviate from the black shrink-wrap styling, but these are relatively minor points.
One styling complaint is that the green PCB on the WiFi card is ugly and looks out of place. But aside from those minor niggles, I am happy with the cable management and overall build styling when combined with the RGB lighting.