Sony is currently facing heavy criticism from gamers, YouTuber's and traditional media outlets over its Playstation Now beta pricing. Right now the service is offering plenty of older titles such as Saints Row the Third and Final Fantasy XIII-2 but the rental options are more expensive than buying a physical copy of the game.
Sony has done a pretty good job at covering its bases with rental periods, you can rent games for 4 hours, 7 days, 30 days or 90 days. However, the prices for those options are ridiculously high. Renting a game like Deus EX Human Revolution, Final Fantasy XIII-2 or Saints Row the Third for a mere four hours will set you back $5. Despite the fact that most of those games can be bought for not much more. For example, on eBay you can pick up a new copy of Deus EX for $5.99 right now.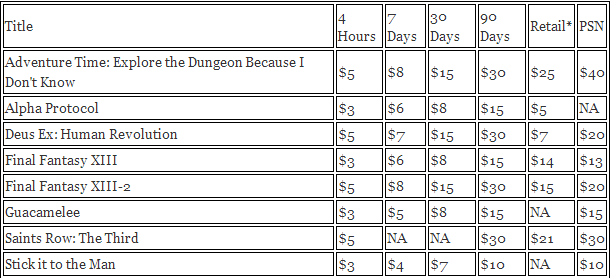 Source: Game Informer
The above chart shows that renting a game for even up to 90 days is usually more expensive than buying a physical copy from Amazon and on some occasions, renting is actually more expensive than the PSN price. Playstation Now does have some benefits, it will allow you to stream games to multiple devices, including the PS Vita, PS TV, PS4 and PS3. Sony has also said that it hopes to spread the service to non Playstation devices.
However, at its current pricing, I doubt that people are going to be willing to give Playstation Now much of a chance. The service is still in beta so hopefully Sony gets its act together and takes the age of a game and its current second hand and retail price in to account when pricing up. There has also been talks of a subscription service that would allow you to pay a monthly fee in order to have access to the full library of games, although there's no concrete details on that yet or how much it will cost just yet.
Discuss on our Facebook page, HERE.
KitGuru Says: I wouldn't bother with Playstation Now at its current pricing. How much would you guys be willing to spend to rent a game for four hours? How much do you think a subscription to Playstation Now should cost? 
Source: Game Informer