Technical specifications of the world's first media tablets based on Mozilla's FirefoxOS platform have been published. As expected, Mozilla and its manufacturing partner Foxconn Electronics, plan to initially address emerging markets with tablets featuring FirefoxOS. As a result, the hardware that powers the slate is hardly impressive.
The first tablet to use the FirefoxOS will be sold by InFocus, an unknown company from Asia, and will be branded as New Tab F1. The slate is based on AllWinner A31 system-on-chip (quad-core ARM Cortex-A7, ImgTec PowerVR SGX544MP2 graphics engine, memory controller and so on) and comes with 16GB of NAND flash storage, 2GB DDR3 RAM and 10.1" capacitive multi-touch display (IPS panel with 1280*800 resolution). The tablet is equipped with Wi-Fi 802.11b/g/n, Bluetooth, GPS, gyroscope, two cameras (2MP and 5MP), micro SD card reader, micro USB connector, headphone jack and 7000mAh battery.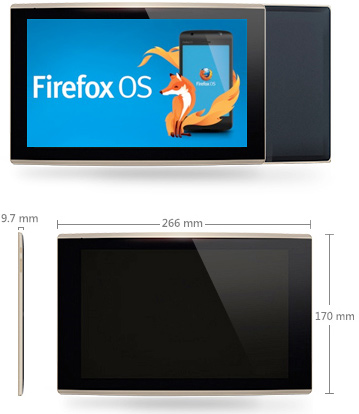 While the InFocus F1 slate features big 10.1" display and large-capacity 7000mAh battery, a low-end application processor with inexpensive general-purpose Cortex-A7 cores and simplistic dual-cluster PowerVR SGX544MP2 graphics engine clearly points to the fact that the tablet is aimed at emerging markets that need cost-efficient solutions. Since it is unknown whether FirefoxOS platform requires a high-performance processor to offer proper user experience, it is hard to estimate how good the InFocus F1 actually is.
While the estimated price of the InFocus New Tab F1 has not been published, Geek.com believes that it should be around $150, which is a very affordable price-point for a 10.1" tablet. Not only such tablets can become popular on emerging markets, but with such price-tags they can even be welcome on well-developed markets as well.
KitGuru Says:  The main problem for Mozilla's FirefoxOS platform is limited choice of software when compared to Apple iOS and Google Android eco-system. In case Mozilla and its partners manage to ensure proper support by app developers as well as availability of hardware, then potentially we will see a rival for Android and iOS.