Last year, the European Commission ruled that Apple should have to pay £11 billion in back taxes after the company funneled money through Ireland to avoid paying larger taxes on profits made throughout Europe. At the time, the Irish government sided with Apple and at one point, the US government wanted to step in and get involved. Since then though, it seems that Apple has reached an agreement with Ireland to pay back €13 billion in back taxes.
Back in 2016, the European Union ordered Dublin to retrieve billions of euros in back taxes. It has taken just over a year, but Apple and Ireland have finally reached an agreement to start collecting the money and placing it into an escrow account.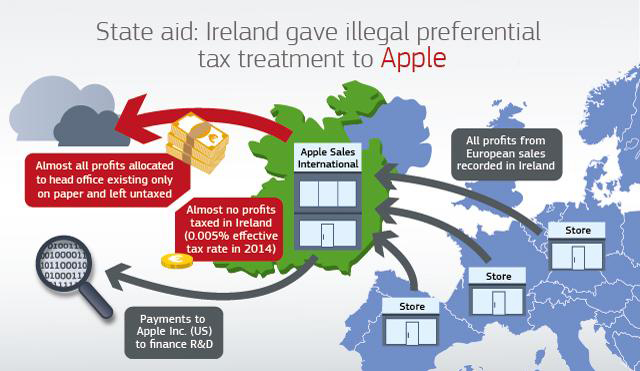 As The Wall Street Journal reports, Irish Finance Minister, Paschal Donohoe, said today that he is expecting the money from Apple to begin going into the account in the first quarter of 2018. The plan was revealed to reporters just ahead of the minister's meeting with the EU's antitrust chief, who has been chasing down the issue since the ruling last year.
As part of the EU's 2016 ruling, it said that the tax arrangements Ireland offered Apple between 1991 and 2007 meant that Apple only had to pay tax rates between 0.0005 percent and 1 percent on all of its European profits right up until 2014.
The money is going to start being paid in early 2018, but in a statement, Apple said it remained confident that the General Court of the EU will "overturn the Commission's decision once it has reviewed all the evidence".
KitGuru Says: Apple may start setting the money for this aside soon, but it seems clear that it still wants to get out of it. Whether or not the original ruling gets overturned remains to be seen.