The iKlips from Adam Elements may look like a lowly USB flash drive, but its main purpose it as removable storage for iOS devices. On one end is a USB 3 connector, while at the other, a Lighting connector that plugs into an iPhone and iPad, supplementing any internal storage inside the device.
Dating back to the iPod, Apple is well known for avoiding support for any removable storage such as SD cards in its devices, relying instead only on internal flash memory to store apps and media on the device. When you buy an Apple product, you're stuck with whatever capacity you choose, as it cannot be expanded in any way.
Countless pages of forum posts have been dedicated to arguing for and against this approach. Apple most certainly profits from the hefty markup on iPhones and iPads with additional internal flash storage, opting for a 64GB iPhone 6s adds £80 to the cost – the only difference being an extra 48GB of internal flash memory. The gits.
In its arguable defense, without needing constant checks for media on removable storage, this approach makes file management in iOS simpler and ensures consistent performance. It's one less port required on the outside of the device, when Apple absolutely prefer a minimalistic external design and when its designers are on a never-ending quest to reduce the thickness of its hardware.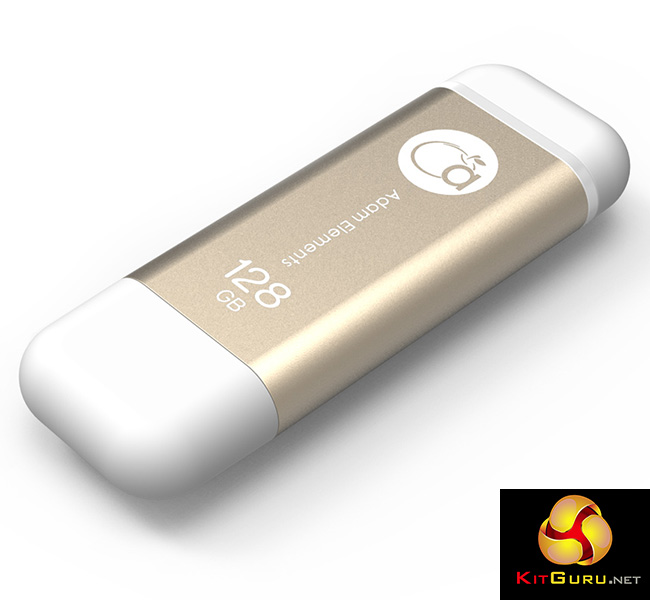 It matters not though, because Apple is unlikely to ever change this policy. If you want an iOS device, unless you are absolutely certain you will never use it for storing large apps or media files, the smallest 16GB models are best avoided, and you should stump up the cash for the larger capacities. It's worth it for your sanity especially to avoid the constant headache of file deletion and management later on when the device is filled up.
The door isn't completely closed on external storage though. Apple sells its own adapter to use SD cards purely for transferring photos from digital cameras to the Photos app. And now, third-party support is possible too, as the iKlips from Adam Elements shows.
As a project that began life via funding on Indiegogo, the iKlips is available in five colours, silver, black, gold, rose gold and red. Storage capacities range from a lowly 32GB up to 256GB, with this largest capacity listed at a fairly hefty $399 on the iKlips website.
With a USB 3 connector on the other end, it can be used as a standard USB flash drive when connected to a PC or Mac. Formatted with the exFAT file system, you cannot store files larger than 4GB on it, but you can transfer files from your computer's hard disk, completely circumnavigating the use of iTunes as well.
It relies on an iOS app to manage storage on the device. Apple's own Music, Photos and Videos apps cannot access the extra storage it provides, so this app offers a built-in photo viewer, music and video player and document management.
We will be taking a look at more of what the iKlips has to offer from its hardware and software in this review.