Performance
The Mate 20 Pro uses the new 7nm Kirin 980 that was first announced back at IFA 2018. Alongside this we have 6GB RAM and 128GB of internal storage.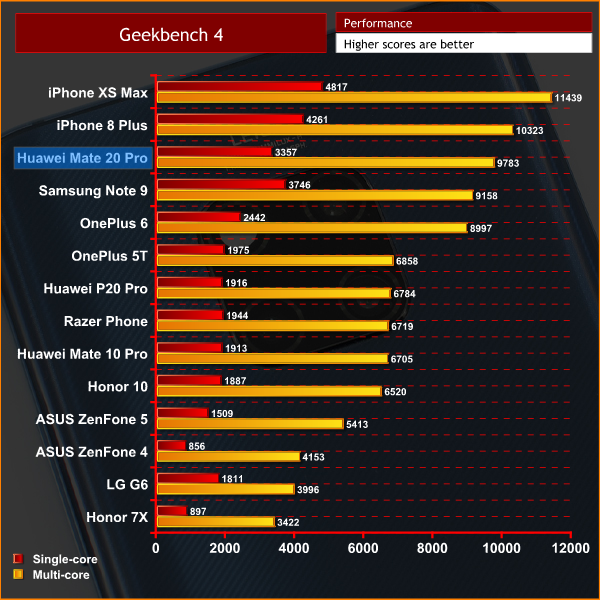 Starting with Geekbench 4 – our synthetic test of choice – we can clearly see a big performance jump from the Kirin 970 to the Kirin 980, with the multi-core score of the Mate 20 Pro 44% higher than the P20 Pro. This is just ahead of the Snapdragon 845, too, and even the Exynos 9810 of the Note 9. Apple's A12 chip from the XS Max, and even the A11 from last year, both post higher scores though.
Still, I don't like to put too much stock into synthetic benchmarks, as they can sometimes be misleading – Huawei itself was guilty of some sneaky benchmark cheating earlier this year. What I can say, though, is that the Mate 20 Pro is absolutely rapid when using it day to day. Apps open fast, the system as a whole is very responsive and multi-tasking is also no problem. I have really had no issues with the general speed and reliability of the phone when using it in the real world.
Speaking of speed, though, we also have to mention the in-screen fingerprint scanner and face unlock. Starting with the former, this is the first time I have used a scanner under the display, and it does take a little getting used to – you have apply quite firm pressure to the small area that is market on the screen, and the designated sensor area itself isn't the largest so you have to be careful where you are actually putting your finger.
With that said, the whole process isn't the fastest – the capacitive scanner on the P20 Pro, for instance, is noticeably faster, almost instant. With the Mate 20 Pro, there is a definite beat before the screen unlocks. It is not slow, certainly, and I can appreciate this is cutting edge technology – but speaking for myself, I'd rather a traditional scanner on that back that is faster and perhaps more reliable, than a new and trendy scanner that is under the display.
Because of that, I have been using the facial unlocking almost exclusively to unlock the phone. This is again very rapid for face unlocking, and I have to say it does work very well even in low light which is thanks to the IR camera. Again, though, it is still not quite as fast as a traditional capacitive fingerprint scanner, so I do think Huawei has perhaps jumped ship a little early – as of right now, a traditional scanner is still the fastest way to unlock a phone, and for that reason alone I still would've liked one on the Mate 20 Pro.
One other aspect of the phone I want to discuss here is the speaker. As mentioned on the previous page, Huawei has removed the speaker grille from the bottom of the phone, and now the audio comes through the USB-C port instead. I have to say, I really think this was a mistake – compared to the P20 Pro, the speaker quality is noticeably more tinny and weak sounding, not to mention being overall quieter when at maximum volume. This may be less of an issue for you depending how you use your phone's speaker, but I use the speaker frequently and I have to say I just find it strange we have taken a backwards step from the P20 Pro to the Mate 20 Pro.
The other downside to this approach is that audio is even more muffled when you plug the phone into charge, as the sound's passageway has now been blocked off. As someone who often watches YouTube in bed with my phone plugged in, I found it quite frustrating that it seemed to be an 'either or' situation – either charge or get the most from the speaker. Matters are obviously not helped by the fact there is no headphone jack either.
Software
Moving onto software, the Mate 20 Pro ships with EMUI 9.0, which of course is based on Android Pie 9.0 – so it is good we are getting the latest OS right out of the box. EMUI generally isn't my favourite Android flavour – I think most people would prefer stock – but it is generally quite usable now and version 9.0 makes some further improvements.
For one, the quick settings drop-down menu is now white and I think it looks a lot cleaner than the previous black version – it's a minor cosmetic change, but I really found EMUI 8 to look very dated, and I think this looks a lot fresher.
Digital Balance is another good feature to make its way over from Android 9.0 (with stock Android it is called Digital Wellbeing), and this lets you monitor how you use your phone and set 'wind down' times so the screen turns to monochrome after a certain point to encourage you to stop using it at night.
Gesture navigation has also found its way to the Mate 20 Pro, which is welcome – a swipe up from the middle of the bottom edge takes you home, swipe up and hold will show your current apps, and swipe in from the left and right edges will take you back. It works well most of the time – I had a couple of issues swiping in from sides of apps to go back, as this would occasionally interfere with the app itself – but by and large I found gestures fast and responsive.
The biggest downside for me here, though, is that gestures don't work with Nova Launcher, which is my launcher of choice as I am not keen on the overall look and flexibility of Huawei's own launcher. Here, any swipe up from the bottom just opens the multi-tasking window with all my open apps – it won't take me home. Because of this, I just haven't been able to use Nova with the phone's gesture system – and the issue remains after two or three software updates as well.
The last thing I do have to mention as well is the settings menu. Huawei claims it has neatened things up a bit here, but it is still quite cluttered and things can be hard to find. The software overall isn't a deal-breaker for me, and it is certainly improved over EMUI 8 – but like I said, I do prefer stock Android.