Testing a speaker like this involves listening to a number of different songs of various genres, as well as talk radio, podcasts and similar to make sure it can achieve a full range of sound and at what quality levels. We also test it at low and high volumes, as well as running it for many hours to gauge battery life.
In the case of this speaker, we also ran it under a shower during use to test its waterproofing claims (see video below).
The first and most important test of any speaker is of its sound quality. I listened to many hours of music on the Mercury Box and found it a very capable speaker. It handles high frequencies well and the bass is strong considering the diminutive size of the speakers. That said, it does not reproduce really deep bass that you would expect from a much larger speaker or dedicated subwoofer. Not really a shock to be fair, but bass is punchy enough to be enjoyable.

Vocals are reasonably well presented in the mid range, but there is a thin veil apparent throughout this range.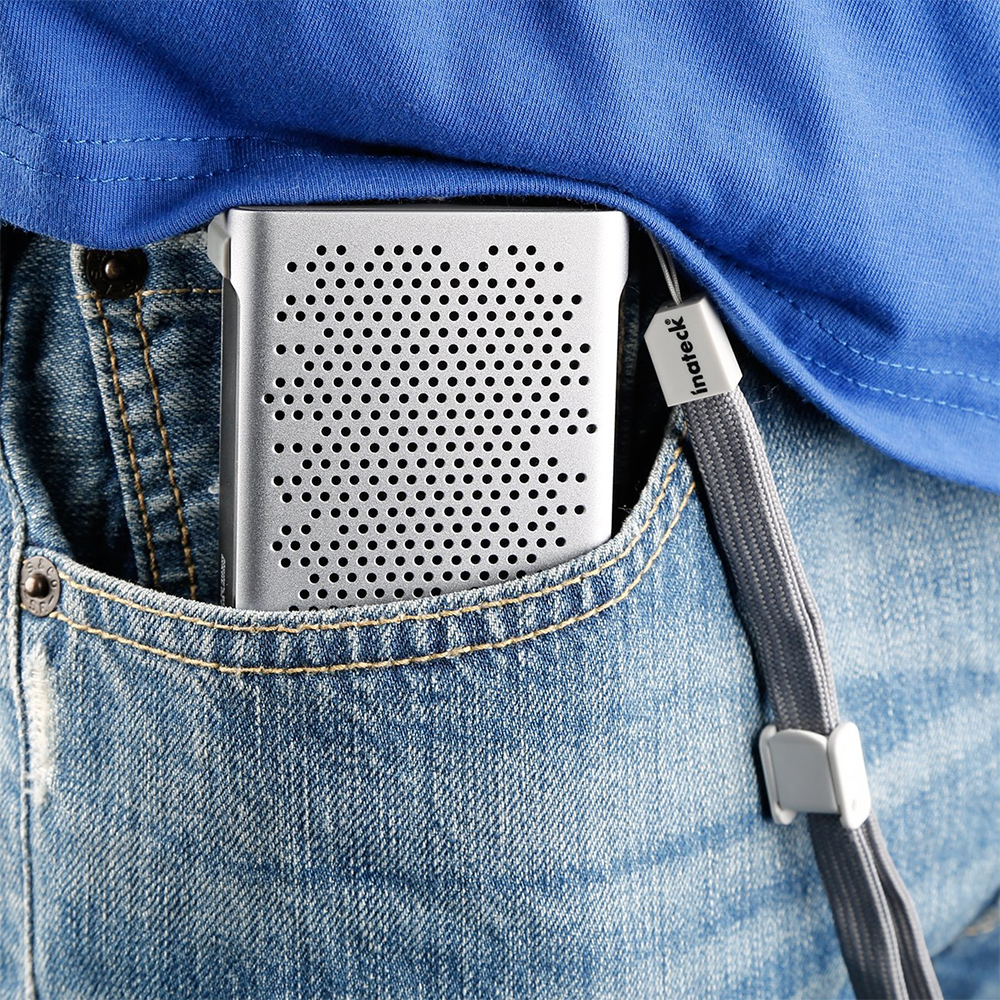 Although it's not exactly pocket shaped, Inateck was quite proud of the fact that this speaker can fit in your pocket
The speakers do lose a little bit at the very top end with a noticeable roll off, but that has been the case with most mobile speakers we have tested in recent years and a compromise you need to be willing to accept.
There is no crackling with the Mercury Box though, so if you want to have it blasting at full tilt then it can do so without any really obvious distortion. Just do not expect it to do your 24bit/192Hz tracks justice.
Speaking of volume, the controls are a bit different on this speaker than others. There are volume up/down buttons on the speaker itself which operate when depressed and held. If pressed once, they double as skip functions back and forth. Interestingly though, the volume control on your smartphone is actually a separate digital amplifier.
While this might allow for some more fine tuning than if they were unified, it does mean that in order to fully customise the volume you need to be within reach of both the speaker and the broadcasting device, which seems to defeat the point of adding more controls to the speaker.
The control system for the Inatech Mercury Box works fine otherwise, with a slight depression of the volume down button so that you can operate it without looking if needed. The other buttons work well, giving more ability to control the music than most speakers, as well as speakerphone control.
Although tinnier sounding than using your phone directly, both the caller and the receiver come through great on each end, thanks to the decent microphone built into the speaker. It also has its own separate ring tone which is handy. Music is automatically paused during the call and resumes by itself afterwards.
The other abilities of this speaker are equally impressive. Its range extends up to 60ft with a clear line of sight to the device broadcasting to it, and with walls and doors in the way it can reach to 20ft.
Watch the 'Waterproof' video via our VIMEO Channel (below) or over on YouTube

NB. Music source: The Palmer Squares
Waterproofing is not as good as some devices, so the Mercury Box cannot be submerged. However it can survive quite a rigorous drenching with a shower head. If you keep it on its side too, the water bounces along with the music in a particularly fascinating manner. See our video above for more on this.
Although not designed to be shock or damage resistant, the aluminium casing is very sturdy. When dropped from a height of one and a half metres on to a stone flooring, the speaker bounced around a little and came to a rest with just a few corner scuff marks. Music continued to play throughout.
Battery life is said to be as long as 15 hours. We can confirm that it ran for around 12 hours on our first charge before the battery ran dry.