The Inateck Mercury Box is one hell of a speaker. Despite its rather understated  – you could argue, bland appearance, it is an amazing piece of kit for the price. Not only does it sound great throughout the volume and frequency range but it is waterproofed enough to sustain a severe drenching, which means accidental splashes or using it in the shower with you will not negatively affect it at all.
After extended sprays with the shower a little water did get into the rubberised charge/data compartment, so be a bit careful as this is not a completely waterproof speaker – but it does offer some excellent resistance.
Its sound is not perfect of course, but even the speakers we have reviewed which cost upwards of £250 struggle with certain frequencies and deep bass. The Inateck Mercury Box does however lack any form of companion app and Smart Bluetooth support for remote on, which would have been nice.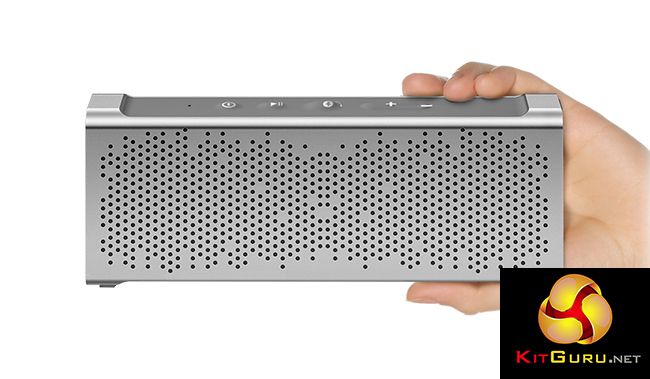 The battery life and range are both excellent and the ability to control songs is very handy. Skipping tracks back and forth as well as play/pause and volume controls. It seems a shame that there are separate volume controls on your phone and the speaker – as it means adjusting both for maximum volume, but this seems like a minor gripe when everything is considered.
The speaker is also durable which is not surprising considering the casing but its ability to take a beating is not something even Inatech advertise. The price point seals the deal – it costs only £40 and it offers more features than many of the more expensive speakers we have reviewed in the last year. You can buy the Inatech Mercury Box from Amazon for £40. It claims to be reduced from £100, but it is advertised for a similar amount on the US version of the site.
Pros
Solid sound quality throughout the frequency range.
Surprisingly strong bass for a speaker of this size.
Splash and spray proof.
Durable.
Long range when within line of sight.
On board controls allow for song skip, play/pause.
A decent bundle of extras.
Cons
Volume controls on phone and speaker are separate.
Mid range frequencies are not as strong as others.
Some mid range muffling at higher volumes.
No companion app or smart Bluetooth support.
KitGuru Says: A powerful little speaker with waterproofing and a tough casing the Inatech Mercury Box is one of the most understated, overpowered Bluetooth speakers out there – and at a great price.