On the whole, the Acer Liquid Jade Z seems like it just can't quite deliver on its potential.
The design is attractive, with a new, grey back – but it is rough underhand and does not provide the best user experience for consumers. As always, the Jade Z is incredibly light at 110g, which is in its favour.
A 720p display, with an IPS panel, does a good job too. However, Acer have not improved the display since the original Liquid Jade, so it is a bit disappointing that they seem content to tread water. Nonetheless, it is a solid screen.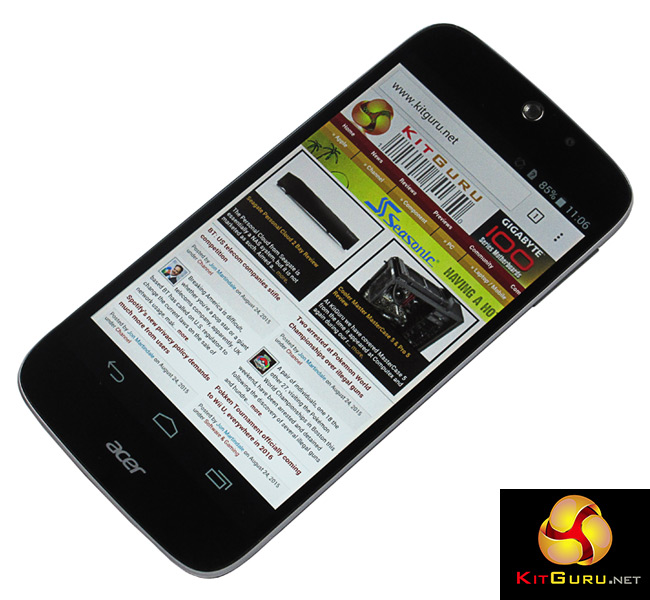 The OS is by far and away the biggest of the Jade Z's problems, though. It is simply not fit for a modern smartphone, as it looks very dated. There is no colour, and far too many clunky widgets. Icons, too, should be flatter. Considering that this is the same OS as found on the original Liquid Jade, Acer should be doing much better here.
I also believe that the additional software Acer have added prevents the Jade Z as performing as well as it could. It delivered good benchmark scores, but real-world performance was not quite at the same level. Without the extra software 'layer' I think we would be seeing better everyday performance from the Jade Z.
The Jade Z is helped by a decent camera unit, though – colours are very rich and the detail in the images is high. Battery life also is in the Jade Z's favour, too. It will last a day of real-world usage with a room to spare – but do not expect a two-day battery life from the 2300 mAh unit.
Overall, given that the Jade Z costs around the £150 mark, it is hard to recommend ahead of the Vodafone Smart ultra 6 – which costs less at £125 while having a better display and a faster processor.
Still, if you want a smaller and very portable smartphone – even though its performance is not always perfect – the Jade Z could do a job. You can get it from Dabs for £152.24 inc VAT here.
Discuss on our Facebook page, over HERE.
Pros
Thin and light
Attractive back
Solid display
Decent battery life
Cons
Awful OS
Everyday performance is occasionally shaky
Display has not been improved since the original Jade Z
Uncomfortable to hold
KitGuru says: With stock Android included, we could be looking at a good little phone in the Liquid Jade Z. Unfortunately, it is held back by an outdated operating system which also affects real-world system performance. Nonetheless, a thin design and decent battery life claw things back for the Jade Z – so we have a phone 'worth considering.'