Performance
The ASUS ZenFone 4 (ZE554KL) comes with a Snapdragon 630 processor, Adreno 508 GPU and 4GB of memory.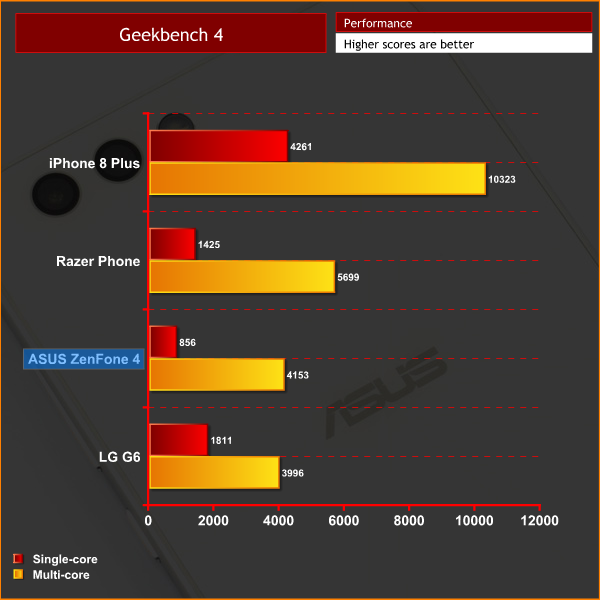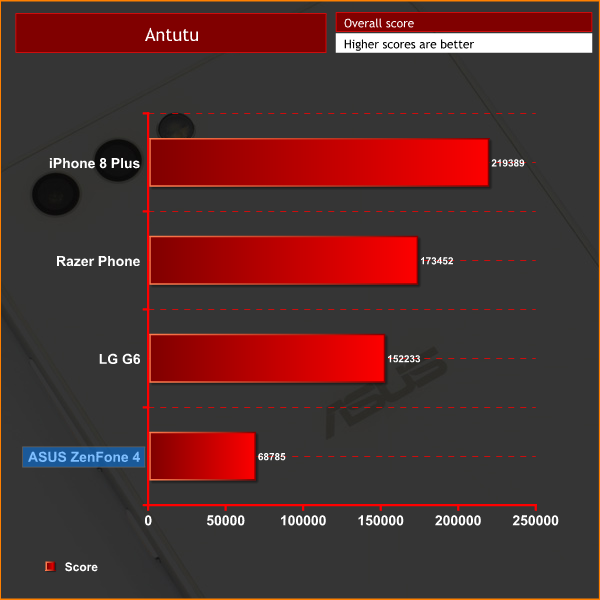 As you can see, benchmark performance of the ZenFone 4 is not the best. It is only fair to say that the three other phones we are comparing it against are significantly more expensive, but they are the only devices we have tested across the last couple of months.
Day-to-day, however, the ZenFone 4 performed admirably. I did notice the occasional short delay when waiting for a new app to open, and games like Dune and Temple Run 2 didn't quite feel as smooth as with the Razer Phone.
For the most part, though, the Snapdragon 630 got the job done, and for the money the performance is about as good as you'd expect – generally solid but not quite up to the standard set by other, pricier flagships.
Software
Now, in terms of software, the ZenFone 4 runs Nougat 7.1.1. ASUS has obviously tweaked it a fair bit, with its own ZenUI launcher and other cosmetic changes.
The launcher itself is fine. I'm not too keen on the skinned icons or that they come squished down into rounded squares – it looks a bit childish to me – but its nice and colourful which is appealing. ASUS has kept the app drawer, too, which is good to see.
There is also a 'theme' app which will change the appearance of the icons, wallpaper and notification panel – so if you want to change the look of the software without manually changing every setting, the option is there.
Speaking of the notification panel, ZenUI's offering is a big improvement of stock Android's, if you ask me. It is colourful, and also quite large which makes everything easy to see. On stock Android I always find myself squinting a bit when I drag down from the top. You can also customise what shortcuts to put on the drop-down tray with plenty of options to choose from.
The actual settings menu is brightly coloured, with the settings themselves grouped into categories like 'device', 'personal' and 'system'. Nothing to complain about here.
There is a bit of pre-installed ASUS fluff – things like 'Selfie Master' and ASUS' own weather app just aren't necessary – but the overall experience is positive. It may not appeal to die-hard stock Android fans, but ZenUI is good-looking and really not too offensive at all.
Be sure to check out our sponsors store EKWB here