The Venturer PrimePro 12 TS ships in a white box, with a large photo of the product dominating the front.
Inside, the only piece of documentation is a small quick-start guide.
As the PrimePro 12 TS is a 2-in-1 device, it is essentially a tablet that docks to a keyboard to give added functionality.
The tablet itself is matte-black, and on the back we find a speaker grill, a Venturer logo and a 2MP camera. The front of the tablet is bare save for a 2MP front-facing camera.
I do think the design could have been better here, though, as the tablet itself is quite chunky and unattractive. For example, it has very thick bezels, measures nearly 12mm thick and weighs 900g (not including the keyboard). The latter point is very significant as the PrimePro 12 TS quickly becomes a burden if you are holding it as a tablet.
The keyboard 'dock' its pretty conventional, and the tablet connects using magnets. The dock brings the total weight to 1500g, or 1.5kg, which is pretty good for a laptop, it is just the 900g tablet-only weight which is significantly more than what we are used to with other tablets.
Using the PrimePro 12 TS as a laptop delivers very mixed results. The trackpad is frankly terrible, as tracking is just so imprecise. This is primarily because the trackpad material is not very smooth – it feels thick and heavy – and the physical size of it is also limiting. In Windows it quickly becomes a challenge to navigate successfully. Drag-and-drop functionality also seems non-existent, while two-finger scrolling is touch-and-go at best.
However, the keyboard is actually pretty decent. The keys have a fair bit of travel – more than what can be said for most laptops these days – and these is also some satisfying tactile feedback which is always appreciated. Obviously there's no num-pad, and PgDn/PgUp share space with the arrow keys, but the overall typing experience is positive.
The display is another area where the PrimePro 12 TS delivers mixed results. It is an IPS panel, so colours are pretty vibrant and there is minimal colour shift. It is also reasonably sharp given its 1920×1200 resolution (a 16:10 aspect ratio). However, the touch-enabled screen is hugely reflective, to the point where watching TV shows in a well-lit area is very distracting. There is also noticeable backlight bleed, as my sample had a hot-spot in the bottom-right corner and along the top edge.
Elsewhere, the I/O is not overly plentiful: we find 1x USB 3.0 Type-A, 1x micro-USB port (for charging only), 1x headset combo jack and a mini HDMI port. It is good to see a full-size Type-A port, but having just one is definitely limiting.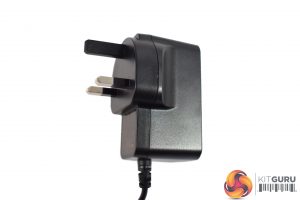 Lastly, the 'power brick' is just a typical wall charger, just like you'd get with a mobile phone.