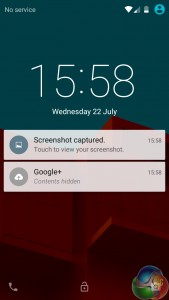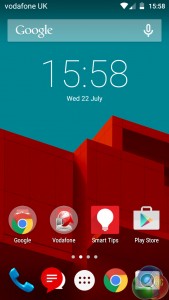 Just as with the Smart Ultra 6, the prime 6 ships with Android Lollipop 5.0 – the latest version until Android M is released in Q4 this year. The OS is the same on both Vodafone phones, meaning that we what we have is essentially stock Lollipop. There are a few Vodafone apps here and there, but there is no custom skin or extra features included within the operating system itself. Regular readers will know I always think this is a good thing.
To start then, the lock and home screens are nice and uncluttered, with just a few choice apps and a simple clock widget. I like the clean approach, and it means I would have no problems using this stock launcher in the long run. I usually recommend Nova, but since this launcher is simple and uncluttered, it is very user-friendly and attractive.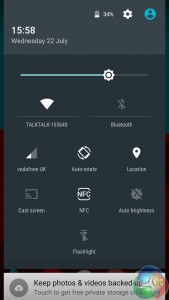 The drop-down notifications bar and quick settings are left untouched, which is no bad thing. Things are laid out simply, meaning it is very easy to access the settings you want. One gripe I do have with the quick settings is that there is no auto or adaptive brightness setting readily available. It is there if you go into the display settings in the 'proper' settings menu, but the feature is not on the quick settings drop-down itself.

I find this rather odd and somewhat frustrating, as like many users I'm sure, I often toggle between auto-brightness and then manually setting my own levels if I am staying in the same environment for a prolonged period of time.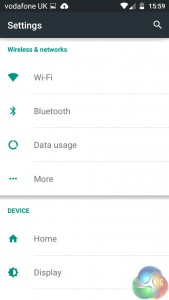 The actual settings menu itself, then, is identical to the menu found with the ultra 6. This means there is one page divided into different sections, like 'wireless and networks' and 'device' etc. I would rather see these sections in different tabs at the top of the page, meaning those sections are more easily accessed – as tabs save you scrolling until you find your desired settings. Still, the menu is clean and simple, so it is not the end of the world.
Other than those choice niggles (which are far from deal-breakers), there is little new to the OS as it is stock Lollipop. So while it may seem there is not a lot new to comment on, stock Lollipop is responsive, attractive and user-friendly – so a big 'well done' to Vodafone to leaving it be.