Taken on its own, the Vodafone Smart prime 6 is a great budget handset.
The design is simple and what we would expect for £80. The main issue is that it is comparatively heavy (155g) for a 5" phone, but that is quickly adjusted to.
Vodafone have gone for an IPS HD panel, too, which I found very usable. The resolution is very acceptable, with a 294 PPI density which is great for the price. The IPS technology also helps produce vivid colours and great viewing angles.

In terms of its OS, Lollipop, there is not a lot to comment on. It is stock Android, and could be improved in a couple of minor ways, but otherwise it is a great system to use and is nice and responsive – just what we would expect from a stock OS.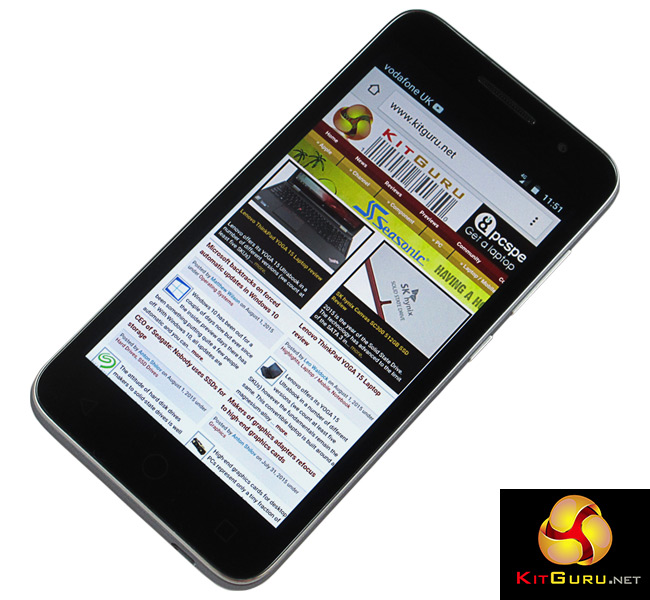 The Snapdragon 410 is another admirable performer, with just a couple tell-tale signs (such as occasional lag and keyboard freezes) that this is a budget CPU. Our benchmark scores only confirmed this. Still, for everyday usage it is very usable.
An 8MP camera handles photo duties, and is largely as expected. Detail is not the best due to the 8MP sensor, but it would be unreasonable to ask for more for £80. The auto-exposure is the biggest issue, but leave HDR mode well alone and your photos will look fine.
The 2500 mAh battery is probably the standout performer for me. It will keep going under continued usage and can comfortably last a full day, even stretching to two days with more intermittent usage.
So with that all in mind, it would seem the prime 6 is a great budget phone. And that is certainly the case. However, we must also consider the Smart ultra 6 – its bigger brother. The ultra 6 costs just £45 more, yet gives flagship performance and comes with a premium FHD display panel. It is the current budget king, and by quite a distance.
The ultra 6 means it is hard to recommend the prime 6 as it is only £45 extra. If you are absolutely on a budget, the prime 6 won't let you down. But for the extra cash, the ultra 6 is the phone to get. Our review of the Smart ultra 6 can be found here.
You can buy the prime 6 from Vodafone for £80 here. Alternatively, you can see the range of contract options available here.
Discuss on our Facebook page HERE.
Pros
Excellent battery life
Attractive price
Capable display
Stock Android
Decent budget performance
Cons
Slightly too heavy for a 5" phone
Only £45 less than the Smart ultra 6
Camera auto-exposure is not the greatest
KitGuru says: On a very tight budget, look no further than the Smart prime 6. If you can stretch to the Smart ultra 6, though, for an extra £45 you will not be disappointed.