Thermal Performance
Ambient temperature was maintained at 23°C throughout testing. Windows was set to High Performance mode. All fan settings were left on BIOS defaults.
Idle temperatures were measured after 30 minutes from initial boot up with the system inactive.
Load temperatures were measured when playing Metro: Last Light – a Direct X 11 game that taxes both CPU and GPU extensively.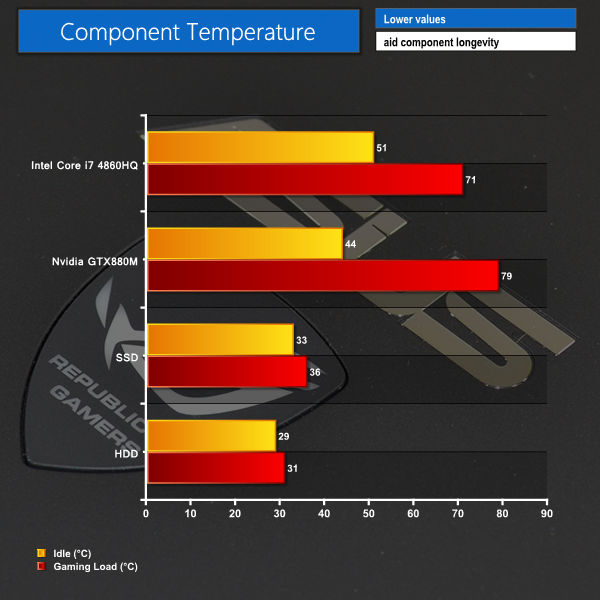 Idle temperature of the 4860HQ CPU is relatively high, but that is due to a balance being struck between operating temperature and system noise output. 51°C is not a cause for concern.
Pumping a gaming load through the system sees CPU and GPU temperatures increase past 70°C. The GTX 880M hits 80°C at certain points.
In regard to temperature control, Asus' dual-fan cooling solution looks to be comparable to the system used by MSI's GT72 2PE Dominator Pro laptop.
Acoustic Performance
We record the laptop's acoustic emissions when it is idling and gaming (running Tomb Raider).
Our sound level meter is placed where a user's ears are likely to be located – around 50 cm above the laptop and 50cm from the screen (which is around 25cm from the front of the keyboard).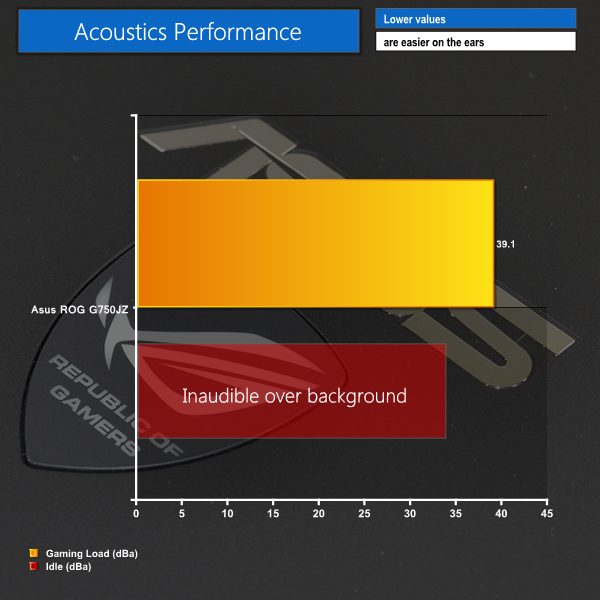 Acoustic performance of Asus' ROG G750JZ is excellent. It was impossible to hear the system's operating state when it was idling.
The twin cooling systems do an excellent job of delivering low noise output, even when a gaming load is applied and the heat output is increased. Even the gaming noise level is far from intrusive.