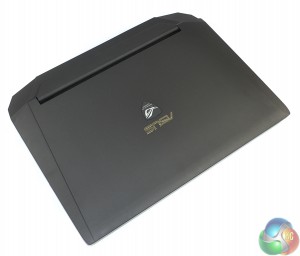 The Asus G750JZ uses angled lines on either side of the main body to create a stylish view from the rear.
Extending to the hinge covering area, the soft black material is not particularly reflective or glossy, which is good for suppressing fingerprints.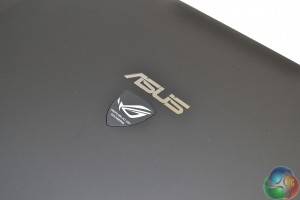 Asus' striking logo and the attractive ROG badge take centre stage on the G750JZ's rear panel. A white light is situated inside the ROG logo and lights up when the system is powered.
I would have preferred to see some red in the lighting system to fit in with the well-established ROG colours.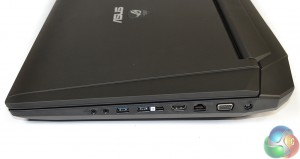 Headphone and microphone jacks, two USB 3.0 ports, a Thunderbolt connection, HDMI, Gigabit Ethernet, and VGA are found on the laptop's right side. Also situated near the connectivity interfaces is the power port.
The USB 3.0 ports support the UAS protocol (which is built into Windows 8), allowing them to reach transfer speeds in the region of 450MBps. The Thunderbolt connection can be used for even higher transfer rates, although the current array of external storage devices is typically reserved for professional users who can justify the current expense.
That said, Thunderbolt also carries the DisplayPort video connection and can be useful for linking high-resolution monitors.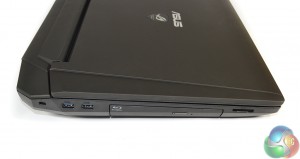 Moving to the left, we are met by a further two USB 3.0 ports, a multi card reader, and the Blu-ray reader (and DVD rewriter). There is also a Kensington lock point.
I like the USB 3.0 port distribution being split between each side for accessibility.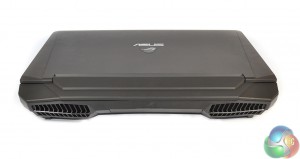 Two predominant cooling vents occupy the laptop's rear side. They both feed air to the G750JZ's split cooling system that uses two fans to cool the quad-core Intel Core i7 4880HQ CPU and Nvidia's 8GB GTX 880M.
With its upwards-sloped design (from front to back), the G750JZ measures around 58mm at its thickest point – the rear area behind the screen hinge. With a system weight of 4.8 kg (add about half-a-kilo for the charger), this is far from a portable laptop. It is, however, more portable than a gaming desktop and its accompanying monitor and peripherals.
That gives users the potential to game with G750JZ upstairs, downstairs, in the garden, at school, and so on.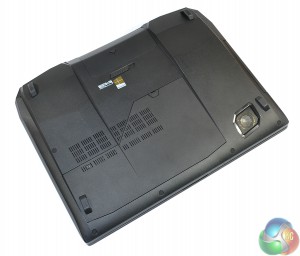 We see more of Asus' angled design which increases the laptop's depth around the area of each cooling fan. That's important for fitting a larger heatsink and thicker fan inside the system.
Four rubber feet are used to prevent the G750JZ from slipping, while also propping it off the ground by a few millimetres.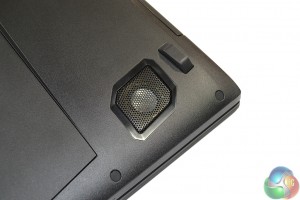 Asus implements an enhanced audio system on the G750JZ to entice gamers. Called Bass Eye, a sizeable subwoofer is placed in the system's underbelly to cater for gamers who may be using the system without headphones attached. Bass performance of the subwoofer was surprisingly good. Window-breaking scenes in our Blu-ray rip of The Dark Knight had an effective punch to them.
Other audio enhancements come from specific software pre-sets and control parameters.
I was very pleased by the audio performance of Asus' G750JZ. Movie playback was delivered strongly through the built-in speaker system, as were explosions in Metro: Last Light.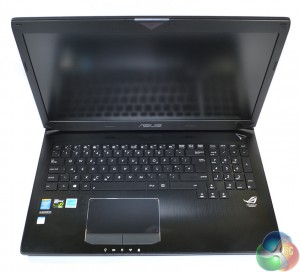 In the form of hardware, Asus packs the G750JZ with a quad-core i7 4860HQ, which turbos up to a maximum of 3.6GHz, and an 8GB Nvidia GTX 880M, which can be overclocked thanks to the supplied TurboMaster (and GPU Tweak) software.
24GB (3x8GB in dual-channel, oddly enough) of 1600MHz Samsung DDR3L combines with a 256GB SanDisk X110 SSD and a Hitachi Travelstar 5K1500 1.5TB 5400RPM HDD. That 5400RPM HDD is primarily useful for storage and may give poor game load times due to its low rotational speed.
I don't see the need for 24GB of memory – 16GB would have been sufficient and the leftover money could be reinvested elsewhere. That is perhaps a little harsh when there are lower cost models available, but I think the extra money of this configuration over the next one down would have been well invested in more solid state storage.
Wireless connectivity is handled by Killer's Wireless-N 1202 network adapter. I am a little disappointed to see a dual-band Wireless-N adapter (which is limited to a maximum of 300Mbps), rather than an 802.11ac component (capable of 866Mbps and above) that many competitors are using.
It seems that Asus is opting for the Killer LAN card's packet prioritisation to help gaming performance. But that's no good when you are trying to stream files over your network, as quickly as possible.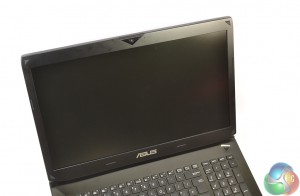 Asus uses a 17.3″ 1920×1080 TN panel for the G750JZ. The resolution may seem low compared to many current competing laptops (a large number of which sport a 3K resolution), but 1920×1080 is still the most popular pixel configuration for gaming.
I was impressed by the monitor's performance. Obviously the inherent viewing angle limitations are present due to the TN panel, but the anti-glare coating used by Asus worked well. Brightness levels were appropriate for daytime usage (although not in direct sunlight) and the contrast performance rendered colourful and smooth images.
The big benefit of a TN panel is response time. Many gamers are happy to sacrifice some of the screen's viewing angle performance in order to get the display response time as low as possible.
Asus fits a full-sized keyboard onto the ROG G750JZ, which really helps users (such as myself) who regularly switch between laptop and desktop usage. The keys have a good actuation feel to them – one can actuate them with a large force without creating an excess of noise. The keys travel an appropriate distance before reaching the bottom-out point.
A white backlight system is used alongside the keyboard. The backlight brightness can be adjusted by pressing allocated function keys. Presumably to save battery and avoid annoyance, the backlight turns itself off after a brief period of inactivity. I do not have any complaints regarding the keyboard. Its layout made the gaming keys easy to reach with comfort.
The large – 116 x 67 mm – trackpad is very good for users with long fingers who are required to navigate the 1920×1080 screen. Asus (smartly) separates the two mechanical button keys from the trackpad, avoiding what I deem to be one of the most annoying laptop design configurations in existence. The two buttons have a fast response time after being pressed, and are large enough to rest fingers upon when lining up that headshot.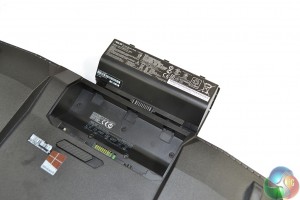 A 5900mAh, 88.5Wh battery feeds the entire system. While 88.5Wh is a good size for a laptop battery, the 17.3″ screen is likely to drink through the charge with ease.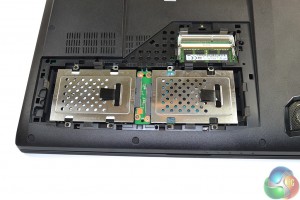 One easy-to-access panel can be removed to provide access to two of the four DIMM slots and both 2.5″ SATA drive bays.
The rest of the system is practically impossible to reach if you want to keep your warranty and avoid a lengthy (and difficult) process. Put simply, if you want to access the laptop fans (say, for cleaning), one is forced to disassemble the entire laptop to reach the main components which are sat beneath the keyboard, facing upwards.
A simpler entry solution should have been employed. I can understand a company wanting to keep eager users away from sensitive components, but those buying such a high-end laptop are more likely to understand the workings of its internal components. And there's the perfectly valid point of cleaning the system's fans from time to time.