Asus installs its fair share of software with the G750JZ, but most of it is related to the company's suite of tools. I do not, however, like seeing a trial for Microsoft Office installed by default – it is nothing more than wasted drive space.
The 256GB SSD is split into three major partitions, with two being easily accessed through Windows. Asus allocates 95GB to the C drive, which is quite slim when Windows and a few large programs are installed.
A 122GB SSD partition is left empty and could be used for game installations (as we did). The 1.5TB 5400RPM HDD is split into two 700GB partitions. I would prefer the SSD to be allocated as a single 256GB partition, due to its relatively low capacity (once a Steam library begins installing).
Asus keeps the default documents, videos, music (etc.) storage locations on the 256GB SSD. The small drive will fill quickly – Asus should have put default save locations for media directories on the large HDD. This is, however, easy to edit manually.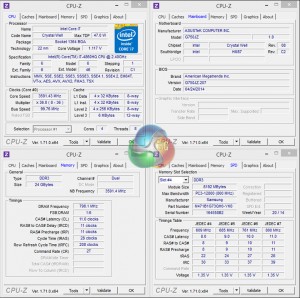 The Haswell-based Core i7 4860HQ CPU bounces between 800MHz (idle) and 3.6GHz (maximum turbo) clock speeds, with many stops in between. Using the High Performance power setting in Windows, the CPU consistently operates above 3.1GHz.
Heavy load sees the CPU running at 3.1GHz, although that depends on a number of other operating factors for the laptop. CPU-Z validation can be viewed here.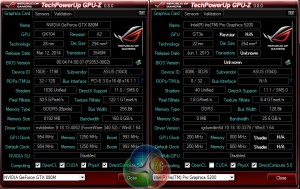 Intel's Iris Pro 5200 GPU is the active unit under low load conditions. This is good because the power-hungry GTX 880M is removed from the battery life equation by being left completely inactive. Intel's Iris Pro 5200 is a pleasantly capable solution, as far as on-chip graphics go.
Running certain programs (mainly those that leverage GPU muscle) wakes up the GTX 880M and sees its Core Clock running around the 1023MHz-mark when plugged into the wall, or around 953MHz when on battery. Memory clock also scales with differences in the current delivery of the AC charger and the laptop's battery.
Tests:

3DMark 1.3.708 – Fire Strike (System)
PCMark 8 v2.2.282 – Home (System)
Cinebench R15 – All-core CPU benchmark (CPU)
HandBrake 0.9.9 – Convert 4.36GB 720P MKV to MP4 (CPU)
SiSoft Sandra 2014 SP2 – Processor arithmetic, memory bandwidth (CPU & Memory)
ATTO – SSD, HDD, USB 3.0 transfer rates (Connectivity)
Totusoft LAN Speed Test – WiFi speed test, 100MB file transfer between GbE wired 'server' computer (Connectivity)
Bioshock Infinite – 1920 x 1080, ultra quality (Gaming)
Metro: Last Light – 1920 x 1080, high quality (Gaming)
Tomb Raider – 1920 x 1080, ultimate quality (Gaming)