To test today, we are putting the machine through a variety of 'real world' situations, mirroring the usage patterns of a potential customer.
One test is as a media movie lover on the move (wearing headphones). This tests the laptop for a person wanting to watch Full HD media on a train journey or bus with screen brightness two notches from maximum.
Secondly, we test as a businessman who is interested in creative productivity, with screen brightness around half way. Wireless was enabled. A mixture of checking and answering emails, transferring and downloading files, using Microsoft Office, and producing web-based content.
Lastly, we tested as a gamer, playing Metro: Last Light until the machine turned itself off. Nvidia's Battery Boost software was configured to target 60 FPS.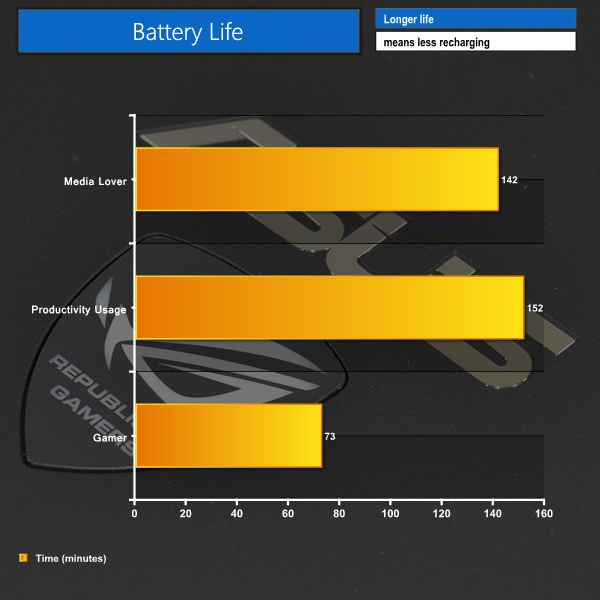 The Asus G750JZ delivers battery life numbers in the region that we would expect for this calibre of gaming laptop and its 88.5Wh battery. The numbers aren't bad, given the hardware being powered, but they are not going to offer a significant degree of usage flexibility either.
We had enough juice to span the entirety of all but the longest Blu-ray films. And productivity usage was adequate for completing some work while on a moderate train journey (provided you have a table seat to take the laptop's size).
Despite the best efforts of Nvidia's Battery Boost configuration, gaming life of the laptop still does not extend much past an hour. And there is the annoyance of lessened performance to add into that equation. If you plan on gaming while away from the wall plug, do not expect to enjoy a lengthy session.