There is no denying that the Asus ROG G750JZ laptop is a gaming powerhouse. The Intel Core i7 4860HQ and Nvidia's powerful 8GB GTX 880M combine to produce a formidable pair that power the 17.3″ 1920×1080 display with solid frame rates.
As powerful as the GTX 880M is, its performance has been undermined by Maxwell's efficient and fast GTX 970M, in recent weeks. The latter produces higher frame rates on average, and it does so while consuming less power. That's a testament to the speed at which graphics technology is moving in the mobile market.
Intel's Core i7 4860HQ delivers excellent performance in CPU-heavy workloads. The chip is notably faster than the popular i7 4710HQ, and it isn't too sluggish when compared to a (much) higher-clocked desktop quad-core i7. Add in the (overkill) 24GB of 1600MHz memory and you get a fast system foundation.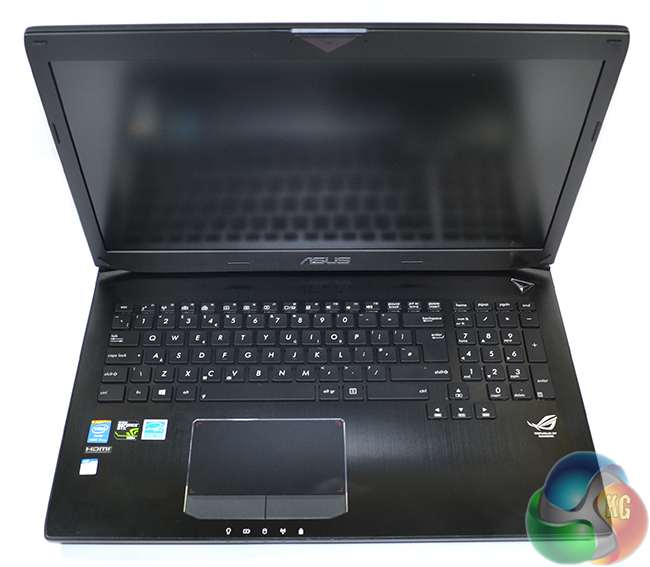 The 88.5Wh battery delivers, as expected, limited life. That said, the battery will be sufficient to get through the entirety of most Blu-ray movies. Gaming is limited to little more than an hour, and there's a notable frame rate dip thrown in for good measure. This is the compromise that has to be made when using such power-hungry hardware on a portable system.
Thermal performance of the two cooling systems is solid, with each fan and heatsink unit capable of taming the hot GPU and CPU. Appraisal of the twin fan cooling system extends to acoustic performance – an area in which Asus' ROG G750JZ excels (we simply could not hear it whilst idling).
I am not a fan of the storage configuration that Asus chooses. Combining a slow HDD with a relatively low capacity SSD is not good for gamers. In terms of game load times, there is a big compromise to be made when that SSD is filled up after installing just a handful of games. Either a larger SSD or a faster HDD would have made more sense to gamers.
Design of the Asus ROG G750JZ is excellent. Yes, the system is bulky, even by gaming laptop standards. But Asus manages to create a pleasing appearance by the use of angled edges and high-quality surface finishes. The likeable keyboard and trackpad are further strengths of the system's design.
With a price tag of £1799.99 from Scan, the Asus ROG G750JZ-T4110H does hit a gamer's pocket hard. But so do other gaming laptops that use an array of high-performance hardware. While the G750JZ has stiff competition from lower-cost solutions using Nvidia's excellent GTX 970M GPU, it also has a likeable design and enough all-round performance to make it a solid option in the high-performance gaming laptop market.
Pros:
Powerful CPU (with Iris Pro 5200 GPU).
Strong gaming performance from the 8GB GTX 880M.
Very good screen.
Likeable design with a positive keyboard and trackpad.
Very good audio system with a well-performing subwoofer.
Positive thermal and acoustic results.
Plenty of storage capacity, overall.
Thunderbolt support.
Cons:
Lower-cost GTX 970M outperforms GTX 880M and uses less power.
Slow (5400RPM) HDD and not much SSD storage.
Limited battery life due to power-hungry components.
Should use a faster wireless network adapter.
KitGuru says: An all-round powerhouse with plenty of gaming and productivity performance on tap.