The Razer Blade Pro comes with a discrete graphics chip in the form of Nvidia's GTX 1060. For our tests today, we have ran Deus Ex: Mankind Divided and Rise of the Tomb Raider on this laptop. We used 1080p resolution both times and used the highest available graphics settings while running each game's in-built benchmark.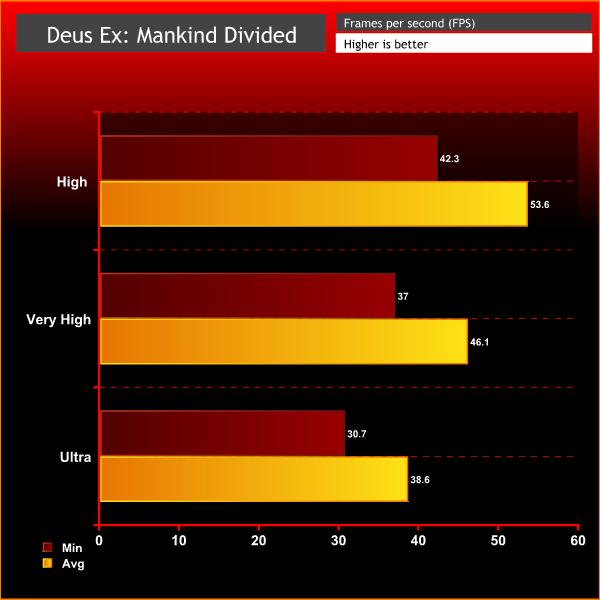 The Razer's GTX 1060 won't have trouble playing any current games. Deus Ex: Mankind Divided is one of the toughest titles around right now and with Ultra settings selected the Blade Pro delivered an average of 38.6fps. It was even faster in Rise of the Tomb Raider.
Those are good results that frequently trade blows with the Strix Scar, which also has a GTX 1060. However, the RX 580 inside the other Asus machine returned quicker average frame rates in most of our gaming tests, albeit by relatively slim margins. The PC Specialist's GTX 1070 was the undoubted star here: it was comfortably faster than the Razer in every gaming test, with a lead of almost 10fps in Deus Ex.
The Razer Blade Pro has great gaming pace, then, and it will never feel sluggish – but the PC Specialist is still the winner for raw graphical power.
There's a caveat to all of these machines, too: their 120Hz screens. The Blade Pro will look at its best when it's gaming at nearer to 120fps, and the GTX 1060 won't manage it unless you drop graphical settings by some distance. We're not sure that it's worth losing lots of graphical fidelity in order to get smoother playback, but your mileage may vary.