Asmedia and Intel Corp. have started to reduce prices of their USB 3.1 controllers in a bid to gain market share. Intel Corp.'s "Alpine Ridge" chip offers Thunderbolt 3 in addition to USB 3.1, but Asmedia's controller is significantly cheaper to make and can be sold a very low price.
Intel planned to sell its "Alpine Ridge" controller for $10 originally, but in a bid to speed-up adoption of Thunderbolt 3 by various makers of mainboards and improve its revenues, the company decreased the price of the chip to $6. As a result, Asmedia had to cut the price of its popular ASM1142 controller to below $3.
Gigabyte Technology was the only maker of mainboards, who planned to adopt Intel's "Alpine Ridge" for a wide range of its new platforms. The rest of the motherboard manufacturers – Asustek Computer, Asrock, MicroStar International (MSI), Biostar and Elitegroup Computer Systems (ECS) – planned to continue using Asmedia's ASM1142 to enable USB 3.1 on their Intel 100-series LGA1151 mainboards for 'Skylake' processors, reports DigiTimes.
Thanks to the price-cut by Intel and the fact that the "Alpine Ridge" is considerably more advanced because it supports Thunderbolt 3 (with maximum data transfer-rate of 40Gb/s), HDMI 2.0 as well as PCI Express 3.0 x4 interface, Asus and MSI have reconsidered their original plans and decided to use Intel's solution instead of Asmedia's for their high-end platforms.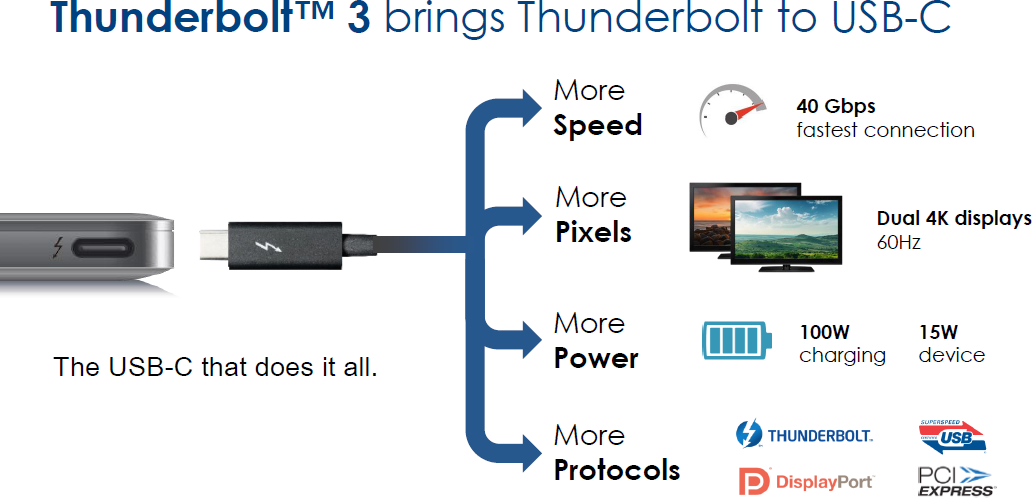 Intel's Thunderbolt 3 combines four interconnection technologies: Thunderbolt 3, SuperSpeed+ USB 3.1, DisplayPort 1.2 and PCI Express 3.0. The TB3 features maximum bandwidth of 40Gb/s, it can deliver up to 15W of power to any bus-powered device and up to 100W for charging, everything using an industry-standard USB 3.1 cable and type-C connectors. As an added bonus, the "Alpine Ridge" chip also supports HDMI 2.0.
Intel does not produce "Alpine Ridge" silicon at its fabs. It is believed that production is outsourced to TSMC or UMC, who manufacture the chip using one of their 28nm fabrication processes.
While it remains to be seen whose USB 3.1 solution will eventually get more popular, it is evident that both Asmedia and Intel helped the new standard to become more widespread.
Asmedia, Intel and makers of mainboards did not comment on the news-story.
Discuss on our Facebook page, HERE.
KitGuru Says: In many cases, price-wars slow-down progress. However, in the case of USB 3.1 and Thunderbolt 3, the competition between Asmedia and Intel will evidently help to drive adoption of both technologies as well as the USB type-C connector.