Having already looked at Corsair's K70 MK2 with Cherry MX Low Profile switches, today our attention has been turned to Cooler Master and its SK630.
This is an 80%, or tenkeyless, board which also makes use of Cherry MX Low Profile switches – specifically, the Red variety. These have a 45g actuation force, with a 1.2mm actuation distance, while total travel comes in at 3.2mm. If you want a full-size board that uses the same switches, Cooler Master has also launched the SK650 alongside the SK630.
In terms of the overall quality of the SK630, though, it is certainly a very capable board. Build quality is excellent for a keyboard of this size, with minimal flex to the casing, while the low profile ABS plastic key caps also feel relatively high quality.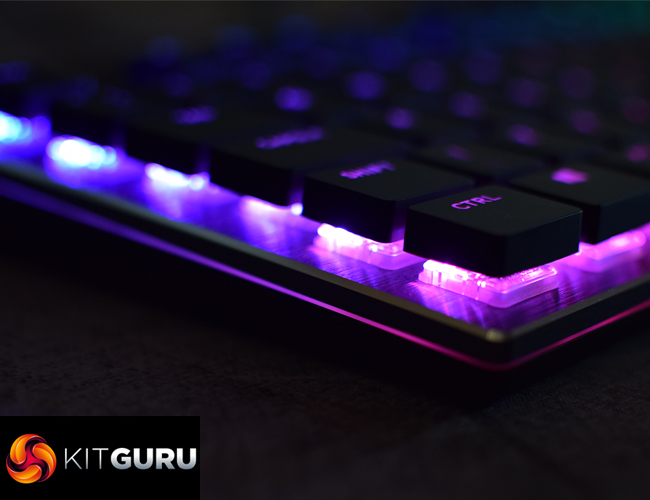 Cooler Master's software control has also improved, and while it still doesn't blow me away, you get control over all the key areas like RGB lighting, macros and key mapping. Speaking of the LED backlight, this is very appealing and can be controlled both via software and by using on-board controls. The LED ring that goes around the edge of the SK630 is a quite dim, but other than that the lighting looks great.
Ultimately, however, how you feel about the Cherry MX Low Profile Red switches is almost certainly going to be the deciding factor as to whether or not you buy this board. It is only – for the time being, at least – available with those Low Profile Red switches, so if you want something tactile and/or clicky then you are out of luck.
That being said, if the idea of a shallower and faster MX Red switch appeals to you, then the SK630 is a very good buy. I'm honestly not sure how many people would specifically choose a low profile board instead of a regular sized one, but certainly a variety of switch types will only help this keyboard's appeal – as of now, it seems we will have to wait a while for that to be the case.
For those in the market for a feature rich low profile keyboard, however, the Cooler Master SK630 will do a very good job – it's well built, the lighting looks good and it's less than 3cm tall. It's not exactly cheap with an MSRP of £129.99, but if you are looking for a relatively niche product like this, it is certainly a good buy.
We don't yet have a buy link for the SK630 but we will update this review when we have one. The SK630 has an MSRP of £129.99, while the full-size SK650 has an MSRP of £149.99.

Update: The SK630 is now available for pre-order from Overclockers UK for £119.99 HERE.
Pros
Very compact – less than 3cm tall.
Impressive build quality considering the size.
RGB lighting looks good.
Low Profile switches are faster and shallower than their regular-sized counterparts.
Lots of on-board controls.
Removable USB-C cable.
Cons
No switch variety – it's Red or nothing.
No on-board master brightness control.
KitGuru says: The SK630 is a very good keyboard if you want a tenkeyless board with MX Low Profile Red RGB switches.