Aspect ratios other than 16:9 used to be rather unusual. But now every other monitor we see appears to be on the wide side. Nevertheless, we still don't get many as broad as the Philips Brilliance 439P9H. In fact, we've never seen a screen with precisely this aspect ratio. If you thought 21:9 was stretching your peripheral vision, the 439P9H goes even further, to 32:10. With a 43.4in diagonal and 3,840 x 1,200 native resolution, this is a lot of pixels and a lot of screen.
Phillips 439P9H is essentially the smaller brother to the Philips Brilliance 499P9H, but that has an aspect of 32:9. So it's a little bit taller than it is wide in comparison. It's still a very skinny strip of a screen, however, and the mild 1800R curvature further adds to the sense of immersion as you sit in front of it. But this isn't really a gaming screen. Although the maximum refresh is 100Hz at the native resolution, and there's FreeSync adaptive sync, this is below what many gamers would want now that 144Hz screens are getting much more affordable.
As with most curved screens, a VA panel is used, with the usual characteristics of this technology. The response time is only 4ms grey-to-grey, but brightness is a decent 450cd/m2 and contrast 3,000:1. Philips claims 123 per cent of the sRGB colour gamut, 91 per cent AdobeRGB, and 95 per cent of the movie-oriented DCI-P3. These features allow DisplayHDR 400 certification.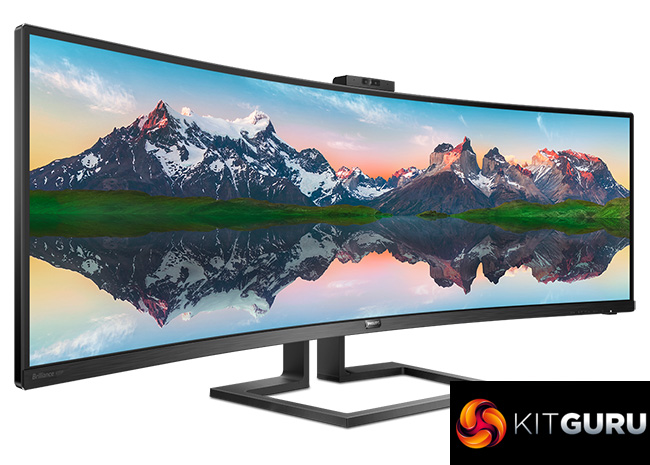 Connectivity is very generous indeed. You get two DisplayPort 1.4 video inputs, one HDMI 2.0b, and two USB-C with video capability. Either one can be used as the upstream for four Type A USB 3.2 ports. There's a headphone output too, and a pair of 5W speakers. You even get a 2Mpixel webcam. Despite the huge width, this screen still offers height, swivel, and tilt adjustment.
At over £800, the 439P9H is hardly the bargain of the century. But you do get a lot of pixels and width for your money, and quite a lot of features as well. Let's find out if this is a case of expanded horizons or "never mind the quality, feel the width".
Specification:
Screen size: 43-inch, 32:10 aspect
Native resolution: 3,840 x 1,200
Refresh rate: 100Hz, FreeSync 2
Panel type: VA
Contrast ratio: 3,000:1 (typical)
Brightness: 450cd/m2
Response time: 4ms grey-to-grey
Display inputs: 1 x HDMI 2.0b, 2 x DisplayPort 1.4, 2 x USB-C
USB hub: Yes, 4 x USB 3.2
Tilt: 5 degrees forward, 10 degrees backward
Raise: 130mm
Swivel: 20 degrees left and right
Portrait: No
Other: Audio output, 2 x 5W speakers, 2Mpixel webcam
Retail Price: £812.80 (inc. VAT)
The Philips Brilliance 439P9H is long, thin, and massive, so its box is too.
Inside, along with a choice of power cables, you get HDMI and DisplayPort wires plus USB C to Type A. Strangely, no USB-C to USB-C was included with our sample, although this is supposed to be part of the bundle.
This is a serious-looking screen, and the build is very solid. The general theme is black, but with a combination of black plastic, brushed metal, and some elements that are more like dark grey, in particular the stand. It feels very stable on the latter.
The curvature is a modest 1800R, where some screens go for a more aggressive 1500R. However, with such a wide panel, this feels like it makes sense. The 32:10 aspect equates to 3,840 x 1,200, which is slightly surprising when many curved 34in SuperWide screens have a 1,440-pixel vertical resolution.
However, this configuration makes it rather like two 16:10 screens with 1,920 x 1,200 resolution stuck together. That's very handy if you wanted a more pleasant dual-screen-like experience in one monitor.
Although you get all the adjustments (apart from portrait, which would be ridiculous in a screen this wide), the range is not huge in some cases. The rotation is just 20 degrees in either direction, and tilt is a mere 10 degrees backwards with 5 degrees forwards.
That said, you can raise or lower through 130mm, which is pretty standard. Lots of SuperWide monitors don't offer much if any adjustment, so this is commendable from Philips.
There's a 2Mpixel webcam on the top. For those concerned with privacy, it pops in and out, turning off when in the down position.
Apart from the power input, all the ports are on the bottom left. There's a single HDMI 2.0b, two DisplayPort 1.4, and then two USB-C. The latter can provide video as well as data, and even supply up to 90W of power. So if you plug in a compatible laptop, it will charge.
The four-port USB hub meets the 3.2 standard, and the yellow Type A port provides Fast Charge. There's a Gigabit Ethernet port that can also be used with a USB-C-attached device, so you really can have all the connections you need via a single USB-C wire.
The menu control buttons are on the right. There are five of these, although the furthest right merely toggles power. The function of the buttons is marked on the front.
We will start with the button on the far left of the row.
The first button on the left calls up the SmartImage presets, which include EasyRead, Office, Photo, Movie, Game, Economy, LowBlue Mode and SmartUniformity.
The next button lets you choose between the five video inputs.
The third button provides a choice between the two USB C inputs for the KVM, which is handy if you generally use this with a desktop but have plugged in a laptop and want to have the screen, keyboard and mouse be fed by that.
Finally, with the fourth button we get to the Main Menu, with the default option being LowBlue Mode. This has four levels, when enabled.
The next menu section provides another route to selecting one of the five different video inputs manually.
With the third subsection of the Main Menu we get to some quality adjustments. The Picture section lets you alter brightness, contrast and sharpness. You can also turn on SmartResponse, which is a pixel overdrive system to improve perceived response times when gaming. SmartContrast adjusts contrast automatically to improve the look of images onscreen.
There's a Gamma setting with five options from 1.8 to 2.6 in 0.2 steps.
Picture-by-picture makes a lot of sense for a monitor this wide with this many inputs. You could have two 1,920 x 1,200 inputs side-by-side at their native resolutions.
The Audio section lets you adjust the volume, mute sound, or choose an audio source that is different from the one supplying video.
Under Color you can select a Temperature from options including 5000K, 6500K (the default), 7500K, 8200K, 9300K, and 11500K. Alternatively, there's sRGB mode, or you can adjust RGB values directly under User Define.
There are plenty of alternative language options to switch the OSD to so you can confuse your friends.
Under OSD Settings, you can change the location of the OSD, whether it's transparent, and how long it stays onscreen for. You can also change the function of the third key along from the default KVM. Brightness, volume and audio source are the other options.
The USB Settings section lets you change the USB mode in case 3.2 is causing compatibility problems. You can also choose whether USB power is on when the monitor is on standby, and select which input is providing the KVM function.
Finally, under Setup you can choose whether to be notified of the screen resolution, reset everything to default, and see information about the current signal input.
Overall, the OSD has a decent range of options, but we're surprised that the LowBlue and Input sections in the Main Menu come first, when the Input has a Quick Menu so won't be one of the first things you need to get to here. Otherwise, the menu system is relatively straightforward and logical.
Our main test involves using a DataColor SpyderX Pro Colorimeter to assess a display's image quality. The device sits on top of the screen panel surface while the software generates colour tones and patterns, which it compares against predetermined values to work out how accurate the screen is.
The results show –
A monitor's maximum brightness in candelas or cd/m2 at various levels set in the OSD.
A monitor's contrast ratio at various brightness levels in the OSD.
The brightness deviation across the panel.
The black and white points.
The colour accuracy, expressed as a Delta E ratio, with a result under 3 being fine for normal use, and under 2 being great for colour-accurate design work.
The exact gamma levels, with a comparison against preset settings in the OSD.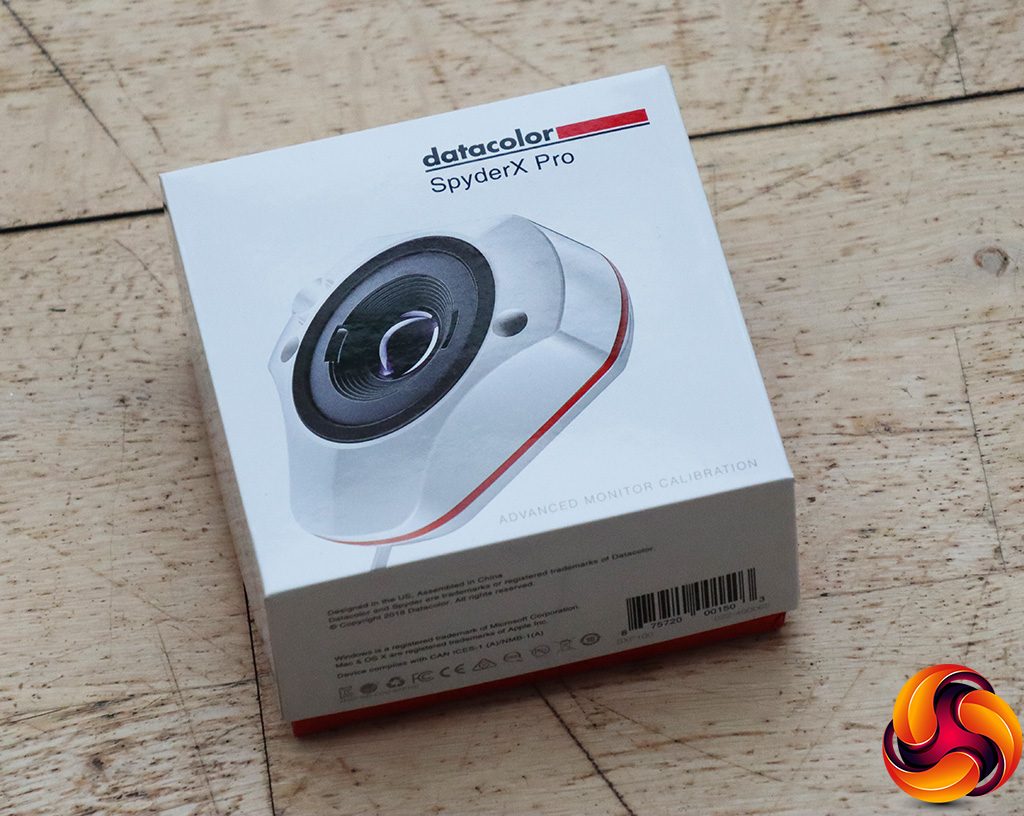 We first run this test with the display in its out-of-the-box state, with all settings on default. We then calibrate the screen using the SpyderX software and run the test again.
We always test the display subjectively on the Windows desktop, using it for general tasks such as browsing and word processing, and with games as well, even if the display is not intended solely for that purpose.
We pay careful attention to any artefacts, ghosting or motion blur, and enable any gaming-specific features, such as adaptive-sync settings like G-Sync or FreeSync, using a compatible graphics card in our test PC.
We performed the quality tests on the Philips Brilliance 439P9H at its native 3,840 x 1,200 resolution in the default mode, after resetting the OSD, which sets the refresh to 60Hz. Our test system was equipped with an AMD Radeon Vega Frontier Edition graphics card, which supports FreeSync.
Although the gamut doesn't live up to the Philips official specification, 100 per cent of sRGB, 86 per cent of AdobeRGB and 92 per cent of P3 are all very good figures.
Brightness uniformity is great along the top edge, not bad down the right-hand side, but not so impressive in the bottom-left corner. But it's nothing to worry about.
Colour uniformity is really good, particularly at 67 per cent brightness or lower.
This screen is rated at 450cd/m2 brightness, but that appears to be the value at the default 60 per cent level. At 100 per cent it hits much more – 561.5cd/m2 by our measurement. The contrast is also excellent, reaching 2100:1 at 75 per cent brightness. The white point does vary a little up the brightness range, however, starting at 6700K at zero per cent, to 7100K at 100 per cent.
There are quite a few OSD settings to play with, although most are aimed at work and general multimedia, further underlining that this is not a particularly gaming-focused screen. The default Off mode equates to 420.3cd/m2 brightness, 1980:1 contrast and a 7100K white point. EasyRead, on the other hand, is much brighter at 614cd/m2, with a little more contrast at 2170:1, and with a cooler 7600K white point. Office is very similar to Off, just a bit brighter at 457.1cd/m2, with a similar 2,020:1 contrast and the same 7100K colour temperature.
Photo is like a bright version of Off, running at 561.1cd/m2, but with exactly the same contrast and a mildly cooler 7200K white point. Movie is much cooler at 8300K, with a relatively bright 507.5cd/m2, and 1,990:1 contrast. Game uses the same 8300K colour temperature, but a less bright 376cd/m2, and the lowest contrast at 1,480:1. Economy mode, unsurprisingly, drops the brightness down to 191.4cd/m2 and uses a warmer 6900K white point, but with a reasonable 1,690:1 contrast.
LowBlue, unsurprisingly, uses the warmest 5900K white point, but is still very bright at 591.4cd/m2, and the highest contrast at 2,200:1. SmartUniformity keeps the overall brightness at the same level as Off at 420.2cd/m2, but with a much lower contrast of 1,570:1 and slightly cooler 7300K white point.
The 439P9H has a good range of Gamma modes, but they all read 0.2 above their official level, apart from 1.8 which reads as 1.9. This is still quite consistent, though, so you should be able to find a gamma that suits you.
Philips merely claims a "sub 2 delta" for colour accuracy, but we found the 439P9H performed much better than that, hitting an average of 1.24. It was still worth seeing if we could improve things via calibration, however.
Although the sRGB gamut remains at 100 per cent, the AdobeRGB gamut has dropped to 84 per cent and P3 to 90 per cent. But these are still good values.
We only retested the Gamma 2.2 option, which has dropped down a notch to 2.3, making it closer to its official value.
The colour accuracy wasn't bad to begin with, but now it's excellent. This isn't the best average deviation we've seen, but it's amongst the best. Anything below 1 is truly commendable.
Overall, there isn't much to fault with this screen's image quality. Perhaps a few niggles with brightness uniformity, but we rarely come across a screen that's much better. You can be sure of accurate colour, plenty of brightness, and great contrast thanks to the VA panel.
We also tried the 439P9H with more subjective assessments including video and photo editing, simple word processing, and some gaming. For the latter, we bumped the refresh up to 100Hz and made sure that FreeSync was enabled, which it was automatically. We then fired up our usual selection of comparison titles including CS:GO, Rainbow 6 Siege and League of Legends. These weren't quite as smooth as with the 144Hz monitors we have tested recently, but a game like LoL really benefits from having so much screen width.
The Philips Brilliance 439P9H is a very accomplished screen. It offers great image quality and a wealth of features. Although the focus is on premium business users and multimedia consumption, it can still hold its own for gaming if this is something you only do from time-to-time.
For the business user, having two USB C connections could be really beneficial, particularly as this will charge a laptop and provide connectivity to a webcam, networking, keyboard and mouse as well as the video. This could be a true one-cable solution for a desktop and your notebook when you want it to. You even get a decent set of built-in speakers, which will be sufficient for watching videos from a distant armchair with friends.
You get a decent amount of adjustability, too, which is not universal with a SuperWide screen. This is an expensive piece of kit at over £800, but unless you're a hardcore gamer, you won't be disappointed with what you get for your money. If a 21:9 aspect is just not wide enough, the Philips Brilliance 439P9H will expand your horizons even further, although your wallet will be quite a bit thinner as a result.
The Philips Brilliance 439P9H is available from the BT Shop for £812.80.
Discuss on our Facebook page HERE.
Pros:
Huge 43in 32:10 screen size.
Great colour accuracy (excellent when calibrated).
100Hz refresh.
FreeSync 2 adaptive sync.
Reasonable level of settings in OSD for everyday usage.
Twin USB C video inputs with 90W power, networking and KVM.
Decent level of ergonomic adjustment.
Built-in USB 3.2 hub.
Reasonably loud 5W speakers.
Cons:
Not for hardcore gamers.
Expensive.
Merely acceptable brightness uniformity.
KitGuru says: The Philips Brilliance 439P9H will set you back a fair amount, but in return you get great image quality and features in a uniquely wide format.