The Cooler Master MasterKeys Pro M RGB ships in a pretty typical black box. However, there is a photo of the keyboard on the front, showing off the 16.7-million-colour RGB lighting.
Inside, Cooler Master include a small manual which explains various functions of the keyboard – like setting a particular lighting effect or recording a macro.
There is also a small key-cap puller included, as well as the 1.5m braided USB cable.
Here we get an overview of the keyboard. Ignoring the fact that the numpad is visible, by the size of the keyboard alone you would think it was ten-keyless: it measures just 377mm wide, which is pretty small. In comparison, the MasterKeys Pro S (a proper TKL board) measures 359mm wide while the MasterKeys Pro L (100% size) measures 439mm wide.
The build quality of the keyboard is also rock-solid. Despite the keyboard having a plastic outer-shell, Cooler Master have fitted a metal frame inside the chassis of the board. This adds great rigidity, and I have no concerns at all about the durability of the MasterKeys Pro M RGB.
Getting a closer look at the numpad, we can see that the arrow keys share space with the bottom row of the numpad, while the 'Ins/Home/Pageup' functions are gone altogether. By default, the arrow keys are active, but to enable the numpad, simply press the 'Numlk' button.
Above the numpad we find 3 LED indicators that let you know if num-lock, caps-lock or screen-lock are enabled.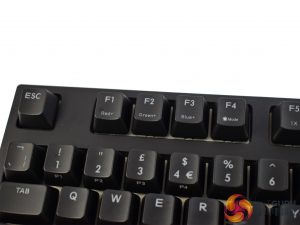 Elsewhere, a number of secondary functions are also assigned to the F-keys. The RGB lighting can be controlled using Fn+F1-F4, though software is also included with the keyboard. We look at both of these features in more depth on the next page.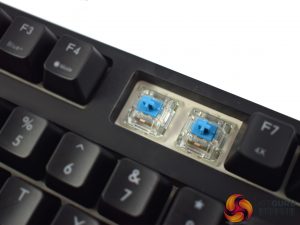 The MasterKeys Pro M uses Cherry MX RGB switches – these have a clear housing to better allow the LED lighting to spread out. Interestingly, my sample uses MX Blue switches, but Cooler Master only brings keyboards with Brown switches to the UK retail channel. This is something to be aware of, as if you were to buy this keyboard, it would come with Brown switches, not Blues.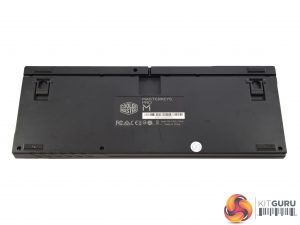 Lastly, we take a look at the underside of the keyboard. Cooler Master have implemented a nifty cable-management solution here – a groove at the top of the board allows you route the USB cable to the left or the right side of the keyboard, giving some extra flexibility when it comes to cable routing.
There are also 4 anti-slip rubber pads placed here, while two small feet can raise the height of the keyboard should you wish.
Be sure to check out our sponsors store EKWB here