The Cooler Master MasterKeys Pro M RGB is an innovative keyboard, but it does suffer from a few issues.
Starting with the good, though, the Pro M RGB has fantastic build quality thanks to its internal metal frame. This is now something we have come to expect from Cooler Master and it is great to see they continue to deliver on this front.
The RGB lighting is also effective, with plenty of pre-configured options to choose from. You can even create your own lighting profiles using the included software suite.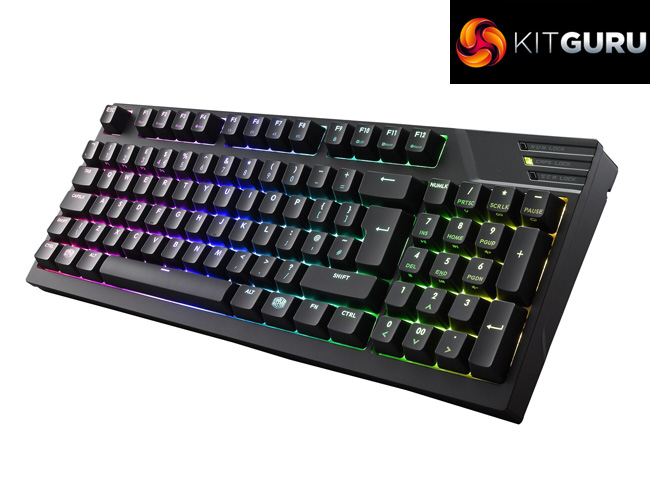 Speaking of the software, though, it is disappointing that the software is so basic – we have come to expect high-quality software suites from the likes of Corsair and Razer, but Cooler Master's own software is a long way from rivalling CUE or Synapse.
I also find it both baffling and annoying that there is no on-board brightness control. You can change the individual RGB levels from the keyboard, but there is no quick-and-easy overall brightness control. This means you have to manually increase or decrease the individual red, green and blue brightness levels just to tweak the backlight brightness.
We can't finish without mentioning the combined numpad/arrow keys, either. While this may seem like a good idea in theory – you save space but don't lose the added functionality that a numpad brings – in practice, I found it to be a bit fiddly and confusing. This is just because Cooler Master have had to map multiple functions to each key in the numpad area and this complicates matters – I was never quite sure what was going to happen when I pressed a certain key.
As such, we need to bring the review to a close. The Cooler Master MasterKeys Pro M is innovative in that it combines the numpad and arrows keys, but ultimately it falls short in a few areas – including the combined numpad/arrow key functionality.
It is also very expensive at £139.99. For this price, I would certainly expect a better software suite and on-board brightness control – to be honest, I would expect that last feature on any backlit keyboard, so it is truly bizarre that it is not included here.
You will buy able to buy the MasterKeys Pro M RGB for £139.99 in the coming days.
Discuss on our Facebook page, over HERE.
Pros
Great build quality.
Combining the numpad/arrow keys does result in a smaller keyboard.
RGB lighting looks good.
Cons
No brightness control.
Software suite is comparatively basic.
The numpad gets confusing as there are multiple functions assigned to each key.
It is expensive considering its flaws.
KitGuru says: While the idea of a 'hybrid TKL' board is certainly interesting and could appeal to many, Cooler Master have not executed it as well as I had hoped.
Be sure to check out our sponsors store EKWB here