There is a lot to like about iiyama's G-Master GB3466WQSU, and it is certainly going to catch a lot of interest from those looking for a new ultrawide gaming monitor. That's primarily because, as far as I can tell, it is the cheapest 3440×1440 screen with a curved panel and 144Hz refresh rate. Coming in at £439 here in the UK, other ultrawide screens do exist at or around that price-point, but many of those are limited to 75/100Hz refresh rates, while others still use 2560×1080 panels. Even AOC's CU34G2X, which boasts an almost identical spec sheet, costs £60 more.
Out of the box impressions were extremely positive, as the GB3466WQSU's minimalistic styling looks great to my eye, while uncalibrated panel performance is exemplary. The panel's colour accuracy, with an average DeltaE of below 0.9, rivals some of the best panels we have tested – many of which are designed for professional work, while this is a gaming screen that costs less than £450.
We also have to point out the GB3466WQSU scores a significant victory over its rival, the AOC CU34G2X, with its brightness peaking at over 200 cd/m2 higher than the AOC model. I also think the iiyama edges things in terms of motion handling, as the overdrive settings do a better job at eliminating visible motion blur.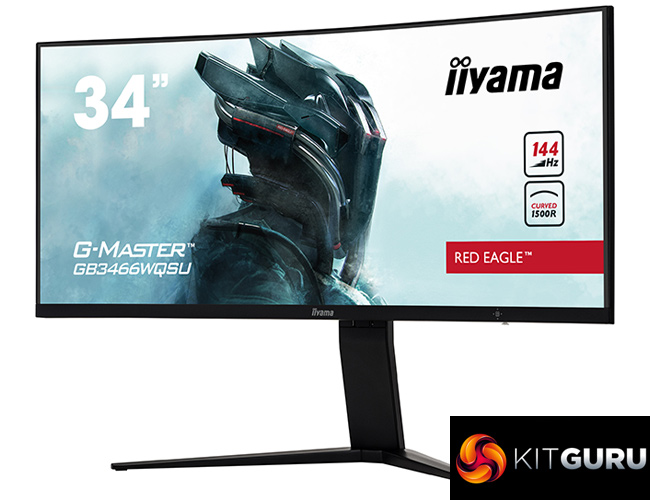 We did, however, spot a very unfortunate issue with the GB3466WQSU where the panel exhibited noticeable flickering when set to 144Hz, and this happened whether FreeSync was enabled or disabled. The only real 'fix' I found was to drop the refresh rate down to 100Hz which is obviously far from ideal.
Thankfully, iiyama is aware of the issue and it turns out the fix is as simple as a firmware update. Anyone who has a GB3466WQSU that flickers at 144Hz can arrange for iiyama to collect, update and return the screen at the company's expense. This certainly raises questions around how the screens passed QC in the first place, and it is definitely annoying to have to ship the monitor back to have the firmware updated, but at least iiyama is taking steps.
Once our review unit was returned to us with the latest firmware, I can confirm the issue was no longer present, and I did not spot any flickering over the next few days that I used it. I would have rather the screen arrived 100% functional, but we can't fault iiyama for rectifying the situation.
All told then, the iiyama GB3466WQSU is a fantastic ultrawide monitor, offering a highly impressive panel with superb factory calibration, for less than £440. Compared to its closest rival, the AOC CU34G2X, the GB3466WSQU comes out on top in the key areas – in terms of its speed, out of the box colour accuracy, brightness, and price. We'd recommend this screen to anyone looking for a new gaming monitor around this price-point.

You can buy the GB3466WQSU from Overclockers UK for £438.95 HERE.
Discuss on our Facebook page HERE.
Pros
Highly impressive out of the box colour accuracy.
Decent contrast for a VA at this price.
Noticeably brighter than the AOC CU43G2X.
Overdrive settings work well.
Minimalistic design.
Excellent value considering the specs.
Cons
Couldn't get a gamma value of 2.2.
No option to re-map OSD joystick shortcuts.
Flickering was apparent at 144Hz – but this was fixed with a firmware update.
KitGuru says: iiyama has done a fantastic job with the GB3466WQSU. It's an all-round excellent performer while also offering significant value to the end-user.
Be sure to check out our sponsors store EKWB here