Last week, we reported that Nvidia's long-rumoured 4K 144hz monitors were apparently going to start shipping this month. After a meeting with Vijay Sharma – Product Management Leader for NVIDIA G-SYNC- in London this afternoon, we can confirm the monitors will indeed finally be available later this month.
It's been a long journey since Nvidia first announced its 4K 144Hz HDR G-Sync panels back at CES 2017. After the initial announcement we heard ASUS and Acer were supposed to be launching their monitors for Q2 2017, but then things went quiet for over a year until we began to hear rumours of the upcoming launch earlier this month.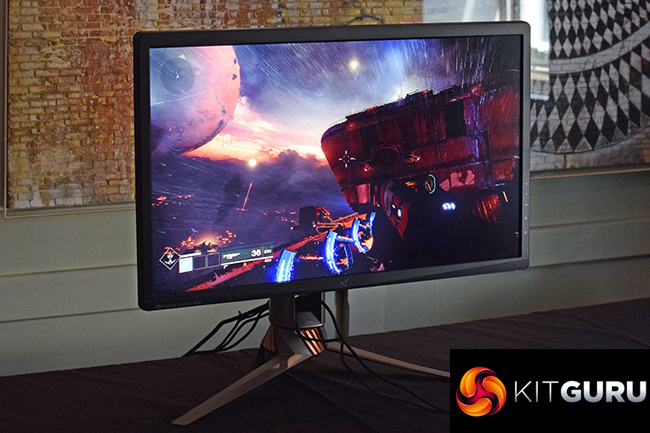 ASUS' PG27UQ monitor was on display
Unfortunately, we still have no confirmed pricing as Nvidia's partners – in this instance, ASUS and Acer – will release their own pricing for the products as they are made commercially available. Thankfully, we haven't got long to wait for that, but Vijay Sharma did say the monitors would 'certainly be over $1000' so they're still very much high end products.
We were shown two models today – ASUS's PG27UQ (shown above) and Acer's X27. Both support 4K/144Hz, with G-Sync and HDR, and it seems those features will only be available in the 27in size for now.
It is worth touching on the HDR element as well, as in recent months the term 'HDR' seems to have become a bit of a buzzword, with companies eager to slap on the HDR tag to boost sales – even if the monitor/TV is not actually HDR. Nvidia, however, has ensured the monitors will reach a peak brightness of 1000 nits for a proper HDR experience.
Aside from that bit of good news, we were able to glean some other interesting tidbits about the new panels. For instance, the nearly year-and-a-half long delay from the initial announcement up until now was not planned – Nvidia encountered some as yet unknown issues during production and had to delay manufacturing to release the best possible product. That would explain why we were initially told to expect a Q2 2017 launch.
Finally, Nvidia's 65in BFGD was also mentioned – Vijay Sharma said we can expect to see those monitors shipping by the end of the year, but there was no confirmed date or pricing for those monitors.
KitGuru says: It's been a long wait for 4K/144Hz monitors, and it is something I am personally very interested in – being able to marry the sharpness of 4K with the smoothness of a 144Hz refresh-rate sounds like a gamer's dream. I'd love to hear from our readers – how big of a factor will the pricing be?