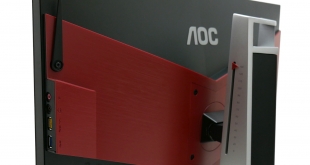 This year has seen the arrival of a new gold standard for gaming monitors. New panels able to refresh at up to 240Hz have pushed responsiveness to another level. We've already seen the Acer Predator XB252Q and AOC AG251FZ so now it's the turn of another AOC model, the AOC AGON AG251FG.
This display is largely similarly to the AG251FZ, except that instead of including AMD's Freesync technology it has Nvidia G-Sync. In fact, this is one of the very few occasions where a manufacture has released two displays that are all but identical except for this feature. Most of the time we tend to find other changes have been made to more clearly differentiate the two, masking the added cost of G-Sync in the process.
Those common features, then, are a 24.5-inch diagonal TN panel with a 1,920 x 1,080 resolution and 1ms response time – all the 240Hz monitors use the same AU Optronics panel. This is joined by claimed figures of 400nits for the backlight and a 1000:1 contrast ratio.
That's a relatively low resolution so it's not exactly a productivity powerhouse but, if you're aiming for 240Hz refresh rates it's unlikely you'll want to be gaming at any higher a resolution so in that regard it's the perfect fit.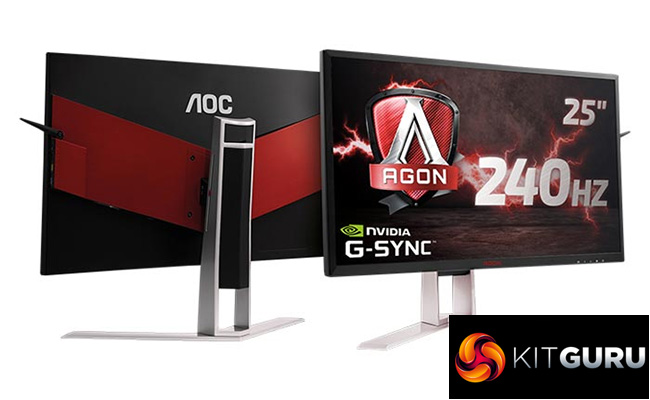 Elsewhere the premium metal stand also offers a full range of ergonomic adjustments and you get a USB hub, a couple of video connections, audio pass-through and speakers, all of which is again very similar to the AG251FZ.
What isn't similar, though, is the price. G-Sync monitors tend to demand a premium and that's rather laid open for all to see here as the AG251FG costs £500 compared to the £330 of the AG251FZ. That's simply the price you pay for G-Sync and is something to bear in mind if you're ever choosing which graphics card/monitor combo to get.
Otherwise, based on our experience of those previous 240Hz monitors, the AG251FG is well poised to be yet another impressive option, so let's see if it holds up.
Specification:
Screen size: 25-inch, 16:9 aspect
Native resolution: 1,920 x 1,080
Refresh rate: 240Hz
Panel type: TN
Contrast ratio: 1,000:1
Brightness: 400cd/m2
Response time: 1ms grey-to-grey
Display inputs: DisplayPort, HDMI
USB hub: USB 3.0, four ports
Tilt: Yes
Raise: Yes
Swivel: Yes
Pivot: Yes
Other: Headphone jack, audio input minijack, built-in 12W speakers.
VESA: Yes
Retail Price: £256 (inc. VAT)
Be sure to check out our sponsors store EKWB here