If the images on this page do not load then please disable your ad blocker as it interferes with our gallery image display code.
We start our assessment of all monitors with an objective test of its out-of-the-box image quality, using a DataColor Spyder Elite colorimeter. This is a device that sits in the middle of the display and measures its output, checking for things like maximum brightness and colour accuracy.
In its out of the box state, the AOC is set to brightness 90 with gamma on the first of its settings, contrast at 50 and the Warm (rather than Normal) colour preset. The latter setting seems a bit odd – surely normal should be the default – but our tests showed AOC made the right choice as overall image quality is excellent.

Moreover, while we initially tested at 60Hz, as higher refresh rates can sometimes cause a drop in image quality, we observed that image quality stays all but identical at 60Hz, 144Hz and 240Hz so we've presented the 240Hz results below.
The first test checks for how much of the various standard colour spaces the monitor can cover, and it put in an impressive result. It managed 98% of the sRGB colour space and 75% of the AdobeRGB space, which is about as good as you can hope for from a display of this type.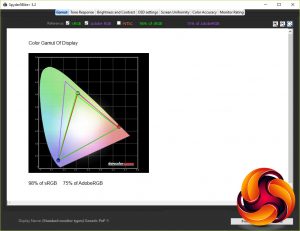 Brightness uniformity is up next and again the AG251FG largely impressed. It showed just a 4.2% average variation in brightness across the area of the screen when set to 100% brightness.
At lower brightness settings it varied by as much as 15%, however this appears to be more a symptom of the software's brightness adjustments than the screen itself. Manually adjusting the screen brightness down to 30% and the display was no worse than at its brightest setting.
Colour uniformity is good too with just a 2.4% variation of colour balance across the whole of the screen. This didn't significantly waver at lower brightness settings either.
In terms of the overall brightness range, the monitor didn't quite live up to its 400nits claim, falling just 8nits short but 392nits is still plenty. Meanwhile, at 0% it gave out just 58nits, making for a plentiful range of brightness settings.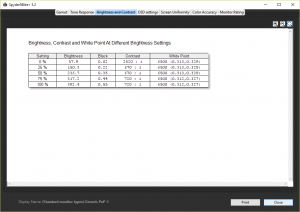 At this lowest setting the screen delivered a rather unexpected 2520:1 contrast ratio, but this wasn't a feat it could manage at other brightness settings. Instead it stuck doggedly around the 700:1 mark, which is a little low even for a gaming panel – we'd hope to see closer to 1000:1.
As for its gamma performance, its three settings correspond to measured gammas of 2.2, 2.0 and 2.3, with the default gamma1 setting hitting the desired 2.2 mark – an excellent result.
Colour accuracy is also top notch for a panel of this type, with an average Delta E of just 1.66, and a maximum of 5.35. Anything below three is considered all but imperceptible.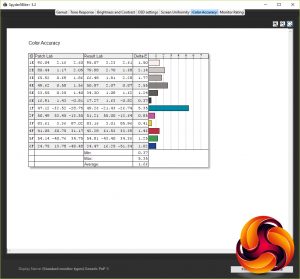 All told, the AG251FG puts in a great performance without any need to adjust its in-monitor settings. The only thing we did do is run a software calibration using the Spyer5 to see what that last little tweak could do. And the answer it very little. Average Delta E improved a smidge to 1.50, although the maximum actually increased slightly to 5.64 – close enough to be within margin for error.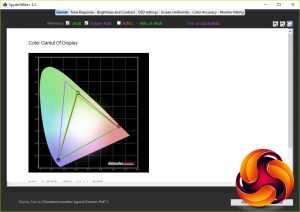 Similarly colour space coverage didn't budge, remaining at 98% sRGB and 75% AdobeRGB.
All these numbers are well and good, but subjective testing is also crucial when it comes to monitor testing. In particular, viewing angles aren't something that colorimeters take into account and, this being a TN panel, viewing angles aren't its strong suit.
That said, for a TN panel it's very good. Move just a few degrees in any direction and there is a slight shift in colours but it's nowhere near as pronounced as some, and it never felt distractingly bad.
What's more, despite the slightly low contrast ratio, this display doesn't immediately look dull and washed out. There's a depth to blacks and general vibrancy to colours that combined with the impressive colour reproduction makes for a display that's good for general desktop work and watching video as well as gaming. You wouldn't pick it as your first choice, perhaps, for the former but it holds its own.
The only regularly noticeable area in which it falls down is another common problem that TN panels suffer from. Light shades of grey, of the sort used extensively in app UIs – text boxes, tabs in a browser, the menu bar in Windows Explorer, etc – can look a little off colour and indistinct. It's a bit distracting if you're working and have lots of windows open but isn't too problematic.
Meanwhile, gaming performance is fantastic. The step up from 144Hz to 240Hz is far more subtle than from 60Hz to 144Hz but the difference is there – any seasoned competitive gamer should pick up on the slightly snappier response. What's more, G-Sync works all the way up to 240Hz, so you can get tear and stutter free gaming whatever level of responsiveness you're aiming for.
A fast refresh rate is of course nothing without a fast response time and sure enough this panel's 1ms time keeps up. We also detected no hint of input lag.
Meanwhile, dropping the refresh rate and enabling ULMB, you can notice the slightly choppier framerate but then the image is clearer due to the lack of eye-tracking motion blur. It's a personal choice which you prefer, but at least here you get the option of both.