Finally, we get to the picture testing results. As always, we used a DataColor Spyder4 Elite Colorimeter, with measurements taken of the AOC U3277PQU in its out-of-the-box, uncalibrated state, then again after calibration.
The screen is reset to factory settings before the test and calibration is done with brightness set to 120 cdm/m2, which is a setting of 40% in the OSD. By default, brightness is set to 90%.
Without running the risk of repeating ourselves, 2015 has seen a dramatic increase in the panel quality of even affordable displays. For a mid-range display, particularly one offering 10-bit colour, close to 100% sRGB coverage is now expected, with 70-80% Adobe RGB.

 For even greater colour accuracy, you'll need to be looking at more expensive displays aimed specifically at graphic designers.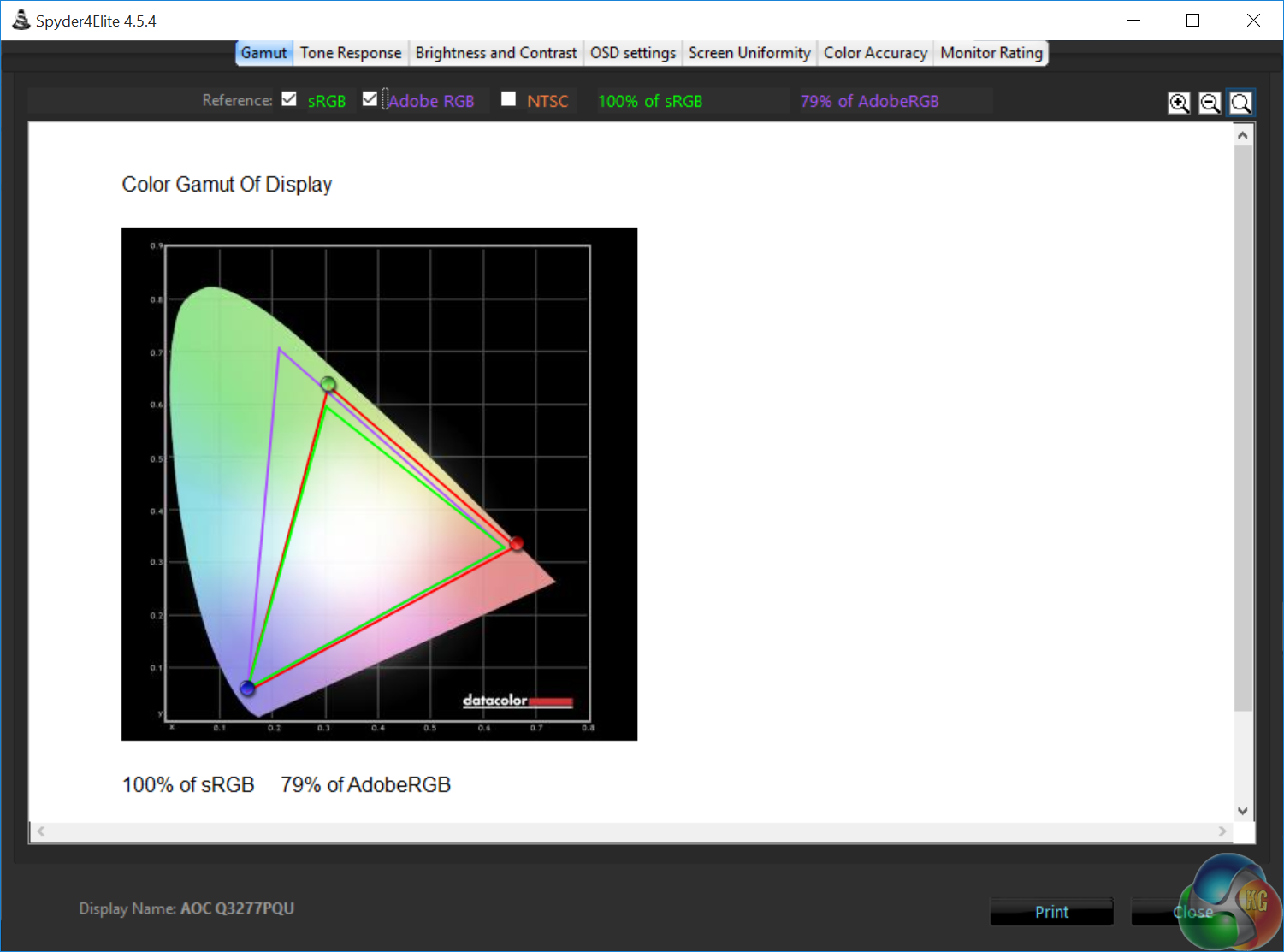 Firstly, the uncalibrated results of the AOC U3277PQU show 100% sRGB and 79% Adobe RGB coverage.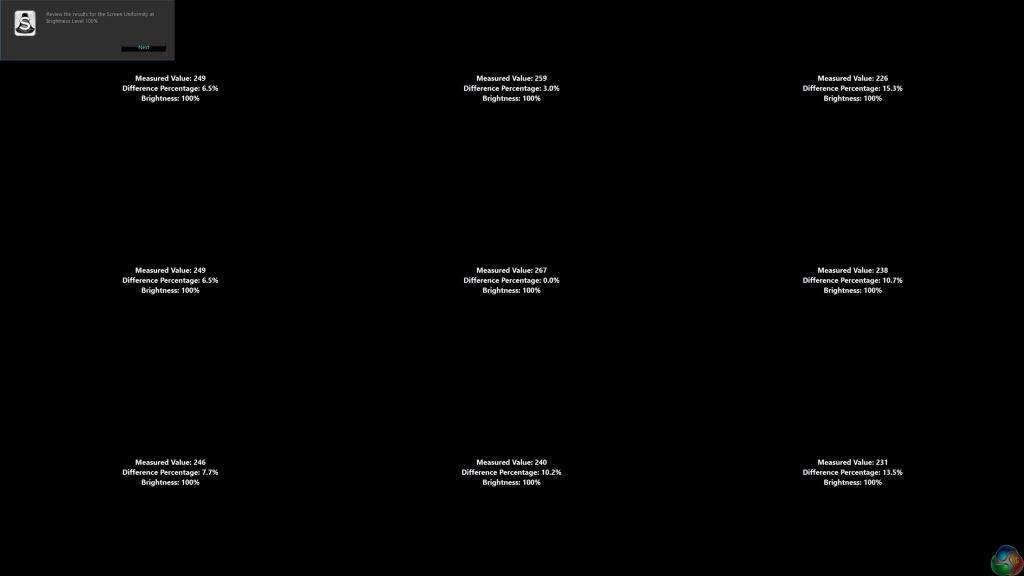 The panel shows some strong 15% brightness deviation on the right, but the left-hand side is quite close to the centre value.
Despite the claimed 350 cd/m2 we only measured a maximum brightness of 290.3 cd/m2. The contrast ratio is a very good 620:1 and the black point is a standard 0.47.
The Gamma 1 setting shows a measured display gamma of 2.2, Gamma 2 drops this to 2.1, while Gamma 3 is 2.4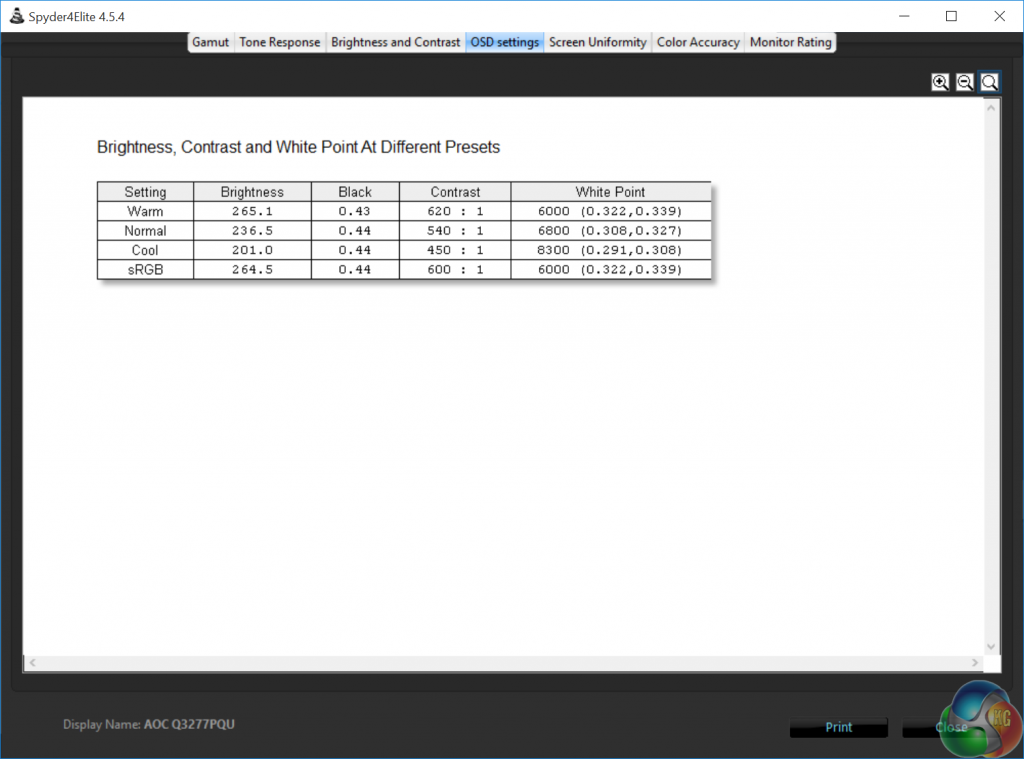 The OSD settings show the White Point shifts from 6000K to 6800K when the Normal setting is enabled, and leaps to 8300K when in the Cool mode.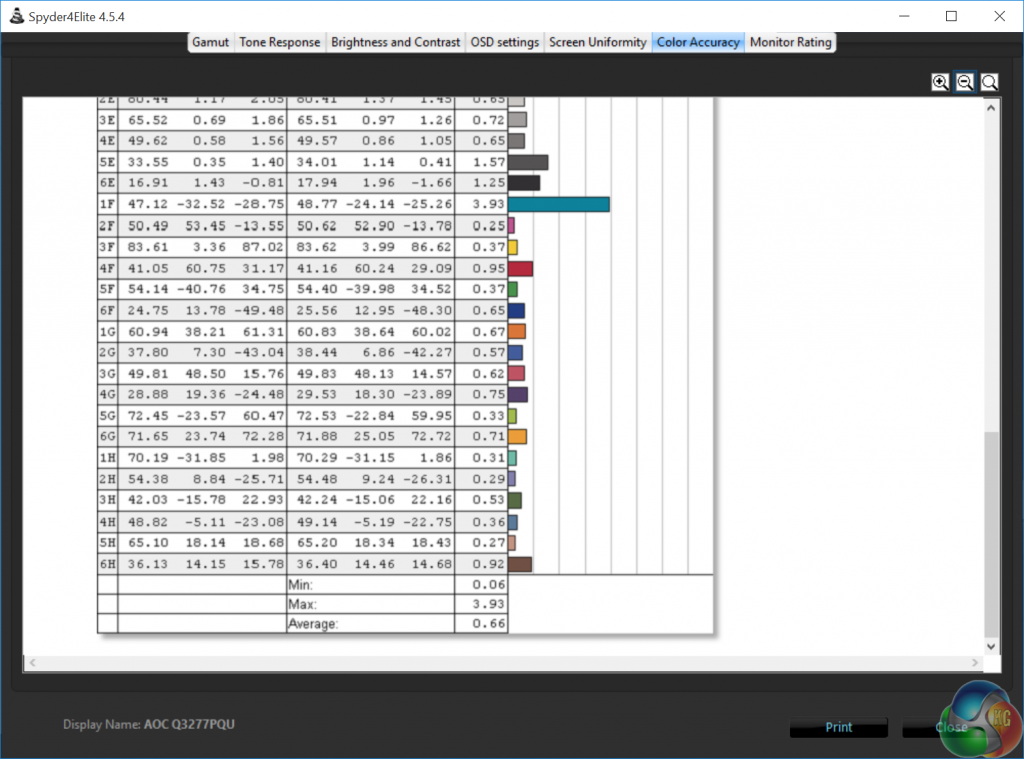 Colour accuracy is yet another area of massive improvement in displays over the last year, with the AOC U3277PQU achieving a Delta E result under 1.
Then we measured the screen again after calibration.
AdobeRGB coverage hits 80%.
The white point drops to 5800K.
And Delta E colour accuracy remains roughly the same.
Overall, the subjective view of the AOCU3277PQU picture quality is good. The screen is sharp and bright, while the colorimeter results show excellent accuracy.
With calibration the results don't seem to change hugely, although in our subjective view, the resulting picture was less yellow.

 Games testing showed no problems with ghosting, and the speaker output was clear, although not especially loud, and therefore not a replacement for a proper set of stereo speakers.