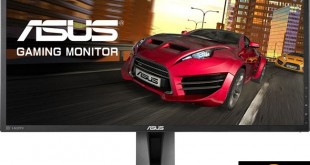 The Asus MG248Q is one of the most interesting displays we've seen recently. It's a 24-inch 1080p gaming display with a TN panel and a 1ms response time, a 144Hz refresh rate and Adaptive Sync for users with AMD graphics cards. Plus it uses the exact same styling, menu system and 5-way joystick controls as the more high-end Asus gaming displays.
We've been hit with quite a few gaming high-end displays from Asus recently, with two excellent models in particular – the 4K G-Sync ROG Swift PG27AQ (Review HERE) costing £799, and the ultra-wide 34-inch ROG Swift PG348Q (review HERE) costing £999.
However neither are particularly affordable, cutting off a great many users from the features they offer, who are either unable or simply unwilling to spend that much money on a PC monitor.
Now of course, those displays offer large panels and high pixel counts, which somewhat justifies the pricing, but additionally some alternative features have remained exclusive to the upper end of Asus' product line, such as refresh rates beyond 60Hz and support for adaptive-sync technology, and a 5-way joystick to control the menus.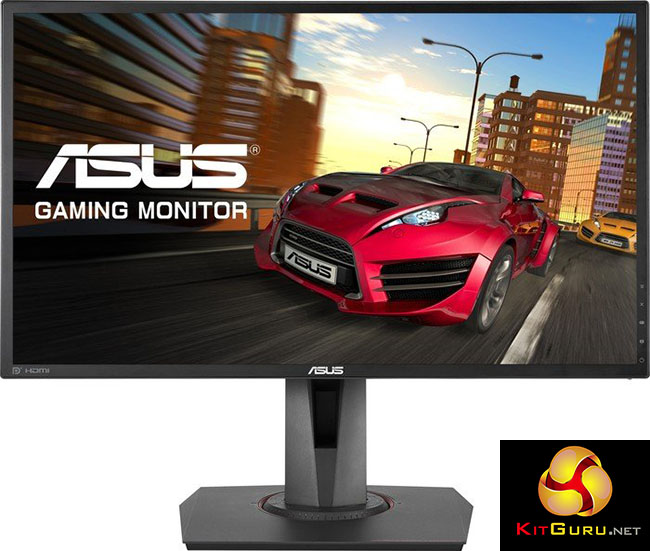 The MG248Q is quite an exciting proposition then. It's a 1080p screen, with a TN panel rather than IPS. But it offers a refresh rate of 144Hz, with the same sharp styling of Asus' more high-end gaming displays, including the 5-way joystick for simple OSD navigation.
It costs £269, and there aren't any other screens in this price range that can be used at 144Hz. So (arguably) it could be equally seen as one of the most affordable ways to enjoy 144Hz gaming rather than a particularly expensive 24-inch 1080p TN panel.
It's a great idea when you think about it, since some people may never be able to afford the two aforementioned high-end displays, the Asus MG248Q opens up 144Hz gaming to a wider audience. And there's more.
It also supports Adaptive Sync, a general term now used by some manufacturers to describe AMD's FreeSync technology. In practice, it's the same thing. With an AMD graphics card in your rig, between 40Hz and 144Hz, the refresh rate of the Asus MG248Q is locked to to the video card output, reducing the tearing effect during animation in games. Although there are alternative affordable FreeSync displays on the market, this is the first from Asus in this price range to offer a 144Hz refresh rate.
Nvidia users are out of luck with adaptive-sync, but as with all 144Hz screens, it will work just fine at that high refresh rate with a GeForce card. Instead, they get support for Nvidia 3D Vision, which is not as useful as G-Sync, admittedly, but it's a small bone at least thrown their way.
As with the more high-end Asus displays, the OSD is also chock full of gaming-related features, such as an on-screen crosshair and FPS counter, timer and other extras. The external design is like a miniaturised version of the ROG Swift PG27AQ, with the same red and grey casing, with a pattern over it, and buttons on the rear side of the display, with a patterned styling covering the casing.
And on top of all this, there's one more feature, Asus's new DisplayWidget app, a Windows-only tool that communicates with a display using the Data Display Command Interface (DDCI) protocol over DisplayPort or HDMI, allowing the user to control all the same display settings from the desktop, rather than navigating through the display menus.
Admittedly, there's a compromise being made. Since the Asus MG248Q has a TN panel, it has worse viewing angles than an IPS display, with 170 degrees vertical and 160 degrees horizontal, while a typical IPS panel is 178 degrees in both dimensions. It's a glaring Achilles Heel, but given the display's wide set of gaming-related features, and relatively reasonable price, it might be something worth living with.
Asus MG248Q – Price: £269
Specification:
Screen size: 23.6 inch
Native resolution: 1920 x 1080
Refresh rate: 144Hz
Panel type: TN
Display inputs: DisplayPort 1.2, HDMI 1.4, DVI-D
USB hub: none
Tilt: -5 to 35 degrees
Raise: yes
Swivel: yes
Other: 144Hz refresh rate, adaptive-sync for AMD users, Nvidia 3D Vision, GamePlus modes (crosshair, timer and so on)