Another Asus display, and another glowing report, showing just how serious the company is in dominating the display market. While the previous high-end gaming displays have shown the company has what it takes to compete at the top of the market, the MG248Q shows Asus is willing to experiment and try to capture the attention of customers unable to meet the costs of the top-end models.
It has done so by bringing pretty much all of the features it introduced on its high-end displays into a slightly smaller, more affordable 24-inch model. And with a 144Hz refresh rate, 1ms response time and adaptive-sync support, this is by far the best gaming display you can buy under £300.
In many ways, it's a bargain. But the TN panel is a compromise.

Viewed head-on, the Asus MG248Q is bright and vivid, but the poor viewing angles of TN technology can be seen even on the best screens, and the MG248Q is no exception. Move slightly across and the effect is a slightly jarring discolouration. There is nothing Asus can do about this, unless it brings out a new model with an IPS panel, which would certainly increase costs.
The question then is whether this is an issue.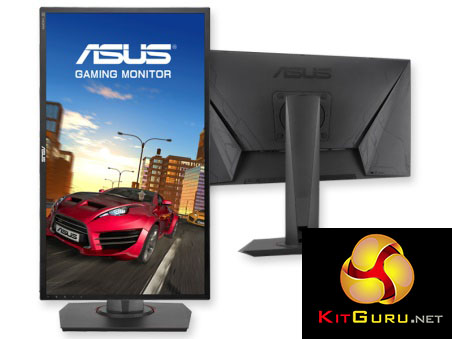 If you don't play games, then the Asus MG248Q really isn't for you. For graphic design work or media use, an IPS display will always be a better buy, you won't need adaptive sync or a 144Hz refresh rate.
But if you do play games, those aforementioned features are absolutely worth it. 144Hz gaming makes a big difference to how any title feels to play.
And for £279, we'd say the TN viewing angles are worth putting up with. For that money, you're getting a display with one of the best OSD control implementations on the market, when most alternative monitors at this price range rely on clunky buttons for navigation. You're getting a 144Hz refresh rate that makes games play really smoothly, and a 1ms response time only possible with TN screens. Even if you don't have an AMD card for adaptive-sync mode, GeForce users will still see a benefit from the higher refresh rate.
Playing games on the Asus MG248Q was simply great fun. Some people, notably competitive E-Sports players, prefer using displays with a low 1ms response time, to the 4ms or more of IPS screens. We expect Asus will sell more than a few of this display to that audience.
Besides, aside from the viewing angles, the picture is absolutely top-notch. Vibrant and particularly bright, with a 380 Candela output at 100% brightness, as well as good black levels, there are absolutely no other criticisms. The speakers sound good as well, and the design quality is generally better than most displays in this price range.
So is TN technology and its poor viewing angles worth putting up with for all the extra features on offer here? For gaming, it absolutely is. In fact, this is the best application of TN technology we've seen in years.
We'd could indeed see a future version with an IPS panel, and perhaps a G-Sync compatible version. However, both those features would add to the price considerably, making the overall prospect a lot less compelling at a time when 4K screens are becoming ever cheaper, as are some widescreen 21:9 displays. It might be a tougher sell then, for what is just a 24-inch 1080p screen, leading us to conclude Asus has been right to keep costs down by offering the more low-end panel technology here.
Discuss on our Facebook page, over HERE.
Pros:
Beautifully smooth 1080p gaming at 144Hz with adaptive-sync.
Loads of OSD features to customise the image and gaming experience.
Relatively affordable for a 144Hz display.
Cons:
Poor viewing angles of TN panel technology.
Limited to 1080p resolution.
Kitguru Says: The Asus MG248Q might not have universal appeal, but if you're happy to put up with a TN display and stick to 1080p resolution, this is the best gaming display you can get within a limited budget.