Asus has done well with its first 21:9 display. The Asus ROG Swift PG348Q is fantastic – great for gaming and great for general desktop use.
The picture quality is as good as any general purpose IPS display, G-Sync works very well at 100Hz, and even the sound isn't bad … for a PC monitor. The slightly odd design works well too, although we suspect, like the Acer Predator Z35, which has a similarly bold design it will appeal more to gamers, and look more in place in a gaming den than it would in a study or the living room.

We're also convinced that the 3,440 x 1,440 resolution is absolutely right for a display of this size.

 Add it all together and this is one seriously good piece of kit.
There's only one area of complaint. Asus was wise to use the same joystick control method for the OSD as on its other gaming displays, but the other physical buttons seem to have been neglected a bit. They feel a bit sticky in use, and they aren't terribly helpful. There's no way to customise them in the menus.
It's a small point, but when you're paying a considerable sum for a gaming display, you should expect the very best in every respect.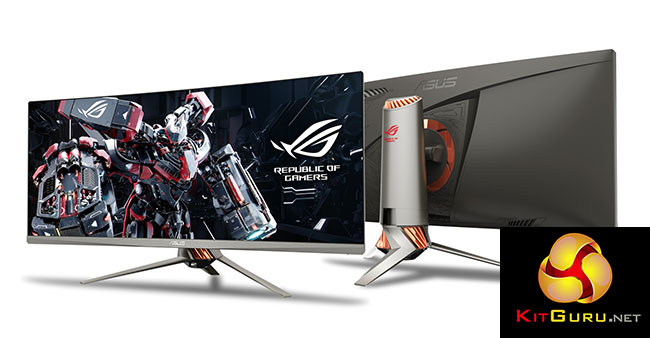 Two other points worth mentioning are the lack of Nvidia ULMB support and a PIP mode to use both HDMI and DisplayPort simultaneously.
And there's another sticking point. Ultra-wide 21:9 displays aren't cheap, and the extra hardware needed for G-Sync and higher refresh rates bumps that price into the stratosphere. This is one of the most expensive ultra-wide displays on the market.
It's only worth it if you want these gaming features, and can make use of G-Sync and higher refresh rates. If you're content with 60Hz operation, the Philips BDM3490UC (review HERE) offers the same excellent picture quality, at a price that's about a third less.
And of course, if you're looking for a new high-end monitor you now have to choose between an ultra-wide display such as this or one with a more traditional 16:9 aspect ratio that support 4K resolution. 4K gives you a much greater pixel density and improved clarity but you can get faster refresh rates and a more cinematic view with an ultra-wide display.
Notably if you opt for 4K and still want G-Sync support, the Asus ROG Swift PG27AQ is £200 cheaper, and the Acer Predator XB280HK (review HERE) is similarly more affordable.
The ROG Swift PG348Q is going right up against Acer's Predator X34, a 34-inch curved IPS display with a near-identical specification, but Acer's display is just slightly more affordable.
Until recently, buying a display was a relatively simple affair, but there are multiple form factors, panel technologies and refresh rates to choose from, so you have to really consider priorities before purchasing.
Having said all this, for gaming on an ultra-wide display, the Asus ROG Swift PG348Q is just as about as good as it gets.

Buy the Asus ROG Swift PG348Q from Overclockers UK for £995.95 inc vat HERE
Discuss on our Facebook page, over HERE
Pros:
Very funky, futuristic design and appearance.
100 Hz operation, with G-Sync support
Great picture quality
Cons:
Menu system could be more complete.
Expensive.
Kitguru Says: IPS? Check. Ultra-wide display? Check. G-Sync up to 100Hz? Check! All the ingredients are here for a great ultra-wide 21:9 gaming display. The Asus ROG Swift PG348Q is a stunning panel, but it is a pricey prospect.