The BenQ BL2420U arrives in a relatively small cardboard box, and is removed by opening the top and sliding the polystyrene protection out. The lower section shows a few of the features – 4K resolution, high sRGB coverage, a flexible stand and a low blue light mode.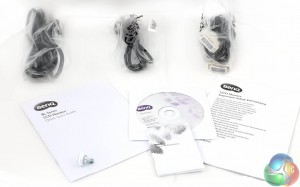 Not all the provided cables were included in our review sample, but we still had the Quick Start guide and safety guide, software CD and warranty information, with a power cable (no external PSU is needed, DVI and DisplayPort cables. There's also a metal key to secure the stand to its base.
The stand is made from chunky plastic with a small hole for cable management.
The base is similarly made from chunky plastic. Connecting the stand and its base is quite tricky. You need to rotate the stand for it to click into position, then secure it using the key, with the holes lined up correctly. It took us a few tries to get it right.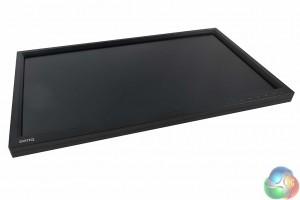 The screen uses a matte anti-glare coating. Right in the middle of the lower bezel is the SensEye motion detector. When enabled in the menu, it turns on two infra-red lights that can detect the presence of a person in front of the screen. It switches off the display when it thinks nobody is in front of the computer.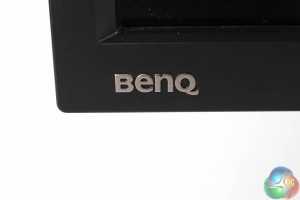 The BenQ logo is in the lower left. The bezel is notably quite thick, measuring about an inch. It's the largest bezel we've seen on a display recently, a throwback to early TFT monitors. We expect BenQ assumes professional users don't worry about bezel size in the way gamers do.
You can clearly see all the video inputs – one HDMI 1.4, one HDMI 2.0, DisplayPort and DVI. There are two USB 3 ports with an uplink, and two 3.5mm audio jacks for input and output.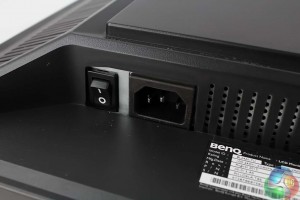 There's a master power switch just by the power port.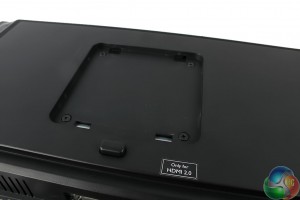 The panel is VESA compliant, up to 100mm.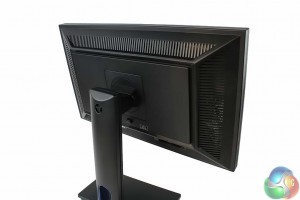 The dark grey matte finish extends over the rear of the display too.
The stand is highly flexible. Along with the ability to swivel into portrait mode it can be raised and lowered.
Rotated on the spot.
And tilted backwards and forwards.