At 24 inches, BenQ's latest IPS display has the smallest diagonal screen size of any 4K screen we've tested so far, which normally come in 27-inch or 32-inch sizes. With a price of around £400, that also makes it a lot more affordable than its competitors and the most reasonable 4K display we've seen. Hang on, 24 inches is way too small for 4K, isn't it? Perhaps at native resolution – but with the scaling in Windows set to exactly 200%, everything looks just the right size, but with razor sharp text rendering, and overall excellent picture quality.
BenQ might not be the most well-known display brand, but are actually the parent company of one of the world's largest panel manufacturers, called AU Optronics. AU Optronics panels find their way into products from a number of different companies, including smartphones and tablets.

We've been very impressed by some of their range recently. The 32-inch BenQ BL3201PT (Review HERE) is one of the better 4K screens on the market, with a number of unique features and a great picture due to its bright IPS screen. In many ways, the BenQ BL2420U is a smaller version of it.
The 'right' resolution for a given monitor screen size always ends up being about personal taste. Non-4K 27-inch displays come in both 1440p and 1080p, and while we're inclined to prefer the former, there are some users who do prefer larger graphics and a smaller resolution for better gaming performance.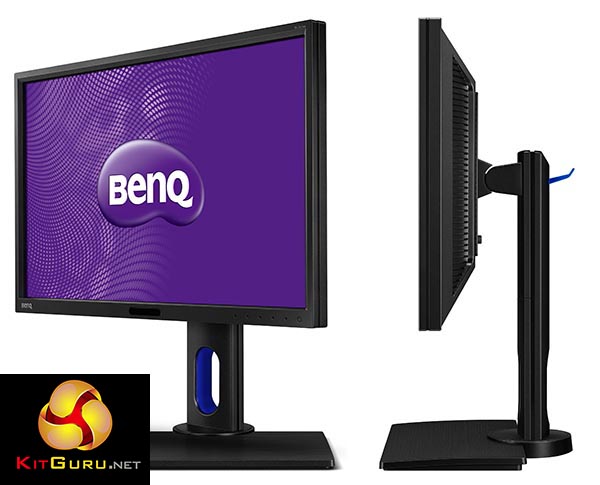 At 4K resolution, some users might prefer the larger 32-inch screens, but there are plenty of 27-inch 4K models to choose from too, not to mention some 40-inch screens, such as the Philips BDM4065UC (Review HERE) and Iiyama X4071UHSU-B1. Arguably, it's only feasible to use Windows at native scaling with this massive screen size.
The BenQ BL2420U is at the opposite end of the scale. It's a 24-inch screen (more accurately, 23.6-inch) with a 4K resolution, aimed at professional CAD/CAM use and multimedia, rather than gaming, due to its 7ms response time, which is notably higher than alternative IPS screens, which hover around 4ms or 5ms.
Due to this screen size, the BenQ BL2420U has an incredibly small dot pitch of 0.1361mm, or the width and height of a single pixel, and half the dot pitch of a 1080p display. However, because this is an exact halving, scaling the BL2420U to 200% DPI in Windows means you get a perfect 2x "Retina-like" resolution, where the desktop looks exactly as it would on a 23.6-inch screen but with the effect of greater pixel density giving smoother curves and crisp text.
That's the theory, anyway. But there are also some people who simply prefer smaller screens, either due to personal taste or lack of desktop space. Heck, some smartphone screens are now 4K, such as the Sony Xperia Z5 Premium. If there are benefits to Android scaling 4K to a 5.5-inch screen, then Windows at 4K on a 24-inch screen will certainly have value as well.
Specification:
Screen size: 23.6 inch
Native resolution: 3,840 x 2,160
Refresh rate: 60Hz
Response time: 7ms
Panel type: IPS
Display inputs: 1x HDMI 1.4, 1x HDMI 2.0, 1x DVI, 1x DisplayPort 1.2
USB hub: 2x USB 3.0
Tilt: yes
Raise: yes
Swivel: yes
Other: CAD/CAM and Animation Mode, SensEye display dimming technology