I used a Spyder4 Elite colorimeter to gauge the performance of the BL3201PT, with the sRGB preset active. The first test, which also calibrates the display, provides figures for the sRGB, NTSC and Adobe RGB coverage.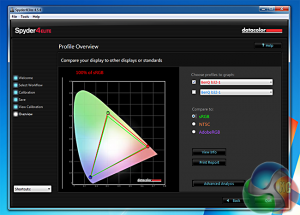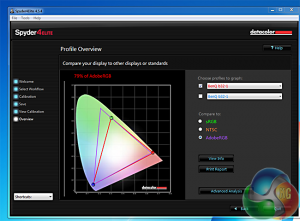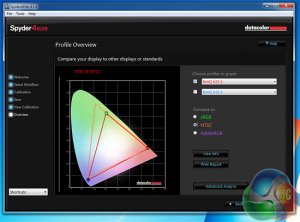 The result was 100 per cent sRGB coverage, as per BenQ's claims, 76 per cent NTSC and 79 per cent AdobeRGB.
The 27-inch Asus PA279Q managed 97 per cent NTSC and 98 per cent Adobe RGB coverage, Dell's 4K U3214Q 32-inch monitor achieved 96 per cent NTSC and 99 per cent Adobe RGB coverage.

The brightness distribution is passable. On the left side it deviated by around 5 to 7 per cent, which is a good result, but it's a bit worse on the right, where a deviation of 10 to 16 per cent was recorded by the Spyder.
These scores look alright against many colour-accurate monitors, which average around 10 per cent roughly, although in the same test, a high-end 24-inch EIZO ColorEdge CG277 display deviated by no more than 0.5 to 2 per cent.
With calibration, the display switches a little more towards the blue spectrum, removing some of the green, but it's not particularly dramatic, showing good factory calibration out of the box.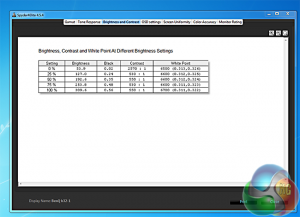 Contrast levels are reasonable. At 100 per cent brightness a contrast result of 530 comes out slightly worse than other displays. The Spyder recorded 630 on the Asus PA279Q, 580 on the DreamColor Display in HP's ZBook 17 laptop and 550 on the EIZO., although  it beat the aforementioned Dell U3214Q, which gave a result of 480.
Brightness results again are average. The result of 310 is lower than the quoted fits squarely in the middle of most displays, Viewsonic's VP2772 scored 335, while Dell's U3214Q managed 378.
With a quoted 4ms g2g latency we tested the BL3201PT with a multiplayer game of Battlefield 4, and some Destiny on a connected PS4. Neither caused noticeable lag. It's hard to see any IPS display being a first choice for a pro-gaming clan, as TN displays cope better with games, but the Bl3201PT isn't bad in this respect.
Although you only get a pair of 2w speakers, they do sound far better than many 27-inch screens. We'd happily ditch cheap external desktop speakers and switch over to the built-in sound on the Bl3201PT, but if you've invested in a more high-end speaker set, perhaps with a subwoofer, you'll probably want to hold on to it.
One final observation we noticed during use is that the DVI port is effectively useless, unless you only wish to preview images or 30fps video, since DVI cannot handle a 4K image at 60hz, the monitor's native resolution. A third HDMI port would have been a great alternative.