Entry-level displays normally have fewer features than higher-end, pricier models, so we expected a few aspects of the 227E6EDSD to have been cut in order to reduce manufacturing costs. The lack of a DisplayPort input, thin plastic material used around the rear of the chassis and the stand's inability to pivot and rotate are all typical of cheap monitors.
But that said, the 227E still has a better range of features than alternative low-cost displays. The glossy plastic on the stand and bezel might feel a bit flimsy, but it's less thin at the front, and the stand will at least tilt backwards. Compared with some entry-level displays, the build quality is quite reasonable. The bezel isn't too wide and the screen is impressively thin as well.
And let's not forget it has an IPS panel, with perfectly adequate gamut and brightness levels, for a very low price. The contrast levels could be better, but from our subjective use of the 227E, the picture quality isn't anything to complain about. And of course, as it's IPS, the viewing angles are good too. Really good for the money.

Although you could probably find slightly cheaper displays for sale at many retailers, the cost difference is slim, and many are sure to be based on TN technology instead of IPS, not to mention you're likely to run into smaller, less well-known brands than Philips.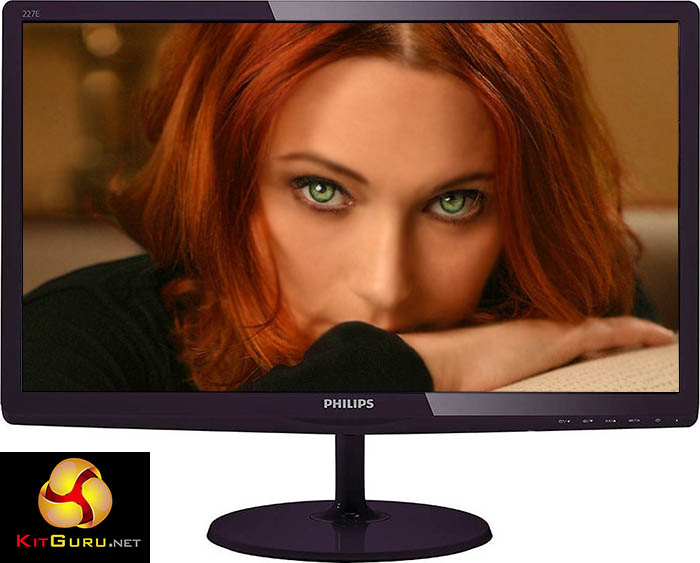 You might not care for a 22-inch screen, especially if you've been used to larger 24, 27 or 32-inch displays. But it's not too hard to get used to, and with an overall lower desktop footprint than these larger displays, may even be desirable for some people.
It's worth reiterating that the 227E is the smallest of three models from Philips, so if you'd prefer a bigger screen, the 24-inch 'E' series model carries a £149.99 retail price, which is still very good value for an IPS display of that size.
At this price, the 227E could even be a good choice for a (very) low cost multi-display arrangement, with three or more costing less than some high-end monitors, but the lack of holes for VESA mounts might make this a bit more difficult.
You also might be put off by the external power supply. It will be yet another to add to the pile around a cluttered desk, but the lack of internal components does allow for a thinner bezel and slimmer profile.
The lack of DisplayPort is a minor concern, as the HDMI and DVI inputs are fully equipped to handle 60Hz refresh rates at the 227E's native 1920×1080 resolution.
It's touch-sensitive buttons are a problem though. The 227E isn't the only display to use this type of control method, but it's harder here because the labels are angled downwards, making them harder to see. And as we mentioned before, the standard Philips OSD software does not indicate the position of the buttons you have pressed, with on-screen labels, as seen on some Dell screens with touch-only input for example.
It's an Achilles' Heel in an otherwise great set of features, but is our only real issue with the 227E. For the money, you're still getting a lot, and at this price, we are willing to put up with the controls.
The Philips 227E6EDSD is due for release within the next week or so – it is listed on Amazon for £127.30 HERE.
Discuss on our Facebook page, over HERE.
Pros:
Brilliant value.
Very good quality IPS screen for the price.
1080p native resolution.
Cons:
Stand lacks raise and swivel capabilities.
Fiddly touch-sensitive controls.
External PSU.
Kitguru Says: As expected, the 227E lacks a few features that come as standard on pricier displays, but for the money, it's a great purchase, with good picture quality, a wide range of inputs and reasonable build quality. In fact, it's such great value, the difficult touch-sensitive controls are forgivable.